Posted on
Thu, Jul 18, 2013 : 6 p.m.
Violin Monster finds new spot after State Street Area Art Fair asks him to leave
By Chelsea Hoedl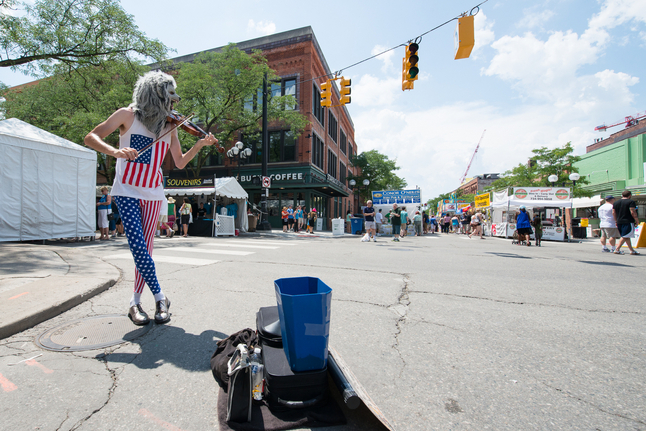 Courtney Sacco | AnnArbor.com
• The Mega Guide: Full coverage of the 2013 Ann Arbor Art Fair

The Violin Monster was playing at the Ann Arbor Art Fair again Thursday after being asked to leave his spot on State Street the day before.
Zachary Storey, who performs frequently around town wearing a werewolf mask, was entertaining attendees of the State Street Art Fair at the corner of State and William streets Wednesday when he was approached by organizers and asked to leave.
"They told me that they bought the street space and each vendor here has to pay," Storey said. An Ann Arbor police sergeant who was summoned agreed that Storey had to leave.
He was upset because he said he's not a vendor and he's not normally required to have a permit.
"You can buy the rights to have vendors on the street, but in my view it's still public property and the rights of the first amendment are still valid for me and what I do," he said.
Tom Heywood, executive director of the State Street Area Association, said the organization received an interpretation of the rules from the City of Ann Arbor's Community Standards Unit on Monday and determined that no one could operate within the boundaries of the art fair during the four days of the event.
"It is the code of the city of Ann Arbor that we were enforcing," Heywood said. "Little kids can't sell water, street musicians can't play or sell their work and peddlers can't sell items because no permits are valid during the fair."
It wasn't long before the Violin Monster was back to playing his tunes on a downtown street. He contacted organizers of the Summer Art Fair Wednesday night, and organizers told him they would love to have him play on the southeast corner of Liberty and Main Street.
City Council Member Sabra Briere, D-1st Ward, said the city has given a sidewalk occupancy permit to the various art fairs so they have control of the sidewalks.
She said that even though street performers do not need a permit in the city of Ann Arbor, they cannot be on the sidewalk where someone else has a permit without that person's permission.
"If somebody is occupying the sidewalk without having gone through one of those art fair organizations, that person is in violation of our permitting structure," Briere said. "The Violin Monster was occupying a space without permission in the State Street Art Fair and he was told to move on. Now he's at the Main Street Art Fair where he has been completely tolerated."
Briere said police have been instructed to give performers a warning and ask them to move on if a complaint is made by fair organizers.
This is the Violin Monster's third year performing at the Ann Arbor Art Fair. He said he has never had an issue like this before.
"It was a very disappointing day," he said. "I've been looking forward to the art fair for a while now."
He said he has received support from fans on Facebook and followers on Twitter about the incident.
"Some people were saying that they were looking all over for me yesterday and that I was their favorite part of art fair last year," Storey said. "I'm grateful for that and that's why I love Ann Arbor. I feel like a part of the community."
Chelsea Hoedl is an intern reporter for AnnArbor.com. She can be reached at choedl@mlive.com.