Posted on
Wed, Oct 24, 2012 : 5:59 a.m.
Pittsfield Township could become largest municipality to opt out of countywide transit authority
By Amy Biolchini
Editor's note: This story was updated at 10:40 a.m. to indicate the result of Tuesday night votes on the issue for several townships.
Pittsfield Township could become the largest municipality to choose to opt out of the new Washtenaw Ride countywide transportation authority with a Board of Trustees vote planned for Wednesday night.
The township has a resolution to withdraw from the new transportation authority on its Wednesday meeting agenda, joining Chelsea in a vote this week.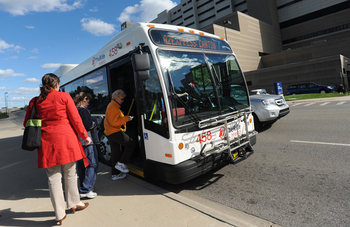 After the city of Ann Arbor, Pittsfield Township has the highest taxable value in the county.
The Ann Arbor Transportation Authority voted unanimously, 7-0, Oct. 2 to incorporate the new transportation authority after years of discussing extending its currently millage-funded system to the entire county.
The vote to incorporate included every municipality in the county in the new authority, which has the power to levy taxes to support its operations.
"We invited everyone," said Mary Stasiak, spokeswoman for AATA. "The choice wasn't to exclude everyone."
The vote also initiated a 30-day period for municipalities to take action if they wanted to opt out.
To date, a number of townships have officially submitted their paperwork to the AATA expressing their will to opt out of the new Washtenaw Ride: Bridgewater, Freedom, Manchester, Lima, Lyndon, Dexter and Saline, Stasiak said.
Those townships comprise of about 32 percent of Washtenaw County's population, Stasiak said.
"At this point, it is within the range of our expectations," Stasiak said of the dwindling number of communities that are choosing to be a part of the Washtenaw Ride. "We expected a range of everybody to very few."
York Township voted Oct. 9 to not be a part of the new authority, according to Supervisor Joe Zurawski, and Superior Township voted to opt-out Oct. 15. Webster Township voted unanimously to opt-out Oct. 16.
Additionally, Northfield, Salem, Sharon and Sylvan townships have already chosen not to participate in the countywide transit discussions.
However, a number of those townships are still pursuing contract-for-services agreements with the new transit authority.
The cities of Ann Arbor and Ypsilanti which were two parties in a four-party agreement to help launch the new authority are still in the Washtenaw Ride and have not opted out. The city of Saline and Ypsilanti Township have both formally expressed their interest in being involved.
Scio Township and the village of Chelsea voted Tuesday night to abstain from participating.
Upcoming votes include the village of Dexter and the city of Milan.
Dexter recently postponed its vote to join the new authority until Scio and Pittsfield townships cast their votes in the process, Dexter Patch reported.
"Many of the communities that have chosen to withdraw have also expressed their interest in providing public transportation," Stasiak said. "It's not a matter of whether they agree or disagree of whether public transit is important."
The 30-day period set by the AATA for communities to opt out expires Nov. 2, but because of a miscommunication, the AATA agreed to extend the window and add an additional 30 days after Nov. 2 for municipalities to take action.
By early December, the new governing board for the Washtenaw Ride will be set and will then be able to discuss funding options. Because certain communities have chosen to opt out, they won't have a voice in that process, Stasiak said.
Those that do participate will be at the table and will learn of the different options that they can choose from for funding models, Stasiak said.
They also won't receive service or be subject to the tax, according to previous reports.
The AATA will be concentrating on the priorities of the communities that have chosen to participate in the Washtenaw Ride, and to find local funding solutions that are acceptable to them, Stasiak said.
"It will be up to them to decide how they would like to move forward," she said.
The AATA has already included a possible 0.584-mill countywide transit tax in its proposals that would raise $7.7 million in the first year for the Washtenaw Ride with every community participating. The city of Ann Arbor would contribute an extra $2.6 million per year.
Pittsfield Township property owners would pay nearly $900,000 under the proposed tax and Scio Township property owners would pay nearly $700,000.
Property owners in Ypsilanti Township - which has voted to stay in the new transit authority - would pay more than $600,000.
Amy Biolchini covers Washtenaw County, health and environmental issues for AnnArbor.com. Reach her at (734) 623-2552, amybiolchini@annarbor.com or on Twitter.