Posted on
Thu, Nov 17, 2011 : 5:39 p.m.
Planned dorm renovations show University of Michigan's North Campus is getting left behind
By Kellie Woodhouse

Melanie Maxwell I AnnArbor.com
Previous story: Dorm closings will force some University of Michigan students to look off campus
The University of Michigan Board of Regents on Thursday approved a $12 million renovation to a 575-bed North Campus dormitory.
At the same time, regents approved the schematic design for a $116 million renovation to East Quadrangle, a 860-bed dorm on Central Campus.
While East Quad houses nearly 300 more students than Baits II on North Campus, its renovation is nearly ten times more costly than Baits II.
East Quad also houses the university's Residential College.
East Quad was built in the 1940s. An addition was added in 1967, and it has not had a significant renovation since. Baits II was built in 1967 and, aside from recently getting a new $3 million boiler and pipe system, has not been upgraded.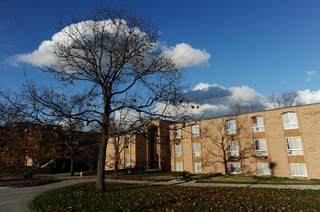 Melanie Maxwell I AnnArbor.com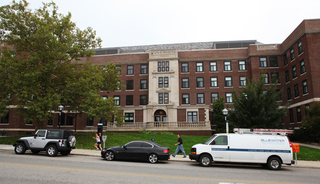 Jeff Sainlar I AnnArbor.com
The disparity between the two renovations shows that thus far the Residential Life Initiative —a University Housing plan that has led to the renovation of at least one major dorm a year— has significantly prioritized dorms on Central Campus and U-M's Hill neighborhood over those on North Campus.
From 2008 to 2013, the university will have spent $440 million renovating and building dorms on Central Campus.
In contrast, it will have spent $15 million updating North Campus dorms.
North Campus is commonly considered a less desirable area to live because of its distance from downtown Ann Arbor and Central Campus, where the majority of the school's classroom buildings are located. The growing disparity between the dorms in the two areas could possibly heighten already-existing aversion to North Campus residence halls.
Baits I, one of the four North Campus dormitories, is in such bad condition that U-M said it will close permanently next year. The scope of renovations needed and distant location make Baits I not worth renovating, University Housing has said.
Regent Andrea Fischer Newman said that after housing assignments each year, her office is flooded with calls and emails "from people who are upset about being assigned to North Campus."
Some students recently said they feel the difference between the locations.
U-M freshman Austin Andres says he doesn't mind living at Baits II —he enjoys the "private, quiet setting, it's nice for studying"— but says it's like living at an entirely different university.
"It's not like the other residence halls," he said. "It's very small and almost feels more like an apartment complex. The carpet's older (and) it looks older, but it's not in bad shape."
Baits II resident Anna Metzger says the halls and study rooms are smaller than many dorms on Central Campus, but she lives in a suite as a freshman and doesn't have to share a bathroom with her hall, which she likes.
"It's obviously not the most newly renovated facility," she said.
About 2,200 freshmen, or one-third of the freshman class, live on North Campus, according to Linda Newman, University Housing director.
Many are living in apartment-style housing that was originally intended for graduate students who prefer quieter, more isolated living quarters.
It's a difference that regents are acknowledging as they approved the most recent renovations Thursday.
"They're not perfectly suited for 18-year-old new students and they don't compare to the other facilities," said Regent Laurence B. Deitch. "We charge a healthy price and I'm not (sure) there's full value for our lower division students when the facilties aren't there and aren't up to snuff."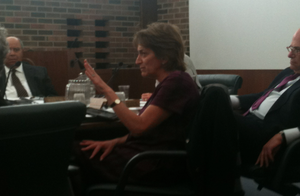 Kellie Woodhouse | AnnArbor.com
Elizabeth Zollweg
, manager of
Go North!
, a U-M initiative to create more buzz around the relatively isolated area of campus, said there is a "challenge with finding that sense of community" on North Campus.
"We don't have the grandiose (feel) of Angell Hall or the Union," she said. "We don't have that place where students can study and hang out and grab a bite to eat in the same place."
Go North! facilitates big events —such as hot air balloon rides— to make living on North Campus more exciting, but it's unclear yet whether the relatively new initiative can infuse the energy in dorms that many students seek.
"The hallways are so small people don't hang out," said Kendall Zemmin, a U-M freshman. Zemmin lives at Baits I, which is closing. Baits II has a very similar layout.
Zemmin and other North Campus residents say that it's hard not to be jealous of students living in Central Campus dorms: They're nicer, closer to restaurants and classes and have active communities.
"It's not really the dorm experience you think of," U-M freshman and Baits I resident Madison Hoase said of living on North Campus.
Newman said Thursday that University Housing needs to develop a long-term plan about dormitory renovations.
"I, for one, would like to see a longer term strategic plan for housing… as opposed to hearing about things one year or two years at a time," she said.
"As the rest of the university grows and prospers, we have to take care of this aspect of the university," Newman continued. "I don't think we are devoting enough attention to solutions for student living, student life."
Vice President for Student Affairs E. Royster Harper said University Housing was in the process of developing a long-term plan.
"We have been working hard to enhance the vibrancy of North Campus," Harper said.
Recent and planned U-M residence hall renovations:
Baits II: To be completed by 2013 with a budget of $12 million.
East Quadrangle Renovation: Currently in the planning stages with a budget of $116 million.
Lawyers Club: Currently in the planning stages with a budget of $39 million.
Alice C. Lloyd Hall: Currently under construction with a budget of $56 million.
Couzens Hall: Reopened in 2011 after $49 million renovation.
North Quad: Opened in 2010 after $75 million construction project.
Stockwell Hall: Reopened in 2009 after a $39.6 million renovation.
Hill Dining Center: Reopened in 2008 after $21 million renovation.
Mosher Jordan Hall: Reopened in 2008 after $44.1 million renovation.
Kellie Woodhouse covers higher education for AnnArbor.com. Reach her at kelliewoodhouse@annarbor.com or 734-623-4602 and follow her on twitter.