Posted on
Sun, Feb 26, 2012 : 1:23 p.m.
Majority of University of Michigan students at odds with key state policies
By Kellie Woodhouse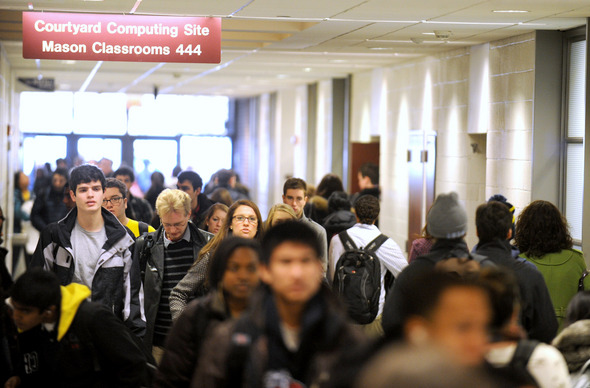 Angela J. Cesere | AnnArbor.com
It's no secret that college students are overwhelmingly liberal or moderate.
The University of Michigan is no exception, according to the results of an annual freshman survey conducted jointly by the University of California's Cooperative Institutional Research Program and U-M.
That survey found that just 21 percent of U-M freshmen consider themselves conservative, while 41 percent of students identify as members of the political left and another 39 percent consider themselves moderates.
On key issues, survey results reveal that the majority of U-M freshmen hold beliefs that are directly at odds with Michigan policies and statutes.
For example, an overwhelming majority of U-M freshman think same sex couples should have the right to marry. In 2011, 81 percent of the school's 5,359 incoming freshmen respondents said they support same-sex marriage, up roughly 8 percent from 2009.
The belief is not held just by liberal students. More than half of conservative students agreed with same-sex marriage. In fact, U-M freshmen are 9 percent more supportive of same-sex marriage than students elsewhere.
Yet in Michigan civil unions and same-sex marriage are illegal and, recently, have led to political contention. In December the Michigan legislature passed a law banning gay and lesbian state employees from extending health care benefits to their partners, causing dissent from democratic leaders and civil rights activists.
"Students are flying in the face in terms of what has been passed" in the State of Michigan, said Malinda Matney, senior research associate for the U-M Division of Student Affairs. Matney said university students are largely champions of individual rights.
"When you look at some of the (state) policies that happened (recently) they have been specifically about not having individual rights," Matney said. "In the case of same sex partner recognition, that's definietely a rights question that the voters and the students disagree on."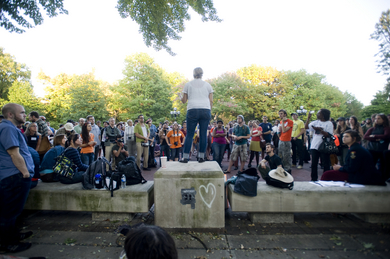 Joseph Tobianski I AnnArbor.com
The state also is in a legal battle over a statute that prevents homosexual couples from adopting children together. April DeBoer and Jayne Rowse raise two adopted children together in Detroit, but only DeBoer has legal guardianship over the children. The couple filed a lawsuit in January.
Survey results suggest that the couple has a strong backing at U-M. Nearly 84 percent of students said gays and lesbians should have the right to adopt.
Diference 'not surprising'
Amanda Caldwell, president of the U-M College Democrats, says that many fiscally conservative students hold more liberal social values than most Republican lawmakers in Lansing.
"It just shows at the state level how far removed our politicians are form the beliefs and the values of Michiganders and Michigan's young people," she said. "At Michigan, you really see a large percentage of students in the classroom —not just the social realm where you associate yourself with other students who share your values— supporting issues like gay marriage."
"Young people understand that even if they are against gay marriage and that it it against their personal beliefs, it's not necessarily something that the sate should be deciding," Caldwell continued.
Michael Heaney, a U-M professor specializing in organizational studies and political science, says part of the reason students hold liberal opinions on social issues is that "young people have less at stake with the current status quo."
Heaney said he is unsurprised that U-M students, roughly two-thirds of whom are from Michigan, are at odds with state policies on social issues
"It doesn't surprise me at all. You've got to think about the demographics of the state of Michigan. There's a difference between people who chose to live in Michigan verses people who are born in Michigan," he explained. "More liberal people… are going to leave Michigan and go to larger urban areas."
"A lot of those more liberal folks are going to select out so the residue, the people that stay, are more likely to be conservative," Heaney continued.
Two representatives of U-M's College Republicans did not respond to requests for comment.
Affirmative action and marijuana
In 1972, the Ann Arbor Hash Bash was started by U-M students. It appears that the desire to legalize marijuana is still alive at U-M today. Fifty-five percent of survey respondents said cannabis should be legalized, up nearly 17 percent since 2006.
The significant jump in support occurred in the midst of a 2008 law legalizing medical marijuana in Michigan. Since then, Republicans have assumed control of Lansing and Michigan Attorney General Bill Schuette has claimed that the state's medical marijuana law has been abused. Last year Schuette led a statewide effort to close multiple dispensaries, contending the establishments could be shut down under a state public nuisance law.
There's also a petition circulating throughout the state that seeks to amend the Michigan Constitution to make pot legal for people 21 and older. The petition needs more than 322,600 signatures from registered voters in Michigan to put the issue on a statewide ballot.
While gay rights issues and marijuana legalization are supported by the majority of U-M students, using affirmative action in admission policies has not received as much student support.
Proposal 2, a state law banning public universities from considering race in admissions, is currently under review in federal court. Affirmative action policies in university admissions have been a controversial state issue for more than a decade due to a U.S. Supreme Court battle that questioned a since-retired race consideration policy at U-M.
Michigan voters originally passed Proposal 2, a ban on considering race in admissions, in 2006, three years after a U.S. Supreme Court ruling found that U-M could work toward achieving diversity in its admissions policy, but that the school's existing policy considered race too heavily.
According to survey results, 33 percent of U-M freshmen agreed that "students from disadvantaged social backgrounds should be given preferential treatment in college admissions," a slight change from 32 percent of freshmen in 2009.
U-M freshmen support of weighted admissions policies is lower than the national average of 42 percent.
Matney said the relative steadiness of weighted admissions is due, in part, to an overexposure to news about the issue.
"The nation did grow in their support of affirmative action, our students did not. Our students quite simply are tired of the national debate and, quite frankly, the debate here in Michigan," she said. "This has been in the news every single week, and sometimes every single day, since they were in kindergarden."
Kellie Woodhouse covers higher education for AnnArbor.com. Reach her at kelliewoodhouse@annarbor.com or 734-623-4602 and follow her on twitter.