Posted on
Thu, Jul 19, 2012 : 5:59 a.m.
Documents: EMU professor denied tenure after 2007 sexual harassment complaints to remain on staff next year
By Kellie Woodhouse
Eastern Michigan University denied tenure to a business professor earlier this year because of sexual harassment claims lodged in 2007, according to a March 15 letter from the university provost.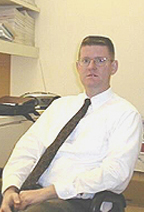 Eastern Michigan University
The denial came in spite of support from the College of Business dean, colleagues and a personnel committee and despite an absence of sexual harassment misconduct by the professor in four and a half years.
In 2007, three students lodged formal sexual harassment complaints against accounting professor Edwin Etter, complaints that were found valid by the school's diversity office and that led to a year-long suspension ending in 2008, according to a review of his personnel file, obtained by AnnArbor.com through a Freedom of Information Act Request.
During the suspension, Etter attended weekly counseling sessions, according to his 2011 tenure application.
Etter returned to EMU in summer 2008 and has taught classes each year since completing his suspension, although in May 2012 he was relieved of his teaching duties and will be on desk duty until his employment agreement expires in August 2013.
It is common for universities to grant faculty a terminal year of employment after denying tenure. A terminal year is required by the current EMU faculty union contract.
Etter has been employed with EMU since 2002, served on numerous Michigan boards and has received or been nominated for several teaching awards, according to his personnel file. In 2009, he was promoted to associate professor and he makes more than $119,000 a year, according to his personnel file.
In March, however, EMU provost Kim Schatzel denied his request for tenure, citing the sexual harassment misconduct from 2007. Schatzel denied the tenure request despite approvals from College of Business Dean David Mielke and an EMU personnel committee, documents from Etter's personnel file show.
In a March 12 letter denying Etter tenure, Schatzel criticized him for "egregious and repeated" incidents of sexual harassment. She wrote that his "repeated acts of serious misconduct directed against students and a staff member" preclude him from being granted tenure.
Documents from Etter's personnel filed indicate that a sexual harassment complaint was lodged against him and he was advised to change his behavior. Soon afterward, another complaint was lodged against him and he was placed on suspension. Based on a review of documents, timing on the third complaint is not clear.
Etter first applied for tenure several years ago but was initially denied in 2009 by the Board of Regents. The EMU faculty union filed a grievance on his behalf, claiming that the school did not follow appropriate methods in its denial. An arbitrator agreed with the union but allowed EMU to restart the tenure consideration process. In the arbitrator's ruling, EMU President Susan Martin was quoted as telling regents "she had serious reservations" about granting Etter tenure.
"In compliance with the arbitration ruling, the professor was eligible to re-apply for tenure, which was subsequently denied," EMU Vice President of Communications Walter Kraft said in a statement.
Etter applied again in October 2011.
That reconsideration ended in the March 2012 denial letter from Schatzel, which the regents upheld in June.
EMU faculty union president Susan Moeller said the union defended Etter in his original tenure application because the "administration did not follow the evaluation process agreed to in the union contract, and we wanted to ensure that the correct process would be followed in the future."
Moeller said the union did not represent Etter in his second attempt for tenure, filed in 2011.
Schatzel's tenure denial and criticism came four and a half years after the original harassment complaints against Etter. According to his personnel file, he has not had an infraction since 2007.
A June 2008 memo to Etter set forth restrictions on how he could interact with female students.
"You are to have your door completely open when meeting with any female student or staff member," Mielke wrote in a June 2, 2008, memo. "You are not to have any contact with students or secretaries on a social basis, such as going to lunch or having coffee."
Mielke continued:
"If there are any violations of the university's sexual harassment policy, including... inappropriate physical contact or touching of students, clerical or other staff or inappropriate comments, jokes or innuendos in class, in your office or at [university functions] we will pursue termination."
Etter's misconduct did not include sexual touching, according to sources. Detailed complaints were not included in Etter's personnel file.
When reached by phone, Etter politely declined to comment for this article.
Prior to teaching at EMU, Etter was a professor at the University of South Florida for four years. He was not accused of sexual harassment during his time there, according to his USF personnel file.
In his 2011 application for tenure, Etter said he has changed the way he acts around students since his suspension.
"I never meant to insult or cause anyone any mental discomfort or uneasiness, I fully understand and realize what I said to certain students was insensitive, inappropriate, irresponsible, and unprofessional in a student-teacher relationship," he wrote.
"The most important lesson I took away from counseling was that boundaries need to exist between faculty and students and that I am responsible for setting and maintaining these boundaries," he continued. "Even though it may appear that you have a good relationship with your students, an off-handed comment or comments you made in the past, even though in jest, can be harmful or cause anxiety to your students, especially female students."
Etter's current employment agreement runs through August 31, 2013. According to a May memo, administrators have removed Etter from his scheduled teaching load for the coming year and instead placed him on desk duty, during which he will help the business school prepare for an upcoming Association to Advance Collegiate Schools of Business review.
Etter's tenure denial, and subsequent removal from teaching, comes in spite of positive performance reviews he has received since his return to EMU in 2008
In January 2012 Mielke rated him "distinctly above average." Since his suspension, a female student nominated Etter for a 'faculty in a supporting role' merit awarded by the Holman Learning Center. Twenty-one female students sent letters of support for 2011 teaching awards Etter was in the running for, according to his 2011 tenure application.
In fact, EMU allowed Etter to teach overload courses starting in 2009, allowing him to be in contact with more students than the average professor.
"I do not believe I would be allowed the additional contact with students if I was still considered a risk," Etter wrote in his 2011 tenure application.
In the January 2012 evaluation, the business school dean praised Etter.
"It appears he has regained the respect of his colleagues. Many of these are also female colleagues," Mielke wrote, adding later: "He has provided evidence to show that he has successfully learned and utilized strategies and techniques to prevent his previous misconduct."
But despite growing responsibility and three years of working with students since his reinstatement, the provost wrote on March 12 that Etter's "record of egregious and repeated behavior in the form of sexual harassment cannot be ignored."
According to EMU's sexual harassment policy, staff violators "are subject to disciplinary action, up to and including discharge."
When asked why the school did not dismiss Etter upon finding the harassment complaints valid, Kraft issued the following statement:
"This is a personnel issue, and as a longstanding policy the university will not discuss personnel matters with the media."
Kellie Woodhouse covers higher education for AnnArbor.com. Reach her at kelliewoodhouse@annarbor.com or 734-623-4602 and follow her on twitter.