Posted on
Tue, Aug 21, 2012 : 6 a.m.
Public art tax will go on November ballot in Ann Arbor following City Council approval
By Ryan J. Stanton
Ann Arbor voters will be asked in November to approve a four-year tax for public art after the City Council voted Monday night to put the question on the ballot.
The measure — sponsored by Mayor John Hieftje and Council Members Christopher Taylor, Stephen Kunselman and Sabra Briere — passed 10-0 with Margie Teall absent.
Council Member Jane Lumm, an Independent who represents the 2nd Ward, made known she doesn't like that the proposal asks voters to essentially choose between two funding mechanisms. That is, voters are posed with the question of a new tax versus keeping the current funding mechanism.
Lumm said she'd rather see the city first abolish its controversial Percent For Art Program and then give voters a chance to decide whether there should be funding for public art at all.
She brought forward a resolution to that effect, but in a 6-3 vote nearing midnight she was able to garner support only from Kunselman and Mike Anglin.
Marcia Higgins had left the meeting by then.
If voters approve the 0.1-mill tax in November, it would raise nearly $460,000 in the first year and cost the average homeowner a little less than $11 per year. It would replace the Percent For Art Program, which funnels a portion of the budgets for city capital projects toward a special art fund. But if the tax isn't approved, the Percent For Art Program remains in place.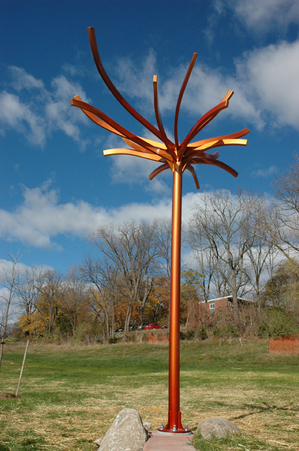 Courtesy of City of Ann Arbor
Hieftje and Taylor both said they're confident the public art tax will pass in November, but if it doesn't, they're willing to acknowledge that the voters have spoken and they'll take a careful look at the Percent For Art Program at that point.
Taylor said he wasn't willing to promise he'd introduce legislation to eliminate the program if voters say no to public art in November, though.
"A no vote can mean a number of different things," he said. "A loss by a single vote may mean one thing. A loss by a landslide could mean something else. And I think it's important that we wait and see what the voters have to say and then strive to interpret that accordingly."
Since 2007, the Percent For Art Program has diverted more than $2 million away from various city funds, including the water and sewer utilities and the streets and parks millages.
One of the criticisms of the program has been that it leaves the city's Public Art Commission with its hands tied — able to spend those revenues only on permanent art installations that relate somehow to the source of the funds, such the $750,000 water sculpture in front of city hall that was paid for with water and sewer funds.
Council Member Tony Derezinski, who serves on the Public Art Commission, said Ann Arbor residents are being given a chance to approve a much better program with more flexibility.
"I had led the fight a couple of times to keep the 1 percent for art, successfully," he said. "But that doesn't say it was perfect. It was imperfect, I knew that, but now we've been offered a better alternative."
Supporters of the tax proposal say having a dedicated millage for art will allow more flexibility to fund temporary or short-term installations, and even performances and events such as FestiFools, a parade of papier-mache puppets through downtown.
Council Member Carsten Hohnke, D-5th Ward, said he'd rather keep going with the Percent For Art Program and add a new public art tax on top of it. He failed to win support for that proposal Monday night.
"I think that might concern a lot of people," Derezinski said. "In effect, what you're proposing might very well kill it and that bothers me … not that I don't think the money could be spent wisely."
Hieftje agreed with Derezinski. He said he appreciated Hohnke's zealousness and confidence in voters to support public art, but he didn't want to overreach and ask voters for too much.
Hieftje said he's always supported public art, not only from a cultural perspective, but also the potential for economic development that it fosters.
"This would free the Art Commission and the City Council up to fund some different things — to truly have art spread around the city," Hieftje said of the proposed tax. "It changes the program significantly."
Higgins asked whether the public art millage could help pay for an event such as the Ann Arbor Summer Festival. Abigail Elias, chief assistant city attorney, didn't have a definitive answer.
"I had questioned what does 'performance art' mean," Elias said, adding there's a well-accepted definition and it refers to a "less formal" situation occurring on either a city street, sidewalk or other public site.
"It seems to be pretty flexible but excludes something like a theater performance," she said. "In other words, if you're performing at a venue, within a theater, that's not considered performance art."
Elias acknowledged it hasn't been decided yet how the new program will be administered — whether it would continue to be overseen by a separate art commission or simply the City Council.
"It's going to be left to the people administering the program to set priorities and determine how they want to spend funds," she added.
Russ Collins, executive director of the Michigan Theater, successfully pushed the council Monday night to change the wording so it's technically called an "art in public places" millage, not a "public art" millage.
He said he didn't want people to get the idea that the millage could help fund the Michigan Theater or the University Musical Society or any number of arts and cultural organizations.
"That could be damaging to our types of organizations, because when governmental funds become involved, a lot of times individual citizens pull back on their funding," Collins said.
"So it's very important that we're very clear that this is for art in public places."
Margaret Parker, former chairwoman of the Public Art Commission, said the Percent For Art Program has been responsible for a few completed artworks in five years, but there are 12 more projects on the way under the guidance of one part-time administrator and a revolving band of nine part-time commissioners.
"Before the program started, no one, including the city administration, knew how public art was done," she said. "It's true the Percent For Art funding mechanism is complex and can be restrictive."
Kunselman, a longtime critic of the city's Percent For Art Program, said he's happy to be giving voters a chance to vote on a dedicated millage for public art.
"A millage is the only way to go and I'm going to be wholeheartedly supporting it," he said, acknowledging it will be one of multiple tax proposals on the November ballot, including the city's parks millage renweal and a proposal to demolish and rebuild Ann Arbor's downtown library.
"Whether this is an opportune time for that millage has been questioned by folks in the arts community and I share that concern," Taylor said, adding he's still confident it will pass.
Ryan J. Stanton covers government and politics for AnnArbor.com. Reach him at ryanstanton@annarbor.com or 734-623-2529. You also can follow him on Twitter or subscribe to AnnArbor.com's email newsletters.