Posted on
Thu, Aug 9, 2012 : 10:50 p.m.
Public art tax? Ann Arbor City Council considers putting question to voters in November
By Ryan J. Stanton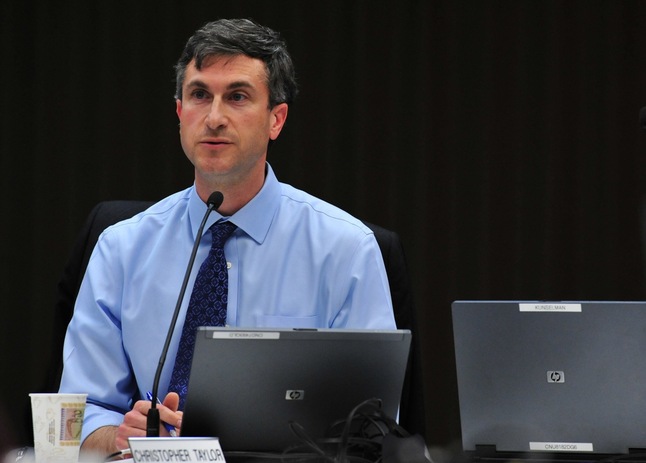 Ryan J. Stanton | AnnArbor.com
Ann Arbor
voters could be asked later this year to approve a four-year tax for
public art
if the City Council acts on a ballot proposal announced Thursday night.
Council Member Christopher Taylor, D-3rd Ward and primary sponsor of the proposal, said the ballot language for a special public art millage already has been vetted by the state attorney general's office.
He's hoping it will be voted on at the council's next meeting Aug. 20, just in time to place the 0.1-mill levy on the Nov. 6 ballot for voters to decide.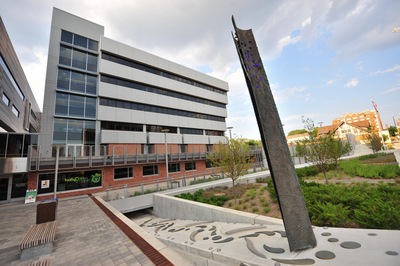 Ryan J. Stanton | AnnArbor.com
If approved, he said, it would create a new public art program replacing the city's Percent For Art Program, which has been controversial since its inception.
Taylor said the new tax would raise nearly $460,000 in the first year and cost the average household $10.97 per year ($10.86 plus a 1 percent administrative fee) or 91 cents per month. That's based on a taxable value of $108,600.
"For that $1 a month, Ann Arbor residents would receive the benefits of public art freed from the substantial restrictions that constrain and inhibit the success of the current program," Taylor said.
Under an ordinance approved by the City Council in 2007, 1 percent of the budget for city capital projects — up to a limit of $250,000 per project — is set aside for public art.
One of the reasons the program has been controversial is because it has diverted more than $2 million away from various city funds, including the water and sewer utilities and the streets and parks millages.
It also leaves the city's Public Art Commission with its hands tied — able to spend those revenues only on permanent art installations that somehow relate to the source of the funds, such the $750,000 water sculpture in front of city hall that was paid for with water and sewer utility funds.
Taylor said having a dedicated millage specifically for art — something critics of the city's public art program have been calling for — would allow more flexibility.
For example, he said, it could pay for temporary or short-term installations (he mentioned the "Gates" in New York's Central Park) and even performances and events such as FestiFools.
"This is a recipe for a vital, successful public art program," Taylor said. "I look forward to the public conversation that will take place before the next council meeting about the wisdom of this proposal. In particular, I hope to hear from the Public Art Commission."
Other council members expressed appreciation for Taylor's proposal at Thursday night's meeting, including Mayor John Hieftje, Stephen Kunselman, Tony Derezinski, Sandi Smith and Jane Lumm.
"I think it is fantastic you're bringing this forward," said Lumm, an Independent who represents the 2nd Ward on council.
Kunselman, D-3rd Ward and a frequent critic of the city's current public art program, said giving voters a say on a public art millage is exactly what the city needs to move forward on its public art efforts.
The introduction of Ann Arbor's art tax proposal comes just two days after voters in three nearby counties approved a special arts millage for the Detroit Institute of Arts.
The 0.2-mill DIA tax — twice what Ann Arbor might be asking from its citizens — passed with 67 percent approval in Wayne County, 64 percent in Oakland County and 50.5 percent in Macomb County.
At its core, Taylor said, city government is simple: Pick up the trash, fix the streets, keep crime down, keep the water clean, fight fires, plow the snow, clean the sewage, maintain the parks and serve the residents.
He said Ann Arbor does those jobs very well.
But he said Ann Arbor should be a city that does more than simply provide basic services, and he's hopeful voters will agree public art is a core value worth funding.
"Public beauty, aesthetics, and whimsy are vital to a thriving community and fundamental to Ann Arbor's competitive advantage," he said during a brief speech Thursday night.
"I believe that the average Ann Arbor voter agrees, and will for less than $1 a month support that tradition of cultural and civic leadership through the creation of a new and vital program of public art."
Ryan J. Stanton covers government and politics for AnnArbor.com. Reach him at ryanstanton@annarbor.com or 734-623-2529. You also can follow him on Twitter or subscribe to AnnArbor.com's email newsletters.