Posted on
Sun, Mar 11, 2012 : 5:57 a.m.
Q&A with Patricia Green: One year on the job as Ann Arbor Public Schools Superintendent
By Lucy Ann Lance
It's been one year since the Ann Arbor School Board selected Dr. Patricia Green as the new superintendent for the Ann Arbor Public Schools. Lucy Ann Lance and Dean Erskine talked with her on 1290 WLBY to mark the anniversary. The following is an edited version of their conversation. The complete audio interview can be heard on www.LucyAnnLance.com.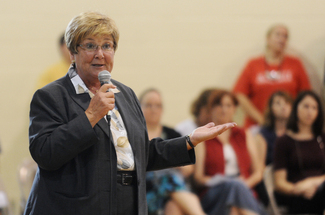 Lucy Ann:
When you were hired you said that you put academics and children first and you advocated using a scalpel and not a machete in making cuts. What's your impression of the deficit situation now for the Ann Arbor Public Schools?
Dr. Green: We're assessing what will take place as the budget is fully approved. We're looking at cuts. We're looking at the fact that there has been five years of cuts here in the district, which concerns me. It's a state phenomenon and it's a national phenomenon, but because here in Michigan it has hit us so hard, especially this school year because of the massive reductions that had to take place, it concerns me greatly. It creates a tipping point in terms of at what point does brand recognition of a great district start to dissipate? That is a huge concern.
Lucy Ann: How much has to be cut from the budget?
Dr. Green: We're looking at the possibility of between $14-$16 million. All-day kindergarten would have added a little more if we had chosen not to implement it, we would have lost more money from the state. By implementing it we will have to incur a little bit more of a deficit, however, it's less than if we didn't do it. I also want to look at other options. When I first came to the district trying to look at how we can reduce that deficit, I discovered that Medicaid Reimbursement Funds hadn't been dispersed to the district in over two years. It took me about four months to find out how much is there and where is it and we were able to get that back to the district. It was over at the WISD with all the other districts because that's where the money goes through. It was about $1.4 million for the district.
Lucy Ann: How is it that that hadn't come back to the Ann Arbor Public Schools?
Dr. Green: It was my understanding that it started a couple of years ago with the way the IRS was looking at the record-keeping of it and there had to be some changes and then it just never trickled back to the school district.
Lucy Ann: Is it set now so that it will come on a regular basis?
Dr. Green: Yes, I initiated a letter immediately and I believe there's still a third year of funding that we may be getting some of that back to our district. We are still trying to determine how much will come. So we're looking at many pots of money. This district has been traumatized over the years by the continual and incremental cuts that are huge. Over $55 million have been cut in the past and we're still facing it this year, but we're working to try to minimize that as much as possible.
Lucy Ann: You made a point a year ago saying once you eliminate programs, they rarely come back.
Dr. Green: It generally takes a generation before you get the momentum and the political will to bring something back once it's been eliminated. We're trying to be very prudent. Children first has to be behind my thinking and I always try to say what's reasonable and what's prudent. Someone once said to me, well that's really good to be reasonably prudent, and I said no. It's not reasonably prudent, it's what's reasonable and what's prudent.
Dean: Do you get to a point where you say we can't do as many things as we wanted to do and we're going to go back to the basics?
Dr. Green: Everything is being looked at very carefully. The board has given us direction to take a look at everything. I think you make a very good point. What do the Ann Arbor Public Schools and the community expect and what is our brand recognition. Is it just basics or is it a world-class education for our youngsters?
Dean: Schools of choice?
Dr. Green: Schools of choice is on for discussion with the school board.
Lucy Ann: What about transportation. There had been some talks of doing some sort of collaboration with the AATA. Where do you stand on that?
Dr. Green: We've been having regular meetings and we are trying to come up with some consolidation of our routes with AATA routes and then looking toward the future of how we can partner better. Part of my vision is regionalization, not just of transportation, but in general pushing services out, looking at some of our other school districts around us, and finding ways that we may have services here that they don't have there and perhaps with some of our very skilled people here we can start having them come to us for revenue enhancement for our school district here in Ann Arbor and being able to give them services in return.
Lucy Ann: So that regionalization isn't just with services, but possibly with education as well?
Dr. Green: Absolutely. That's part of our technology bond that we're talking about right now. My vision for the future has to do with virtual proximity for our youngsters to be able to go anywhere in the world in terms of distance learning and connecting with other school districts. I came from a very high-achieving school district and I had some conversations about linking some classrooms there with some classrooms here and having some common experiences. What would happen if you linked one of the top-performing school districts in Pennsylvania with one of the top performing school districts in Michigan? There's so much potential. The work force of tomorrow is going to be vastly different than the work force of today. They have to be totally prepared for that.
Lucy Ann: There are some people in the community who don't believe that some of the salaries in the Ann Arbor Public Schools are reasonable or prudent given a time when you are facing this deficit.
Dr. Green: What I'm trying to do is have a broader portfolio of responsibility at the deputy level which was part of my decision-making and discussion with the board prior to any actions that took place. It goes back to what I said about regionalizing what we do. I want to put more responsibility on the shoulders of my staff and push out services so that they have broader responsibilities as we continue to move forward to bring revenue back into the district. We are looking at having a new software system for the entire county for human resource services, for our financial services, and we have some of the top people here in our school district. Once we are on that platform we can push our services out. There are districts that are hurting worse than we are right now with their revenue streams and we can incorporate some of our services once all of our systems can talk together to be able to say we can do your HR, we can do your finance, join with us and we would get a revenue enhancement here. It wasn't done in a vacuum. The same thing in instruction. I don't see anybody in Michigan paying attention to what I call the discipline gap. Everything about test scores is driven by curriculum instruction and people aren't paying attention to the flip-side of that coin which is social and emotional learning for young people, and as we start doing some work in professional development on social and emotional learning, we can push that out and invite our other jurisdictions around us to have some of that professional development. It could become a revenue enhancement for our district because we are the only people really thinking along those lines. So, there was a reason behind doing it and it wasn't fully understood by the public at the time.
Lucy Ann Lance & Dean Erskine co-own Lance & Erskine Communications, which produces "The Lucy Ann Lance Business Insider" (M-F, 8 a.m.-11 a.m.) and "The Lucy Ann Lance Show" (Saturdays, 9 a.m.-12 p.m.) on 1290 WLBY. The programs are live streamed and podcast on www.lucyannlance.com.