Posted on
Thu, Mar 21, 2013 : 7:29 p.m.
University of Michigan regents concerned over House bill that puts $41M in funding at risk
By Kellie Woodhouse
University of Michigan is at risk of losing $41 million due to a state House subcommittee's proposal that ties the school's state funding to its labor bargaining — and some regents aren't happy about it.
A proposed fiscal 2014 higher education budget —passed by a 4-3 party-line vote of the state House subcommittee on higher education Tuesday— punishes universities that enter into labor contracts "under certain circumstances" prior to right-to-work legislation taking effect on March, 28, 2013, and don't achieve a 10 percent cost savings.
The university has signed off on five labor agreements, many of which are in the process of ratification. If the agreements are ratified, the university could lose the money.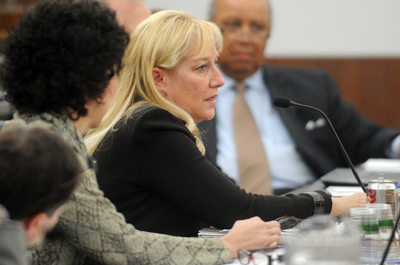 Melanie Maxwell I AnnArbor.com
"It is appalling to threaten the university with 'If you don't do 'A' we're going to cut your appropriations.' All that does is harm Michigan students and Michigan families," said U-M Board of Regents chair Denise Ilitch, who added that the legislature is trying to "run the university" and not respecting its constitutional autonomy.
Ilitch said the proposed stipulation reminded her of last year, when the committee proposed tying U-M funding to disclosure of the school's stem cell research. That measure didn't make it through the full legislative process. The fiscal 2013 funding bill included language that implored U-M to disclose stem cell information, but didn't penalize U-M financially if it withheld. That language remains in this year's proposed budget.
"That's also what's so challenging about this," Ilitch said. "They just changed the topic and the university can't respond to threats."
Regent Andrea Fischer Newman said she is "concerned greatly by the legislation and the impact it could have on this institution."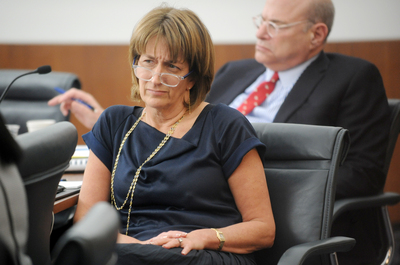 Melanie Maxwell I AnnArbor.com
Newman said the risk of losing funding, and of possible litigation surrounding the contracts, concerns her.
U-M teams reached tentative agreements with the nurses, health officers, lecturers, graduate employees and government workers unions. Bargaining with lecturers began in November, prior to the right-to-work law's passage in December, and was necessary as the union's contract is set to expire soon. With other unions, such as the nurse's union, the school opened negotiations early.
"The university's thought [was] that they would have bargaining leverage," Newman said. "My preference would have been to wait."
The Board of Regents has designated the approval of tentative agreements to university administrators, and thus labor contracts do not go before the board for approval. The university won't publicly disclose information about the agreements unless they are ratified.
Newman continued: "I think it's really, really scary and I think there are protections that we could have taken in these contracts to protect the university that we did not take."
Newman said the university could have bargained for a clause that voided the contract if there was a material impact from the legislature.
U-M's head of government relations Cynthia Wilbanks has said the committee's proposal was disappointing, but that it's early in the process. It's unclear if the stipulation will have enough support to survive the legislative process.
Kellie Woodhouse covers higher education for AnnArbor.com. Reach her at kelliewoodhouse@annarbor.com or 734-623-4602 and follow her on twitter.