Posted on
Tue, Aug 20, 2013 : 2:59 p.m.
Religious leaders call for end to anti-Israel protests outside Jewish synagogue in Ann Arbor
By Ryan J. Stanton
A coalition of religious leaders from across Washtenaw County is calling on the Ann Arbor City Council to take a stand against weekly anti-Israel protests outside a local synagogue.
The Rev. James Rhodenhiser of the St. Clare of Assisi Episcopal Church, 2309 Packard St., appeared before council members Monday night and submitted a letter signed by him and supported by 31 other religious leaders of various faiths in Ann Arbor, Saline and Ypsilanti.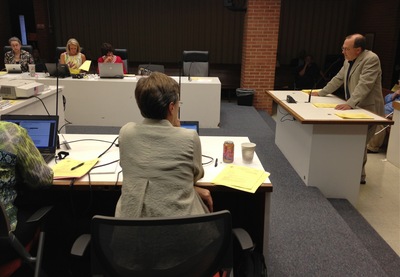 Ryan J. Stanton | AnnArbor.com
Sept. 13 marks the 10th anniversary of protests outside the Beth Israel Congregation on Washtenaw Avenue in Ann Arbor.
Since the fall of 2003, a group called Jewish Witnesses for Peace and Friends has demonstrated each Saturday morning, carrying signs protesting what the group describes as "Israel's brutal and illegal military occupation of Palestinian lands and the suffering of the Palestinian people."
Rhodenhiser said the group has a right to free speech but it's wrong to target Beth Israel for the actions of a foreign government, and the city should mark the 10th anniversary of the protests by publicly denouncing the group's behavior.
"This is the same sort of marginalizing, demonizing of a minority we have seen attempted recently against Michigan Muslims in Dearborn," states the letter Rhodenhiser submitted to the council, concluding: "This is not the kind of action that is welcomed in our town."
The letter is dated September 2011 because that's when Rhodenhiser began the process of gathering signatures of support from the 31 other religious leaders. In late 2012, the Interfaith Council for Peace and Justice also called for an end to the protests.
Mayor John Hieftje and other council members said Monday night they share many of the same concerns and they wish the protests would stop, but they agreed it's a matter of free speech. Still, they said they're going to continue looking to see what the city can do about the issue.
"Anything new we could do, I think, would be good," Hieftje said. "Council did pass a resolution a long time ago and we've taken some more recent actions, but it's a very tough problem. Attorneys have worked on it. We've been talking about it for a very long time."
Henry Herskovitz, founder of Jewish Witnesses for Peace and Friends, said he'd agree to stop the protests if the synagogue would take down the Israeli flag inside its sanctuary and go on record promoting full equal rights for Palestinians in the state of Israel.
In solidarity with Beth Israel, Rhodenhiser and other religious leaders are asking the protesters to find another public venue to protest.
If they won't stop targeting worshippers, they argue, the protesters at the very least should "spread the blame around" and target different congregations — and give Beth Israel a break.
Ryan J. Stanton covers government and politics for AnnArbor.com. Reach him at ryanstanton@annarbor.com or 734-623-2529. You also can follow him on Twitter or subscribe to AnnArbor.com's email newsletters.