Posted on
Tue, Jan 31, 2012 : 1:12 p.m.
Woman accused of writing thousands of dollars in bad checks will face trial
By Kyle Feldscher
The woman accused of writing bad checks at three jewelry stores in Saline and Ann Arbor will face trial after waiving her preliminary exam, according to court records.
Jayme Schaffer, 32, is charged with two counts of writing a no account check in Ann Arbor and one count of writing a check with non-sufficient funds in Saline. Schaffer waived her right to a preliminary hearing Thursday, according to court records.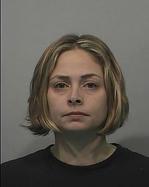 Courtesy of Saline Police Department
She will have a pretrial hearing at 1:30 p.m. March 1 in front of
Washtenaw County Trial Court
Judge
David Swartz
, court records indicate.
Police said Schaffer went to Accent Jewelers in Saline on Aug. 18 and had the owner of the store show her several pieces of jewelry. Schaffer purchased a necklace and a ring, writing a check for $1,547.60, police said.
There was not enough money in her account to cover the cost, and the store's owner alerted authorities, police said. Schaffer was arrested and charged in that case in November.
Schaffer is also charged with two separate incidents in Ann Arbor, according to police.
Police said Schaffer went to Lewis Jewelers on Sept. 12 and purchased several bracelets, writing a check for more than $3,000. The store reported the incident to police on Nov. 3 after finding that the check was written to an account that was closed, police said.
On Nov. 18, one day before her arrest by Saline police, Schaffer went to Schlanderer and Sons in downtown Ann Arbor and bought more than $5,000 worth of jewelry. The store contacted police on Dec. 1 after the check again came back to an account that was closed, police said.
Schaffer was arrested in Calhoun County on Nov. 19 and transferred to Saline police, who took her to the Washtenaw County Jail, a Saline police report indicated.
Ann Arbor police said Schaffer is being investigated for similar crimes in seven other Michigan counties.
Schaffer is not currently lodged at the Washtenaw County Jail, according to jail records.
Kyle Feldscher covers cops and courts for AnnArbor.com. He can be reached at kylefeldscher@annarbor.com or you can follow him on Twitter.