Posted on
Wed, Jan 25, 2012 : 5:56 a.m.
No snow means 'slightly modified version' of Saline's Winterfest planned for Saturday
By Lisa Allmendinger
The weather hasn't been very cooperative for Saline's Winterfest and the defense of its title as the winner of last year's Snowman Building Championship of the Free World.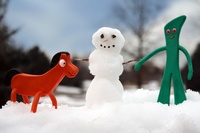 In fact,
Art Trapp
, Saline's downtown development director, said he contacted the other four cities that were in the competition. "All are in the same boat as Saline, with little or no snow and those that had some were watching it disappear as the rain moved in."
So, all four cities have canceled their snowman building contest as part of their winter activities.
At Monday night's city council meeting, Trapp said, "I officially canceled the fireman's hot chocolate and chili, the ice skating demo, the Snowman Building Championship of the Free World and the snowman decorating contest."
However, the ice carvings will be at five locations downtown, and the hayrides will take place as long as people are interested in riding.
He still is awaiting a return phone call regarding the sled dog demonstration.
Many of the other activities still will take place. Click here for the activities.
Among event changes, bingo has been replaced by a euchre tournament with the help of the Saline Area Chamber of Commerce. This will take place at the Stone Arch Arts & Events Building from 10 a.m. to noon.
"We are still having a Winterfest, just somewhat modified from the original plan," he said.
Lisa Allmendinger is a regional reporter for AnnArbor.com. She can be reached at lisaallmendinger@annarbor.com. For more Saline stories, visit our Saline page.