Posted on
Tue, Apr 9, 2013 : 12:25 a.m.
Several fires set in Ann Arbor after Michigan Wolverines lose NCAA championship to Louisville
By AnnArbor.com Staff
Update: Ann Arbor officials: Despite 9 fires, night of Michigan basketball loss was relatively tame
Soon after Louisville doused Michigan's hope of a national basketball title on the court, the Ann Arbor Fire Department was putting out several fires in the city.
As subdued crowds streamed out of bars and the Crisler Center, where U-M staged a watch party, firefighters were responding to calls of various items being lit on fire in neighborhood streets.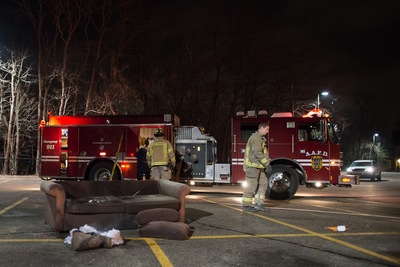 Courtney Sacco | AnnArbor.com
It took just a few minutes after the Wolverines' season ended for students to take to the streets in the area near Vaughn and Packard streets. On Vaughn, several people pulled a couch into the street and seemed ready to light it. However, they weren't able to start a flame before an Ann Arbor police squad car pulled up with lights flashing. An officer pulled the couch to the curb and warned the crowd.
Around midnight, a box spring, sticks and what appeared to be a desk burned in the middle of White Street near McKinley Avenue while about 200 people looked on. The crowd cheered as firefighters put it out. The street was closed just after midnight as debris still smoldered. Crews later dealt with what looked like a small mattress fire in the same area.
Shortly after midnight, authorities put out a fire in the area of Hamilton Place north of East Jefferson Street. A couch and tree branches were reportedly burning.
Crews also extinguished a fire in a parking lot on East Kinglsley Street and North Ingalls and in the street at East University and Michigan Avenue.
At around 1 a.m., firefighters and police responded to the 1100 block of Church Street where a wooden pallet had been set ablaze. The fire was doused in a matter of minutes.
Officials were searching a house around 1:30 a.m. in the 1100 block of White Street, where a bottle with a rag protruding from the top was next to the house. One man was taken from the house on a stretcher, but did not appear to have been injured.
Another couch fire was reportedly quenched at 2:15 a.m. near South Main Street and Hoover Avenue.
Flocken estimated the total number of fires reported in the city as of 2:30 a.m. at about eight. Another unconfirmed fire was reported after that.
Ann Arbor police said they had only made two arrests, one of which was of a man for disorderly conduct in the 1200 block of South University Avenue.
"It's actually been pretty normal for a night where you have U-M activity going on," said Sgt. Craig Flocken. "There hasn't really been anything major."
Diane Brown, spokeswoman for U-M police, said they hadn't made any arrests as of 2 a.m. Many of the extra patrols that were brought into the city had already been sent home, she said.
Police had put extra patrols on Monday night, hoping to avoid the damage that occurred after the University of Michigan won the NCAA basketball championship in 1989.
Personnel from numerous Washtenaw County police agencies were in Ann Arbor to assist with policing the area following the game. Among the agencies are the Washtenaw County Sheriff's Office, Saline Police Department, Pittsfield Township Department of Public Safety and Ypsilanti Police Department, according to Ann Arbor police officials.
There was a heavy police presence at the intersection of South University Avenue and Church Street throughout the game, with several officers posted outside the various bars and taverns in that area. There were even officers posted on the rooftop of the China Gate Restaurant.
Four couches were burned Saturday night after the Wolverines beat Syracuse.
Watch video of the fire at White and McKinley below:
Firefighters extinguish a fire on Church Street in the video below.

View Fires in a larger map