Posted on
Mon, Feb 22, 2010 : 11:25 p.m.
Plan to close Houghton and shuffle Saline students draws reaction from large crowd of parents
By Ronald Ahrens
Closing Houghton Elementary School is a certainty, Saline Superintendent Scot Graden said tonight. But how the students will be shuffled among Saline's other schools is still being debated among administrators, parents and staff.
About 125 people turned out at Heritage School for a meeting tonight to express their thoughts about proposals for reconfiguring the district.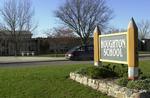 Photo courtesy of Saline schools
Graden told the audience the district faces a $4.2 million budget deficit, forcing the closure of Houghton.
Graden said neighborhood schools are wonderful for students and parents, but are "incredibly inefficient for a district to operate."
A 30-member committee led by retired teacher and administrator Kim Van Hoek, as well as current assistant superintendent Steve Laatsch, produced three options for the reorganization. They include:
1: Harvest and Woodland Meadows schools: K-3Â 
Pleasant Ridge School: Pre-K and K-3Â 
Heritage School: Grades 4-5Â 
Middle School: Grades 6-8


2: Liberty School: Pre-KÂ 
Harvest, Pleasant Ridge and Woodland Meadows: K-4Â 
Heritage: Grades 5-6 Middle School: Grades 7-8


3: Harvest: Pre-K and KÂ 
Pleasant Ridge, Woodland Meadows and Heritage: Grades 1-5Â 
Middle School: Grades 6-8


Each plan would keep the extended-day option at every elementary school.
Graden said the committee sought to maintain high-quality instruction, to achieve short- and long-term financial savings and to offer flexible solutions to meet future enrollment trends. And all of these changes must be implemented in the fall.
No single option presents a clear financial advantage over the other, Graden said.
Several audience members attested to the importance of integrating kindergarteners with early elementary students. Others spoke of the necessity of segregating sixth-graders, who are highly subject to peer pressure, from older students.
Parent Tara Clapper drew applause when she said option two appeared to be the least disruptive. Clapper later said her family built a home with an eye toward the children going to Harvest School.
"I find option three is very detrimental to a lot of people after they've moved into this neighborhood so that their children can go to Harvest," she said. "And if they're just going to be entering Harvest or currently in Harvest, you take them away from there, it's quite devastating."
Planning for the eventuality of state-mandated, all-day kindergarten was raised by more than one person who spoke at the forum. Graden called it an "expensive option."
Another matter to consider is the intangible benefit of keeping a child in the same school for several years, some parents said. One woman said her volunteerism and fund-raising efforts are stymied when her children move from school to school because of reorganizations.
Yet another factor discussed is whether families would leave the district if their children won't attend the neighborhood school.
"Right now, I know several people who have talked that, because of everything that's going on, they're thinking of going to other (districts') schools," said Terry Owings as she was leaving the forum.
Paul Bachran moved his family from the Chicago area to Saline in time for the 2009-2010 term. Bachran works for an information technology consulting firm in Maumee, Ohio, and commutes daily. He said his family's choice of location was based on the reputation of the Saline school district, the neighborhoods around Harvest School and Saline's proximity to Ann Arbor.
"Let's save our community schools," he told the forum, later saying he's opposed to option 3. "We've got bigger fish to fry than saving $10,000 to $15,000 on the difference between options."
Ronald Ahrens is a freelance writer for AnnArbor.com. Reach the news desk at news@annarbor.com or 734-623-2530.