Posted on
Sun, Feb 12, 2012 : 12:44 p.m.
Skunks feel the passion, too, as mating season starts in Ann Arbor
By Paula Gardner
Valentine's Day is the holiday that celebrates romantic love, and that's true - in a sense - for skunks, as well.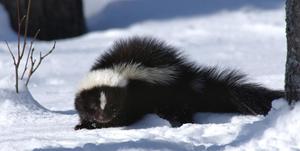 Photo by Phil Myers (photographer, copyright holder), Museum of Zoology, University of Michigan
Feb. 14 marks the start of the skunk mating season, according to a recent article on Arborweb, the online channel of the Ann Arbor Observer.
Skunks will be coming out of semi-hibernation now, ready to procreate. By summer, the skunk population will again increase as baby skunks join their adult relatives in nature - and under decks, behind woodpiles and in other areas a little too close to humans.
Some areas of town already are seeing that, particularly on the city's west side. That's also the area where three rabid skunks were discovered last year.