Posted on
Sat, Apr 3, 2010 : 8:40 a.m.
South State Street closed near downtown Ann Arbor due to early morning house fire
By Stefanie Murray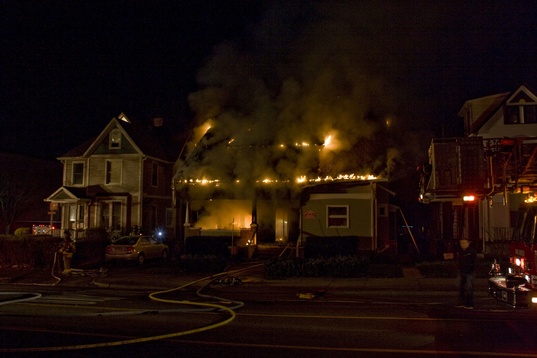 Updated story: 2 in critical condition following blaze on South State Street in Ann Arbor
South State Street between Hoover and Packard in Ann Arbor was closed early today after a fire swept through a rental house near the University of Michigan's Central Campus, sending several residents to the hospital with burns.
The fire at 928 S. State St. was reported around 5 a.m., said Ann Arbor Assistant Fire Chief Greg Hollingsworth. When firefighters arrived, the whole front porch was on fire, and the fire had spread to the interior stairwell and the roof. The fire was extinguished before 8 a.m.
Hollingsworth said one resident came out of the house with her clothes on fire when firefighters arrived. Two people were rescued from the back of the house, two other people came out and one person jumped, he said. All were transported to the hospital for treatment but their conditions were not available by 8:40 a.m.
Hollingsworth said the fire remains under investigation. The initial call reported some sort of bag on the porch on fire, he said. Witnesses at the scene said the fire quickly spread from the porch to the rest of the house.
Earlier in the morning, crews were on the scene of a vehicle fire in the 900 block of Church Street. Hollingsworth said the call on that fire came in shortly before 2 a.m.
The car fire ended up involving three vehicles and also remains under investigation.
In total, about 35 Ann Arbor firefighters and six units were called out to help with both fires.
David Jesse contributed to this report.