Posted on
Sat, May 18, 2013 : 5:57 a.m.
St. Joseph Mercy Hospital unveils first universally accessible hoop house for gardening therapy
By Amy Biolchini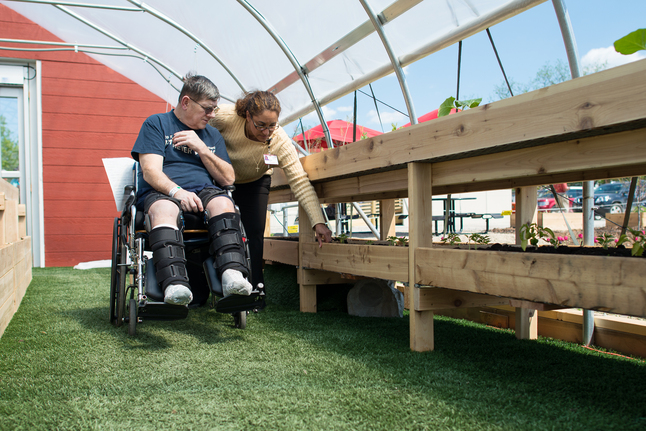 Courtney Sacco | AnnArbor.com
Fresh air, sunlight, soil and water: All the elements a seed needs to sprout and begin to grow.
At St. Joseph Mercy Hospital in Superior Township, those elements will soon foster growth of a different sort.
Thanks to a new universally accessible hoop house unveiled Thursday afternoon, patients with traumatic brain injuries will be able to rebuild their motor skills and their lives by gardening.
It's a method of care farming, in which farming practices are used in a therapeutic and healing way.
"It's all about body, mind and spirit," said Rob Casalou, CEO of St. Joseph Mercy Ann Arbor, speaking before a small crowd of hospital staff and several patients Thursday afternoon at the official opening of the hoop house.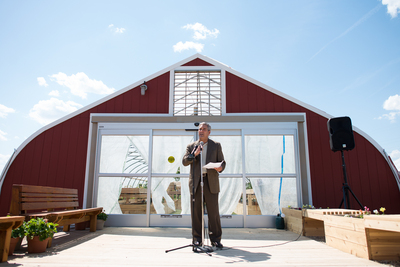 Courtney Sacco | AnnArbor.com
The hoop house is located at the
Farm at St. Joe's
on the east side of the hospital campus.
There are two hoop houses on the property. For the third house, the hospital designed it to be universally accessible and incorporate physical rehabilitation features.
Beyond the practical uses of the hoop house, hospital officials hope it can serve as a community space for patients to relax and interact with their families.
Dave Raymond, the director of planning and design for St. Joseph Mercy Health System, said the construction of the accessible hoop house was a dream that's been in the making for a long time.
Together with staff from the Eisenhower Center, the hoop house was carefully designed with a number of special features.
The Eisenhower Center provides residential rehabilitation services to individuals with traumatic brain injuries. Its campus is set in Manchester on a 62-acre farm and has multiple residential, recreational and vocational options.
Though they may not be immediately apparent to the casual visitor, many design functions are intended to help patients reach their physical therapy goals.
The new hoop house has a solid floor throughout, which transitions from fake turf to compressed stone to a wooden deck.
A traditional hoop house would enclose plants that grow in long rows on the ground.
In this modified hoop house, plants grow in box planters that are arranged in low shelves around the hoop house that make it easy for people to interact with - whether they're young, old, sitting in a chair or wheelchair or standing up.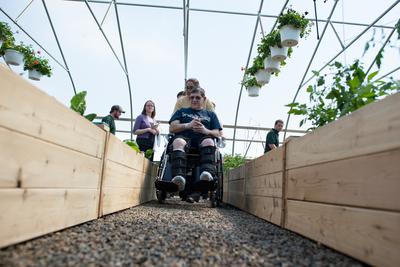 Courtney Sacco | AnnArbor.com
There's a Ferris wheel-like structure with suspended plant beds that patients can pull and rotate using their motor skills.
Hand-pedal machines will be rigged to strings of lights throughout the hoop house that will light up when a patient uses the machine, said John Cornack, president of the Eisenhower Center.
Stationary bicycles in the hoop house are also connected to a special system that pumps water from rain barrels through an irrigation system in the hoop house.
The facility is entirely self-sufficient, as it's powered by a solar panel and all the water used is from runoff from the building that's collected in a holding tank.
Much of the hoop house was constructed by patients at the Eisenhower Center, including 28-year-old J.J. Blanke.
Blanke—who built planter boxes, laid out the floor and wooden deck of the hoop house—said that kind of work that the Eisenhower Center makes possible for him is extremely valuable in his life-long rehabilitation process.
After an accident at the age of 7, Blanke said he had to completely re-learn how to walk and talk. He's been through five different rehabilitation centers—and the Eisenhower Center has been the only program that's given him a real sense of normalcy and feeling of accomplishment in his therapy work, Blanke said.
Blanke said he looks forward to seeing some of the people he knows with more limiting disabilities to be able to do their therapy in the hoop house.
The hoop house will be a great stress reliever for patients, Raymond said. Special features include a fairy garden, a fish pond and a sound system for music therapy.
Ceramic tiles decorate the plant boxes, which the patients can make in a hospital setting and then bring to the hoop house once they're ready for rehabilitation.
There are still many modifications that can be made to the structure to increase its use and functionality for patients, Raymond said.
The universally accessible hoop house is a fully functioning greenhouse producing food for the kitchen at St. Joseph Mercy Hospital, as the other two hoop houses are on the property now. About 100 pounds of fresh greens have been produced from the new house already, Cornack said.
Amy Biolchini covers Washtenaw County, health and environmental issues for AnnArbor.com. Reach her at (734) 623-2552, amybiolchini@annarbor.com or on Twitter.