Posted on
Tue, May 15, 2012 : 10:19 a.m.
State lawmakers to decide if Michigan Stadium gets liquor license for 2013 Winter Classic
By Kellie Woodhouse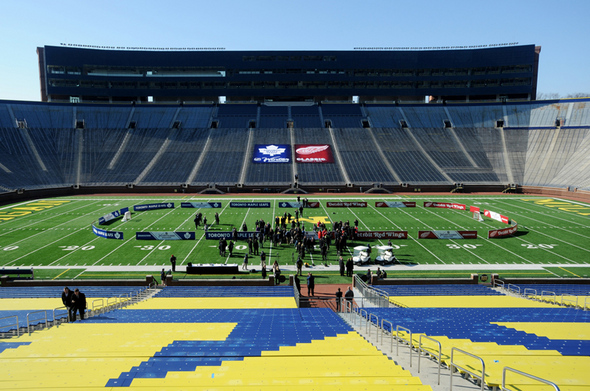 This report has been updated.
In February the University of Michigan and National Hockey League jointly announced that the 2013 Winter Classic will take place at Michigan Stadium.
But hosting one of hockey's biggest events isn't simple.
U-M is awaiting the approval of legislation that will make it temporarily legal to serve alcohol in the bone-dry Michigan Stadium.
AnnArbor.com reported in February that U-M originally intended to use one of 12 special one-day liquor licenses it's granted each year, but school officials discovered the temporary licenses aren't applicable to large crowds like the one expected at the stadium on Jan 1, 2013.
Instead, a special license —granted in the form of a law— is needed to serve alcohol to Winter Classic crowds.
"If the established outdoor program is a nationally televised game between two professional hockey teams, the commission may allow the promotion and advertising of alcoholic liquor brands on the campus of a public university," House bill 5611, proposed by state Rep. Mark Ouimet, R-Chelsea, reads.
As The Detroit News first reported, the license, if approved, would be good for 30 days. The House Regulatory Reform Committee will hold a hearing Wednesday morning on whether to approve the legislation.
U-M spokesperson Rick Fitzgerald said he expects the bill to be approved. "This change that is proposed is at the recommendation of the liquor control board of the state," he told AnnArbor.com.
The NHL announced earlier this year that it will pay $3 million to rent Michigan Stadium for next year's Winter Classic. By hosting the event in the nation's largest stadium, the NHL is hoping draw a record hockey crowd to the Maple Leafs and Red Wings New Year's Day match-off.
Fitzgerald said the NHL has rented Michigan Stadium from Dec. 22 to January 2 and the liquor could be served anytime during that period. "They may have some other events," he explained.
U-M Athletic Director David Brandon said in February that the having a temporary liquor license is key to hosting the event at Michigan Stadium.
"The fact that there will be liquor served is no problem whatsoever," regent S. Martin Taylor said in February. "This in a non-university event. We are truly just leasing the facilities."
Fitzgerald emphasized that the license is a one-time deal.
"This doesn't change anything," he said. "I don't want it to be construed that somehow Michigan is going to start serving beer at Michigan Stadium. This is just for the NHL game."
This story has been revised to reflect that U-M will be paid $3 million for facility use. Kellie Woodhouse covers higher education for AnnArbor.com. Reach her at kelliewoodhouse@annarbor.com or 734-623-4602 and follow her on twitter.