Posted on
Fri, Jan 27, 2012 : 11:31 a.m.
Student booted from EMU wins appeal in lawsuit
By Cindy Heflin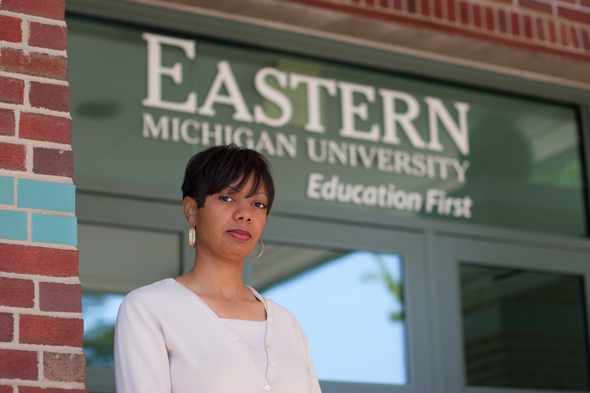 Photo courtesy of ADF
Editor's note: This article has been updated with additional details from the ruling and comments from Eastern Michigan University and the Alliance Defense Fund, representing Ward.
A federal appeals court has revived the lawsuit filed by Julea Ward, who said she was kicked out of a master's degree program at Eastern Michigan University because of her views against homosexual behavior.
The decision Friday means Ward's awsuit against school officials is returning to Detroit federal court. She was in a counseling program at EMU when she asked her superiors to refer a gay client to someone else.
The university expelled Ward from the program, although she was just a few classes short of a degree and had a high grade-point average. She says she told professors that her Christian faith prohibited her from affirming homosexual behavior.
Ward sued EMU in 2009, but lost in the lower courts. Ward and her attorneys, the Alliance Defense Fund, a legal organization that works to uphold the rights of religious college students and faculty, appealed to the U.S. Court of Appeals for the Sixth District.
A three-judge panel of the court said a jury could conclude the university used a code of ethics it adheres to "as a pretext for punishing Ward's religious views and speech." EMU denies any bias.
The Alliance Defense Fund hailed the ruling. "Public universities shouldn't force students to violate their religious beliefs to get a degree, said ADF lawyer Jeremy Tedesco. "The court rightly understood this and ruled appropriately."
EMU noted the ruling was not a finding that the university had discriminated against Ward.
"The Sixth Circuit Court of Appeals made no legal findings against the University," EMU spokesman Walter Kraft said in a statement. "Rather, the Sixth Circuit Court ruled that there needs to be additional legal proceedings before a decision can be reached. The Court also found that the Regents and the President of Eastern Michigan University were properly dismissed from the lawsuit and refused to reinstate them despite Ward's request."
In its ruling, the court said the school does not have a no-referral policy for practicum students like Ward and adheres to an ethics code, that of the American Counseling Association, that permits values-based referrals in general.
Kraft, however, said the case is not about religion or religious discrimination or about sexual orientation for that matter. "This case is about what is in the best interest of a person who is in need of counseling, and following the curricular requirements of our highly respected and nationally accredited counseling program, which adheres to the Code of Ethics of the American Counseling Association and the Ethical Standards of the American School Counselor Association. Those Ethical Standards require that counselors are not to allow their personal values to intrude into their professional work. ...
"Eastern Michigan University takes seriously our Constitutional mission to ensure that every student who graduates from our academic programs meets applicable curricular and regulatory requirements. We will continue to pursue and defend this mission at every opportunity."
The court said Ward's referral request didn't have a "negative impact" on the client. "Quite the opposite, as the client never knew about the referral and perhaps received better counseling than Ward could have provided."
The court also said Ward tried to "respect the school's affirmation directives in working with clients. "That is why she asked to refer gay and lesbian clients (and some heterosexual clients) if the conversation required her to affirm their sexual practices. What more could the rule require? Surely ... the ban on discrimination against clients based on their religion ... does not require a Muslim counselor to tell a Jewish client that his religious beliefs are correct if the conversation takes a turn in that direction ... . Tolerance is a two-way street. Otherwise, the rule mandates orthodoxy, not anti-discrimination."
The American Civil Liberties Union, which supported EMU in the case, said the judges failed to acknowledge that referring a gay, lesbian, bisexual or transgender client to another counselor could damage the client's mental health.
"While no public university can discipline any student because of her beliefs, universities have a right to insist that their graduate students adhere to accepted standards of professionalism and place the needs of their clients first," said Jay Kaplan, an ACLU attorney.
The Associated Press contributed to this report.