Posted on
Wed, Feb 17, 2010 : 6:08 a.m.
Survey could gauge support for city income tax in Ann Arbor
By Ryan J. Stanton
City Administrator Roger Fraser says it may be time to conduct a survey to gauge Ann Arbor's feelings about a city income tax or Headlee Amendment override.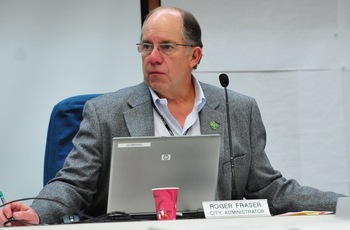 Ryan J. Stanton | AnnArbor.com
"It seems to me that if we're going to take such a proposal to the voters, it would be folly to do that without better understanding what the real community attitude was," he said.
Fraser's request to continue exploring revenue-enhancing options came during a Budget Committee meeting prior to the Ann Arbor City Council's regular meeting Tuesday night. Council members gave Fraser their blessing to proceed with further exploring the idea of a community survey.
As the city's budget picture has grown clearer over the last month - particularly with the kinds of draconian cuts now proposed to balance a $5.2 million gap in the fiscal year 2010-11 budget - council members have appeared more willing to consider the idea of asking voters to dig deeper into their pockets.
Tom Crawford, the city's chief financial offer, told council members Tuesday a city income tax could raise about $5 million to $11 million a year, depending on how it's structured. That's a more conservative forecast than one provided by a consultant last summer who laid out a range of $7.6 million to $14.2 million.
Fraser and Crawford agreed it may be less cumbersome to ask voters to approve a Headlee override instead, which could bring in more than $6.1 million a year in additional tax revenues.
The Headlee Amendment limits property tax growth to the rate of inflation, effectively reducing the city's millages each year. For instance, the city's 7.5-mill general operating levy has been whittled down to less than 6.2 mills as of this year.
"The Headlee, if you were to get approval, could be implemented in relatively simple fashion, whereas an income tax would require some time and effort, probably a year, to implement," Fraser said.
Fraser said the city continues to work on a budget scenario for next year that assumes 7.5 percent reductions in each area. But any efforts to make major changes to save money or enhance revenues could offset some of those cuts.
Fraser has laid out two other options for enhancing revenues. The first involves creating special assessment districts to fund street lights, which he said could bring in $1.5 million to $1.8 million. Another option is going to the Downtown Development Authority to discuss a contract set to expire.
"The DDA has been providing to us somewhere around $1.8 million over their contract amount," Fraser said. "Our forecast, because we do not have a contract with the DDA after June 30 of this year, does not include any extra money (the $1.8 million) out of the DDA. That's probably somewhere close to 35 to 40 percent of our shortfall that is reflected in the absence of a commitment on that particular item."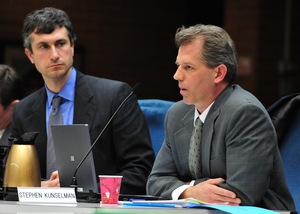 Ryan J. Stanton | AnnArbor.com
The City Council held off on approving a resolution Tuesday night that would have asked Fraser and all other non-union employees to take a 3 percent pay cut next fiscal year. 
Council Member Stephen Rapundalo, D-2nd Ward, one of two sponsors of the resolution, said he hopes to bring the proposal back March 1.
"A number of council members have just raised a few issues," Rapundalo said. "Not everybody has had the opportunity to provide their comment, and I think Council Member Higgins and I just simply wanted to buy a little more time to get information and perspectives from our colleagues before we move forward on it."
Also Tuesday, the City Council voted to spend $381,170 from parks millage proceeds to purchase a 0.58-acre piece of land at 220 Sunset St. from the Elks Lodge. The parcel is next to the Bluffs Nature Area and will provide access to the park from Sunset Street.
Rapundalo was the only council member to vote against the purchase. He said he thought $381,170 was "excessively expensive" and questioned the city's continued investment into acquiring parkland when it already can't afford the parks it has.
"There's going to be consequence on our operational side," he said. "I think it's really time to sit down and take a look at our acquisitions and the implications on the general fund side."
Another expense that drew some debate was a $21,800 allocation to extend a contract for six months with Katherine Talcott, a part-time consultant hired to help administer the city's public art program. Objecting to that expense were Council Members Stephen Kunselman, D-3rd Ward, Sabra Briere, D-1st Ward, and Marcia Higgins, D-4th Ward.
"I just want to bring to the attention of my colleagues and to the public that the art program is not so benign that it doesn't have an effect on our other funds where we're asking our employees to make sacrifices," Kunselman said. "I'm wondering if, at what point, this council will be asking the art fund to start making sacrifices as well."

Ryan J. Stanton covers government for AnnArbor.com. Reach him at ryanstanton@annarbor.com or 734-623-2529.