Posted on
Tue, Apr 3, 2012 : 12:18 p.m.
Tax foreclosures heading to auction decline in Washtenaw County
By Paula Gardner
The numbers of properties in Washtenaw County facing sale at auction due to tax foreclosure this summer are down by one-third from the record-setting 2011 totals.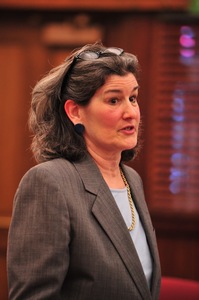 Ryan J. Stanton | AnnArbor.com
The preliminary total for this year also is less than in 2010, when the number of tax foreclosures first spiked. That year, 391 properties were lost due to non-payment of taxes. In 2011, a total of 639 parcels went to auction.
Washtenaw County Treasurer Catherine McClary said that by midday Monday -- the last day for property owners to pay taxes owed from 2010 -- 317 properties were facing tax foreclosure auction this summer.
That's down from the 408 properties that could have been on the auction list because they were first foreclosed upon in March 2011 for delinquent taxes. That means at least 25 percent of owners facing a county tax sale were able to avoid it by paying all interest and penalties by the time McClary's office closed on Monday, 13 months after the foreclosure process began.
The final payment was March 31, but because that fell on a weekend, owners had all day Monday to make their payment.
The next step for McClary's staff is to finalize the tax foreclosure auction list this week. Multiple properties -- such as development lots -- may be combined into single bidding lots when they're auctioned. In 2011, a few auction rounds were scheduled, including one that focused on Ypsilanti-area properties.
Properties will be auctioned starting July 17, McClary said. Information will be posted on www.auction.com.
McClary told the Washtenaw County Board of Commissioners in March that overall tax delinquencies also are down.
That, she said, gives her hope that even fewer properties will reach tax foreclosure auctions in coming years.