Posted on
Thu, Mar 15, 2012 : 5:15 p.m.
Tornado touchdowns reported in Washtenaw County
By AnnArbor.com Staff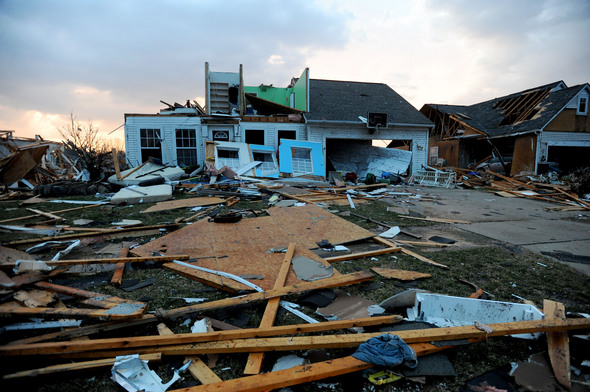 Angela J. Cesere | AnnArbor.com
At least one tornado touched down in the Dexter area around 6 p.m. on Thursday leaving a swath of destruction in its wake as a severe storm swept through Washtenaw County. There were multiple reports of damage to homes, trees down and hail of 1.8 inches in diameter.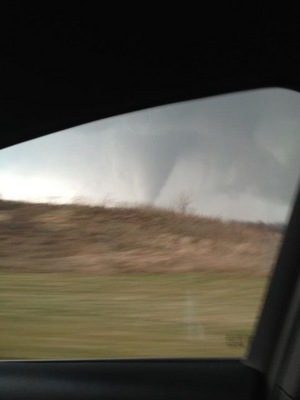 Submitted photo
In the Huron Farms subdivision off Dexter-Ann Arbor road east of Dexter, at least six houses were torn apart by the storm. Their frames were standing but their interior stairwells were visible from the street.
John Oberg was standing on his porch watching the storm about 6 p.m.. He said he saw insulation fly by and a lot of things swirling in the air.
It was like the "Wizard of Oz," he said.
Henry Haley, a contractor for Haley Mechanical, was trying to assist residents by turning off gas lines to their homes. "A lot of these people are my customers,'' he said. "It's pretty tragic.''
Many neighbors were milling in the street, walking through debris, talking to each other and surveying the damage. Gary Farber, who lives in a condo in the neighborhood, said he had never experienced a tornado before. "These people's lives are turned completely turned upside down,'' he said of his neighbors as he stood in the middle of Noble Drive, holding an umbrella.
Aaron Mitchell said he was in Ypsilanti with his children when he heard the tornado warning. He said he headed toward home, and by the time he reached Zeeb Road, he received a text message from a friend telling him about the damage in the neighborhood.
He arrived home about 7:25 p.m. and was standing outside his SUV, with his toddlers still in their car seats, while he tried to assess the damage. "I'm trying to get my brother to come get my kids so I can go inside,'' he said.
Debbbie Haas, who lives on Quackenbush Drive, said she was in Dexter when the storm hit, and went to the house of a friend who had what she described as a "bomb shelter.'' Once the storm passed, she rushed to the neighborhood. "These are the people I love,'' she said. "There's damage to my house, but at least we have a house.''
There were reports in the neighborhood that early in the evening, two residents who had been in a home that collapsed were taken from the neighborhood in an ambulance. But there were not other reports of injuries.
Sandy Pollard said she was heading home from Domino's Farms in Ann Arbor as the storm struck. By the time she reached the Busch's and Country Market on Dexter Ann Arbor Road, there was torrential rain, and she could see debris flying through the air. "That's when it hit me, 'I'm in a tornado,''' she said.
She said she tried to stop her car, but her car was still moving side-to-side, and she was screaming in panic.
She said her 17-year-old daughter, Amanda, was home alone at the time. When Pollard reached her house, she said her reaction was: It's unbelievable. This can't be happening.'' She said she and her daughter went into the basement and stayed there for half an hour. They had no TV and couldn't get a weather report. She said they heard a window blow out upstairs.
The stayed downstairs until they heard firefighters pounding on their door to check on them. Pollard said they went upstairs and when they looked outside, the house across the street was destroyed. "I felt like I was on the set of the Weather Channel,'' she said. "I heard no one was hurt. It's a miracle.''
At 5:26 p.m., trained weather spotters reported a funnel cloud near Dexter. The Washtenaw County Alert system confirmed a tornado had touched at Dexter Pinckney and Wylie road. Other reports indicated a tornado touchdown at Huron River Driver and Dexter.
Northfield Township sent out an alert saying several sightings of a tornado have been seen in the Dexter area with confirmed damaged to trees and houses. If you need to take shelter the Northfield Public Safety Department tornado shelter is open, the alert said.
Reports indicated there was damage to houses on Horseshoe Bend Drive north of Dexter. There were multiple reports of trees down in several locations.
Hail was reported in Sylvan and Scio townships.
The National Weather Service had issued a tornado warning for northern Washtenaw County and southeastern Livingston County until 6:30 p.m. Thursday.
WXYZ reported hail 1.8 inches in diameter along I-94 west of Ann Arbor. Large hail was reported on the west side of Ann Arbor at 6:21 p.m. Quarter-inch hail was reported in downtown Ann Arbor at 6:08 p.m.
The weather service said people in the warning area should take cover immediately. People in the path of the storm should move to an interior room on the lowest floor of a sturdy building and avoid windows. Those in vehicles or mobile homes should move to the closest substantial shelter and protect themselves from flying debris.
A severe thunderstorm watch remains in effect for Washtenaw County until 9 p.m.