Posted on
Mon, Sep 26, 2011 : 5:59 a.m.
University of Michigan bracing to maintain $1.24B research budget amid expected federal cuts
By Kellie Woodhouse
As lawmakers in Washington are locked in a funding standstill that threatens to shut down the federal government, researchers at the University of Michigan are preparing new strategies to preserve its record-setting research budget.
U-M experienced $97 million growth in research spending last fiscal year, marking the third consecutive year that the school's research enterprise has exceeded $1 billion.
Yet with about two-thirds of the $1.24 billion research enterprise at U-M funded by the federal government, urgent calls from lawmakers to limit government spending mean research dollars are expected to either shrink or stagnate.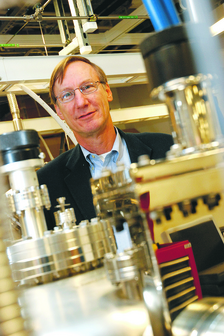 "The future is very uncertain and we have to keep that in mind," said U-M Vice President for Research Stephen Forrest, who has overseen the university's research pursuits since 2006.
"The contention in Washington, the very fragile state of the U.S. economy and the world economy: All these things, we can't possibly ignore them and we can't possibly be protected from them."
"As we bring in new grants we might see a slowing of growth," Forrest continued.
Alec Gallimore, associate dean for research and graduate education at the U-M College of Engineering, agreed.
"We don't exactly know what the federal funding profile looks like for sure, but all indicators are that it looks less than rosy," he said. "It's going to be more difficult to get funding from the federal government this year than it has been in a while."
Forrest said that because most federal grants are awarded for projects that have a three- to five-year term, the impact of the coming difficult year won't be felt until at least fiscal 2013.
"You see things slowly rolling through the system," he explained.
With a new landscape in Washington, Forrest said the university is already strategizing new approaches to obtaining grants.
U-M will "have to take more market share" to remain competitive and keep its research expenditures from falling, he said. U-M has not had a year of decline in research spending since the early 1980s, figures show.
However, U-M did experience a stretch of small growth increments in the mid-2000s. During that time, growth ranged from 0.4 percent to 3.3 percent —relatively "marginal" jumps compared to the 12 percent growth experienced during fiscal 2010 and the 8.5 percent growth experienced this year, Forrest said.
"We have to be more organized in how we approach the opportunities," Forrest said.
Forrest said the bulk of research funding comes from proposals made by individual professors. He said the university is looking to have larger groups —such as university centers and institutes— seek proposals in a more targeted fashion.
"We have to write more competitive proposals," Forrest said. "Overall, though, we have the people and we have the quality. We just really have to see what's going to happen with the federal government."
James S. Jackson, director of the U-M Institute for Social Research, said that widening the pool of research sponsors at U-M is paramount. The ISR is one of the largest social science research centers in the nation and third-largest research spender at U-M.
According to Jackson, the majority of ISR funding comes from the National Science Foundation and the National Institutes of Health, which provided 46 percent —or $571 million— of U-M's research funding last year.
But the institute has been actively trying to diversify its sponsors over the past five years. Last year, the U.S. Department of Defense, U.S. Department of Energy and the Food and Drug Administration each provided sizable grants to ISR, Jackson said.
With a diverse portfolio of sponsors, the institute refrains from being too reliant on a single agency for funding.
But despite widening the pool, the fact remains that the majority of ISR's sponsors are federal.
"For the most part, we're dependent on federal grants and contracts," Jackson said. "If the government puts off having a continuing resolution, or never having a budget, that could be a problem for us."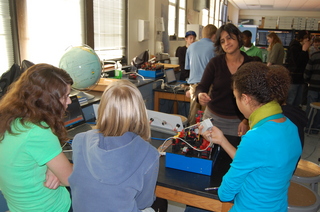 But Jackson said that while research dollars may not be likely to grow in the next year, he's confident that ISR won't lose its place as one of the top U.S. gatherers of federal social science research dollars. Many of ISRs projects, Jackson said, are ongoing and unique within the social science research community. Some have been going on since the late 1960s and mid-1970s.
"If (the federal government is) going to have any grants programs, then we're going to get some of them," Jackson said. "Our scientists do very well. We do a lot of large long-term studies that run over many, many years."
"I wont say funding is guaranteed," Jackson continued. "But the probability is high that we have something that people have a great deal of interest in."
Last year the center spent about $130 million conducting research, up from the center's $80 to $90 million average of the past few years. The increase, Jackson said, is primarily due to a $42 million grant awarded as a part of the 2009 stimulus package.
Jackson says based on numbers from July and August, funding for fiscal 2012 is on track to be at the $80 to $90 million level once again.
Overall, the university profited heavily from the 2009 stimulus package. U-M researchers were awarded more than $300 million in grants and contracts. Though approved in 2009, the stimulus grants are still being awarded. According to Forrest, less than one-third of the grants were awarded last year and about another third will be awarded throughout fiscal 2012.
"We were one of the big winners of research stimulus funding, there's no question about it," Forrest said.
Funding trends show one thing is clear: The university cannot rely on private sponsors to pick up any slack in federal funding.
Last year, funding from private sponsors —which comprise about 9 percent of U-M's total research enterprise— fell by 1 percent. Funding from foundations fell $3.4 million, or 13.6 percent, and funding from the state and from trade associations fell $1 million each last year, or by 50 and 16 percent, respectively.
And although industry sponsors grew by approximately $1.6 million, or 4 percent, industry research at U-M does not appear to be growing significantly.
Last year, $40.8 million in industry funding comprised 3.3 percent of U-M's total research spending. But in 2008, $38.6 in industry spending comprised 4.7 percent of U-M's total research expenditures.
According to Gallimore, industry funding at the college is less robust then it is at other top engineering schools.
"If you look at some of our peer institutions the percentage of funding they get form industry tends to be a bit higher than our institution," he said, adding that the vast majority of funding at the U-M engineering school is government-backed.
With federal funding less certain this year, Gallimore said the engineering school is looking towards industry more than ever.
"We think there's an opportunity to increase our portfolio by increasing our relationship with industry," he said. "There are research needs that they have that we can fill."
But industry dollars alone won't sustain engineering research.
"We also need to be as effective and efficient in getting federal government grants as possible," Gallimore said. "The federal government is still going to spend billions of dollars doing research this year and the next year… so even though next year might be a little bit bleak, let me tell you that we are planning on new initiatives."
Gallimore said that U-M will have to "hustle" to beat out other institutions for federal dollars, taking a more organized and targeted approach than is required in years of abundance.
"We have to not be complacent," he continued. "It's going to be harder get funding, but we're up to the challenge."
At many schools, doctorate and graduate students are funded through research grants. To ensure that these students finish their programs, Gallimore said that it's critical that U-M finds ways to keep research spending level.
"If funding goes down, it's not just going to affect the professors' ability to research, but it's also impacting our students," he said. "Engineering students need to be involved in technical activities that extend beyond the classroom.
"One of the things we absolutely have to do is make sure we protect our graduate students," he continued.
At the ISR, that sentiment goes beyond just graduate students.
ISR is one of several research centers on campus that is entirely funded through grants. The some 240 faculty that work at ISR are not funded through the school's general fund, but instead are completely dependent upon grants.
"People aren't only motivated to do the science that they do, but they're also supporting themselves and their teams, too," Jackson said.
Forrest said that even though U-M is among the top research institutions in the nation, the school is still learning how to navigate funding in a very fluid and quick-to-change political atmosphere.
"It's a very interactive, living process," he said."Keeping track of everything is not always easy, it can be a challenge. Making sure we're efficient in everything we do is something we work on everyday."
Kellie Woodhouse covers higher education for AnnArbor.com. Reach her at kelliewoodhouse@annarbor.com or 734-623-4602 and follow her on twitter.