Posted on
Thu, May 31, 2012 : 5:59 a.m.
University of Michigan chief 5th-highest paid public university president in nation
By Kellie Woodhouse
Jeffrey Smith | AnnArbor.com
Mary Sue Coleman
was the fifth-highest paid public university president in the nation during fiscal 2010-11, according to a
Chronicle of Higher Education
database.
The University of Michigan president's compensation was $845,000 from July 2010 to June 2011. That includes $570,105 in base pay, $175,000 in deferred compensation and $100,000 in yearly bonus compensation. It does not include roughly $50,000 a year in retirement pay or her use of a U-M-provided car and house.
It also doesn't include the 2.75 percent raise she received this year, which brought her salary to $586,000. Coleman donated that raise to international scholarship. AnnArbor.com tallied her full compensation package at more than $910,000 in December, not including the house and car.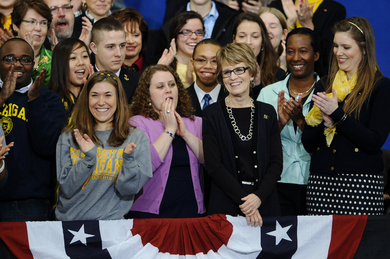 The
Chronicle ranked
Coleman's fiscal 2011 compensation package behind the presidents of Ohio State, Texas A&M and Pennsylvania State universities and the University of Kentucky.
Ohio State President E. Gordon Gee made $1.99 million during fiscal 2011. Michael D. McKinney, Texas A&M president, made $1.97 million. McKinney retired in 2011 and his earnings include $683,000 in terminal pay.
Ranking behind Coleman were the presidents of Texas Tech University, the University of Texas, Virginia Tech University, the University of Minnesota, the University of Delaware and Auburn University.
Michigan State University President Lou Anna K. Simon made $520,000 in fiscal 2011. Simon received only base bay and did not earn deferred or bonus compensation.
The Chronicle's analysis of 190 top public colleges found the median total compensation for presidents during fiscal 2011 was $421,000, up about 3 percent from the previous year. The Chronicle reported in December that the median compensation package for a private college president is $386,000.
Coleman's base salary began at $475,000 when she was first appointed in 2002 and has grown by more than $100,000 since then. Coleman's predecessor Lee Bollinger, now the chief at Columbia University in New York City, earned $326,000 in base compensation during his last year at U-M. The Chronicle reported Bollinger's salary at $1.53 million in 2009.
Salaries for top-paid private university presidents continue to outpace salaries for their counterparts at public schools. According to the Chronicle database in 2009 the president of Drexel University earned $4.9 million, the president of Johns Hopkins University made $3.9 million and the president of Yale University made $1.6 million. Total 2009 compensation for Drew Gilpin Faust, president of Harvard University, was $875,000.
Coleman is reported to make about $230,000 for sitting on the board of Johnson & Johnson and another $137,000 for belonging to the board of Meredith Corporation, a media and marketing company.
She has led the university since 2002. During that time the school's endowment has more than doubled and at $7.8 billion it is one of the highest of any public university. Recently, she launched a new program that will invest endowment funds in university start-ups. Tuition has also substantially increased at U-M and at public universities across the state. Last year U-M students saw a 6.7 percent tuition hike, an increase on par with Michigan's average. U-M's out-of-state tuition rate is the highest of any public school.
Kellie Woodhouse covers higher education for AnnArbor.com. Reach her at kelliewoodhouse@annarbor.com or 734-623-4602 and follow her on twitter.