Posted on
Thu, Feb 2, 2012 : 2:57 p.m.
University of Michigan faculty to discuss lapse in reporting child porn
By Kellie Woodhouse
The recent revelation of a six-month lapse in reporting child pornography found on a thumb drive in a University Hospital employee computer has not gone unnoticed by University of Michigan staff.
Faculty members plan to discuss it at an upcoming meeting of the Faculty Senate Advisory Committee on University Affairs.
The meeting is open to the public and will be held at 3:15 p.m. Monday, Feb. 6 in Fleming Administration Building's Regents Room.
Stephen Jenson, 36, a fourth-year medical resident specializing in internal medicine and pediatrics, was charged in December with four counts of possessing child pornography. In May, a fellow resident found a thumb drive containing child pornography and documents with Jenson's name. That resident told her supervisor who informed hospital security. The university's General Counsel Office took ownership of the case and, instead of reporting the incident to campus police, let it drop.
According to university records and statements, the case was not brought up again until Nov. 18 when a hospital security official told the school's Department of Public Safety about the May incident.
Since then top university administrators have admitted university-wide communication problems, lamented a lack of existing procedures to ensure successful crime reporting, and launched an internal investigation of factors that led to the botched reporting.
Kate Barald, chair of SACUA, said the board is pleased with the university's current course of action, including the internal investigation that is under way by the university's audit office.
"Although we, too, as undoubtedly do all U of M faculty and administrators, wish that an investigation had begun earlier," Barald said in an email, "and the house officer concerned (had been) identified and suspended from contact with children as soon as that person was identified through tracing of the thumb drive."
She added that staff should have been "concentrating on protecting children from contact with someone who could potentially harm them."
Michael Lanham, president of the U-M House Officers Association, the bargaining unit for medical residents, said in an email that "there were several problems with how the initial reporting of the allegation was handled" but added that he was "optimistic that the University (sic) will continue to be transparent about their review and the changes to be made."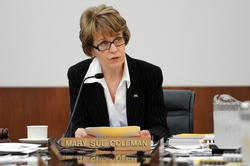 On Dec. 5 SACUA
spoke with university president
Mary Sue Coleman
regarding the
Penn State University
sex scandal, in which university officials allegedly knew of abuse accusations but did not report them to police. SACUA discussed Penn State's complicity in the abuse and drafted a resolution urging U-M faculty and staff to come forward if they suspected criminal activity.
"Although we hope that similar incidents could not be possible at the University of Michigan, we are concerned about the conditions that apparently allowed these alleged crimes to be both perpetrated in the first place and hidden from public view for so long," the resolution states.
SACUA, in the resolution, noted Penn State's "culture of silence and/or minimization in order to save public face" and its "problematic linkages between... university public safety officers, university administration and external law enforcement agents."
Coleman's administration and the Board of Regents received information on the child pornography and the six-month reporting lapse by late November, but Coleman did not disclose the situation to SACUA during the Dec. 5 meeting. At the time of the meeting, Jenson was suspended from clinical duties but not criminally charged.
At the meeting Coleman said "there are multiple, multiple ways" U-M could be at risk for unreported criminal activity and admitted that the university needed to revamp its "policies and procedures for recording and identifying abuse."
She also announced the establishment of a committee tasked with drafting new university crime reporting and prevention policies.
"What are the gaps in our policies and procedures and how might we address those gaps?" Coleman asked the board.
University spokesperson Rick Fitzgerald this week echoed Coleman when he attributed the six-month lapse to the absence of existing procedures.
"It's safe to say that there were gaps in procedures," Fitzgerald said.
Twenty days before visiting SACUA, Coleman sent an email to the university community urging them to take the lessons of Penn State to heart.
"At Michigan, we are devoted to the highest ethical standards; we expect honesty and integrity from every member of our faculty, staff, and student body," Coleman wrote in a Nov. 15 email. "It is important for us to act immediately in suspected cases of abuse or other crimes, or in a circumstance where you find yourself either a victim or a witness to questionable activity."
Three days later a hospital security guard notified university police of the child pornography originally discovered in May.
Kellie Woodhouse covers higher education for AnnArbor.com. Reach her at kelliewoodhouse@annarbor.com or 734-623-4602 and follow her on twitter.