Posted on
Thu, Mar 15, 2012 : 5:57 a.m.
University of Michigan in midst of reviewing policies for youth programs
By Kellie Woodhouse
Sports summer camps, tutoring programs in Detroit, high schoolers attending classes at the Dearborn Campus, children treatment programs at the Health System— those are just a handful of ways the University of Michigan interacts with minors on a regular basis.
There are "many, many places across the institution" where students, staff and faculty interact with children, U-M President Mary Sue Coleman said in December.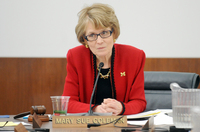 Melanie Maxwell I AnnArbor.com
The school has nearly 100 programs that involve youth, said U-M Faculty Senate head Kate Barald. According to Barald, some programs require background checks and others are more loosely monitored.
Those programs are in the process of being reviewed, vetted and —eventually and if necessary— tweaked to ensure the safety of participating children.
Coleman on Dec. 5 announced that U-M would launch an internal review of its youth programs to avoid instances like the sex abuse scandal at Penn State University that roiled the higher education community in November.
The review will address "gaps in our policies and procedures and how might we address the gaps," "policy and procedures for identifying and recording abuse," and "trainings (and) screenings" staff and volunteers undergo before and while working with children.
U-M Public Affairs Director Kelly Cunningham and university lawyer Donica Varner began the review in December. They are currently in the fact-finding phase of the effort and a larger panel will be appointed to review program policies and set guidelines later this year. Varner and Cunningham will chair that group.
"The goal is a comprehensive review of the university's interaction with minors," Cunningham said. "We're focusing on the policies and procedures that we have for ensuring the health and safety of the minors."
The lack of clear Health System policies for reporting crime contributed to a six-month lapse in reporting child pornography found in an employee area of university hospital. Although the porn was discovered in May, along with documents that linked the images to 36-year-old pediatric resident Stephen Jenson, it was not reported until November.
The review, however, did not stem from the reporting lapse.
"It was initiated in response to the allegations of child abuse and the failure to respond appropriately at Penn State," Cunningham said. "It's not in an way a reaction to the pediatric situation."
Cunningham and Varner are interviewing roughly 60 university officials —ranging from deans to program directors to camp counselors— in order to compile information about existing programs. Select staff also will be asked to fill out an online survey.
The two have already conducted at least 35 interviews since Feb. 20 and, so far, have identified a need to share "best practices" for items ranging from sign-in sheets to policies on children taking medicine during a U-M activity.
"So far everything I've seen has been good," Cunningham said. "But ... we're not really passing judgement on what people are doing yet."
The university also is in the process of hiring an outside agency to review communication between Health System security and the U-M Department of Public Safety.
In February the U-M Board of Regents ordered an external review of the six-month reporting lapse of child pornography. U-M wrapped up its own internal review of that incident on Feb. 10.