Posted on
Thu, Jun 20, 2013 : 4:48 p.m.
University of Michigan raises in-state tuition 1.1% and adopts $1.72B general fund budget
By Kellie Woodhouse
University of Michigan has adopted its lowest in-state tuition increase in nearly three decades.
The school is increasing in-state freshman and sophomore tuition 1.1 percent, bringing the in-state rate to $13,142 a year, the smallest increase since 1985. Non-resident tuition received a steeper hike; a 3.2 percent increase will bring out-of-state tuition to $40,392 a year.
The school's eight-member Board of Regents approved the new rates during a public meeting Thursday afternoon in a split 6-2 vote. Regents Denise Ilitch and Andrea Fischer Newman opposed the increase.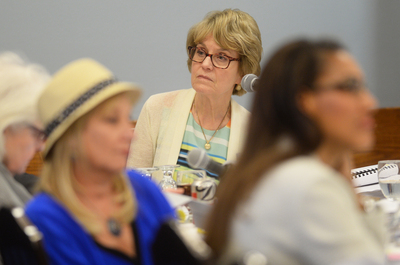 Melanie Maxwell | AnnArbor.com
It follows a 2.8 percent increase for students in state and a 3.5 increase for out-of-state students last year. U-M's resident tuition has grown 60.2 percent over the past decade. Its non-resident tuition has increased 55.2 percent.
Regents also approved a $1.72 billion fiscal 2013-14 general fund budget for the university - nearly a 4.6 percent increase over last year.
"If we were as good in raising revenue streams as we are in raising tuition our students would be far better off," Ilitch said before voting against the proposed tuition increase. She said the college funding model "must change."
In-state tuition
2013-14: $13,142
2012-13: $12,994
2011-12: $12,634
2010-11: $11,837
2009-10: $11,659
2008-09: $11,037
2007-08: $10,447
2006-07: $9,723
2005-06: $9,213
2004-05: $8,201
2003-04: $7,975
The general fund budget pays for the academic and administrative enterprise for the university and for salaries and benefits. It is composed primarily of tuition dollars, state appropriations, which are $279.1 million this year, and research grant reimbursements. Tuition is expected to bring in $1.2 billion in revenue.
The general fund's growth is made possible by the increase in tuition, cost recovery methods and an increase in out-of-state enrollment.
The number of non-resident undergraduates at the school —who pay $27,250 more in tuition— is expected to increase by 0.5 percent in fiscal 2014, according to U-M Provost Martha Pollack. She said the school anticipates that in the fall 60.9 percent of undergraduates will be Michigan residents.
Out-of-state tuition
2013-14: $40,392
2012-13: $39,122
2011-12: $37,782
2010-11: $36,001
2009-10: $34,937
2008-09: $33,069
2007-08: $31,301
2006-07: $29,131
2005-06: $27,601
2004-05: $26,027
2003-04: $24,777
The general fund budget allows for a 13.7 percent increase in financial aid, raising U-M's centrally awarded aid to $161.2 million. Centrally awarded aid has increased 93 percent over the past seven years. According to U-M officials, the Ann Arbor college provides the third-highest amount of institutional aid among public research universities.
Pollack said that U-M meets all demonstrated need —usually through a combination of grants, subsidized loans and scholarships— for in-state students whose families earn under $120,000 and for out-of-state students whose families earn $40,000 or less (Pollack said there will be about 400 undergraduates enrolled from such families).
U-M estimates that about 48.7 percent of in-state families make more than $150,000 or do not apply for federal loans. Pollack did not release information on the incomes of out-of-state students, saying it was not readily available.
The university has also reined-in costs in recent years taking actions such as streaming procurement and reorganizing its information technology operations. For fiscal 2014 it anticipates $23.7 million in such savings, which the school is using to fund $19.6 million in new programs.
U-M officials say that the modest tuition increase, coupled with the increase in aid, will produce no increase in net cost for students with demonstrated financial need.
Regents also approved a 2.5 percent increase in housing rates. Four-fifths of the money raised from that increase will go toward funding the school's residential life initiative, which has a $600 million price tag.
Some flagship public universities, such as Ohio State University and the University of Texas at Austin, have agreed to tuition freezes for in-state students, but U-M regents and officials have been reticent to embrace a freeze.
Meanwhile, students at other state schools are incurring steeper increases than U-M students, although students at the Ann Arbor campus will pay more overall.
Eastern Michigan University increased in-state tuition 3.75 percent on Tuesday, bringing the cost of a full-time education at the Ypsilanti school to $9,364 per year. That's a 66 percent cost increase from a decade ago. On Friday, Michigan State University's governing board is expected to approve a 2.8 percent tuition increase, bringing the in-state rate to $12,683 per year.
Western Michigan University increased its 2013-14 resident tuition to $10,355, Central Michigan University's 2013-14 tuition is $11,220, Ferris State University's tuition is $10,950 and Saginaw Valley State University increased next year's tuition to $8,423.
The fiscal 2013-14 year begins on July 1 and ends June 30, 2014. Tuition increases take effect for the fall 2013 semester.
Kellie Woodhouse covers higher education for AnnArbor.com. Reach her at kelliewoodhouse@annarbor.com or 734-623-4602 and follow her on twitter.