Posted on
Thu, Apr 19, 2012 : 6:45 p.m.
University of Michigan will go forward with Wall Street parking garage
By Kellie Woodhouse
The University of Michigan Board of Regents agreed unanimously Thursday with administrators' vision to build a multimillion dollar parking garage on Wall Street in order to allay a Medical Campus parking shortage.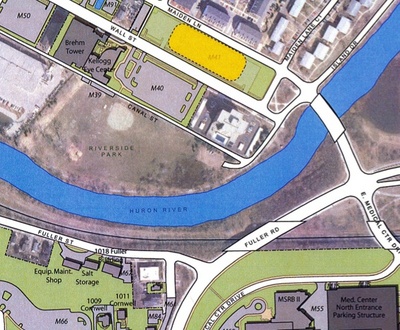 It was the second time the regents approved the proposal. In 2008, regents agreed to build a garage on Wall Street but scrapped that plan a year later in favor of a Fuller Road Transit Center plan. But earlier this year, U-M
dropped its plan for a large parking structure
on that site.
"Unfortunately we are not going forward with that project," U-M Chief Financial Officer Timothy Slottow told regents, saying U-M pulled out because the city could not abide by the original joint agreement to begin construction on the Fuller Road garage by the summer.
Slottow said the university wants "to move quickly and to construct a deck that's similar" to the one proposed in 2008. He said the new $754 million C.S. Mott Children's and Von Voigtlander Women's Hospital and the recently announced plans to expand University Hospital are "increasing the demand on both patient parking and staff and faculty parking" and worsening U-M's parking shortage.
The university plans to build the 700-spot, $34 million parking structure on the east side of Wall Street, about one-half mile from University Hospital. It will be built atop a 200-spot parking lot and thus will add 500 parking spots on campus.
Unlike the parking structure proposed in 2008, the newest iteration will not include office space or a limited transit center.
The university originally abandoned the Wall Street parking structure in favor of the Fuller Road structure in 2009 partially because of outspoken opposition from residents who feared increased traffic congestion in their neighborhood. Opponents also said the Wall Street site is at the bottom of a hill and building a structure there would further pollute Ann Arbor's water systems.
"It's just barely above the water," said 1st Ward Ann Arbor City Council member Sabra Briere, whose district includes Lower Town. She added: "Adding 500 cars to the downtown area doesn't impress anyone. Nobody thinks this is a good idea."
Kellie Woodhouse covers higher education for AnnArbor.com. Reach her at kelliewoodhouse@annarbor.com or 734-623-4602 and follow her on twitter.