Posted on
Thu, Jan 12, 2012 : 4:42 p.m.
Updated forecast: Bulk of snow will hit Ann Arbor on Friday
By Cindy Heflin
Colliding low pressure systems still are expected to dump 2 to 4 inches of snow on the Ann Arbor area starting tonight, but the bulk of the snow will come on Friday, forecasters now say.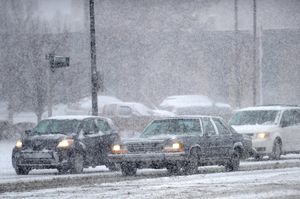 Melanie Maxwell | AnnArbor.com
Temperatures will gradually fall throughout this evening and light rain will switch over to snow, but it's not likely to start accumulating until about midnight,
National Weather Service
meteorologist Rachel Kulik said. About 1 to 2 inches can be expected by the morning rush hour and then another 1 to 3 inches during the day on Friday.
At the moment, forecasters are not expecting to see particularly heavy periods of snow.
The Washtenaw County Road Commission will be ready when the snow comes, director of operations Jim Harmon said today.
A four-person night crew will begin work at 8 p.m. focusing on plowing and salting interstates and state highways, he said. Supervisors will monitor conditions throughout the night in case extra plows need to be called in. At 4 a.m., a full crew will report to man the county's entire fleet of 46 snowplows.
The snow comes along with much colder temperatures than we've been enjoying. The low is expected to drop to about 26 tonight. The high Friday will be about 31 with blustery conditions. Friday night, there's a 40 percent chance of snow showers. The low will drop to about 17 degrees. The weekend promises to be cold with highs Saturday and Sunday in the 20s and lows in the teens.
The snow is coming as the result of a collision of cold air moving down from Canada and moist air moving up for Louisiana, forecasters said.
For forecasts and conditions any time, check AnnArbor.com's weather page.
Contact Cindy Heflin at 734-623-2772 or cindyheflin@annarbor.com or follow her on Twitter.