Posted on
Sat, May 7, 2011 : 2:18 p.m.
USS Washtenaw display about Vietnam War-era ship finds permanent home in downtown Ann Arbor
By Lisa Carolin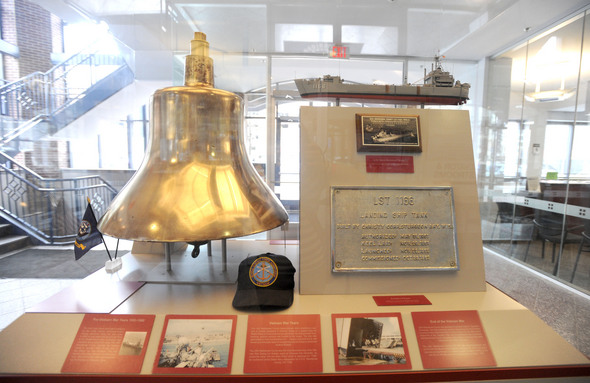 Angela J. Cesere | AnnArbor.com
Visitors to the
Washtenaw County Clerk Building
at the corner of Main and Ann streets in downtown
Ann Arbor
now have the chance to experience a piece of history.
Today at noon, one of the most highly decorated ships of the Vietnam War, the USS Washtenaw County, had a display dedicated in its honor in the building's lobby.
The USS Washtenaw County is the only U.S. Naval vessel that bears the county's name, and now a model of the ship built by Ann Arbor veteran Bill Prince, along with the ship's wheel, a 400-pound brass bell, and more than a dozen service awards will be permanently displayed.
"It's been a long voyage from the day I saw the ship's artifacts in 2002 until today," Thomas Osmond, who served aboard the ship, told the crowd gathered in the building's lobby.
Among them were nine of the ship's crew, their wives, and Navy veterans and public officials. The dedication took place today because it is the 36th anniversary of the official end of the Vietnam War.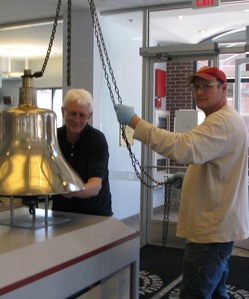 Courtesy of James Leacock
James Leacock, owner of Multiform Studios LLC, designed and built the display.
"The exhibit presents artifacts that are representative of the Landing Ship Tank," said Leacock. "At the heart of the project is a collage and photographs representing the life of the ship's crew."
Elmer White, an Air Force veteran who served in Vietnam, helped organize the dedication and thanked the Washtenaw County Commission who in 2009 unanimously approved putting the display in the County Clerk Building's lobby.
"This is a good location for the display because it is visited by the general public and has very good lighting," said White.
In 2009, a committee of Vietnam veterans that included White organized "Project HARBOR" to create the display. Committee members also include Navy veterans George Perrault, Donald Miller, Gary Lillie, Thomas Rand, and Osmond, all members of the Washtenaw County Vietnam Veterans of America Chapter 310.
The USS Washtenaw is classified as an LST (Landing Ship, Tank) and was built in 1953. It received 37 citations and medals largely for helping pioneer river-based operations in the Mekong Delta.
The ship was known as a "gator freighter" for its ability to land on shore and deliver troops, supplies, and vehicles. It spent the final years of the war as a minesweeper, was sold for scrap in 1974, and has had a few private owners since then.
Although there is no official record of why the ship was christened the USS Washtenaw, White suspects it may have come from one of the thousands of naval officers who have graduated from the University of Michigan.
Lisa Carolin is a freelance reporter for AnnArbor.com.