Posted on
Tue, Jan 17, 2012 : 2:18 p.m.
Vehicle idling ordinance back on Ann Arbor City Council agenda after 5-month hiatus
By Ryan J. Stanton
Members of the city's Environmental Commission are planning to give an update on a proposed vehicle idling ordinance at tonight's Ann Arbor City Council work session.
The council received a report and draft copy of the ordinance from the Environmental Commission last August, recommending a citywide ban on idling vehicles. But the council never took action on the ordinance and the idea hadn't resurfaced until now.
"The Environmental Commission requested an opportunity to update council on the draft idling reduction ordinance," City Administrator Steve Powers wrote to council members in memo, noting Commissioners John German and John Koupal will be presenting tonight.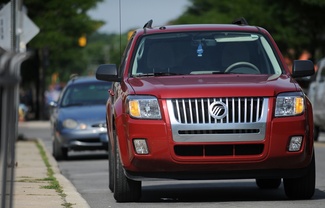 Angela Cesere | AnnArbor.com
No action is taken at council work sessions, but it's expected there will be some discussion and the issue could show up on a future agenda.
"The purpose of tonight's item is to update council. What happens after that, I don't know," said Powers, who has not taken a stance on the issue. "Council has not discussed it, so I cannot tell you what council's thoughts are on the need for an idling ordinance."
The council meets at 7 p.m. on the second floor of city hall at 301 E. Huron St.
The intended goal of the ordinance is to reduce unnecessary idling from internal combustion engines of all types. Many exemptions are allowed that recognize the need for some idling.
Matt Naud, the city's environmental coordinator, has argued an ordinance banning "egregious idling" could improve the community's health.
"Exposure to internal combustion engine exhaust is known to contribute to pulmonary diseases, particularly for sensitive populations, including asthma, lung cancer, bronchitis, acute respiratory infections, and emphysema," reads the draft resolution.
The resolution mentions the pollution caused by idling motors and notes the rates of asthma in Washtenaw County exceed asthma rates in the state of Michigan and the United States, with rates especially elevated the Ann Arbor zip codes of 48103, 48104 and 48105.
The proposed ordinance is based on recommendations by the U.S. Environmental Protection Agency and other model ordinances adopted in other cities and states.
That includes California, Connecticut, Hawaii, Maryland, Massachusetts, Nevada, New Hampshire, New York, New Jersey, and Virginia, as well as specifically in Washington, D.C., Philadelphia, Houston, St. Louis and other places.
"Unnecessary idling of internal combustion engines wastes a significant amount of non-renewable energy resources," the draft resolution states.
The Environmental Commission has recommended the City Council adopt the proposed idling ordinance and take the appropriate steps to educate the public about the negative effects of unnecessary idling on public health and non-renewable energy use.
As proposed in August, the ordinance would make a $100 ticket the minimum punishment for a driver who leaves a vehicle running while unoccupied for any amount of time or running for five minutes while occupied. For commercial vehicles, that minimum fine increases to $500.
Ryan J. Stanton covers government and politics for AnnArbor.com. Reach him at ryanstanton@annarbor.com or 734-623-2529. You also can follow him on Twitter or subscribe to AnnArbor.com's email newsletters.