Posted on
Mon, Sep 24, 2012 : 5:59 a.m.
Fighting floods: Ann Arbor officials lay out plans for stormwater upgrades, residents balk at costs
By Ryan J. Stanton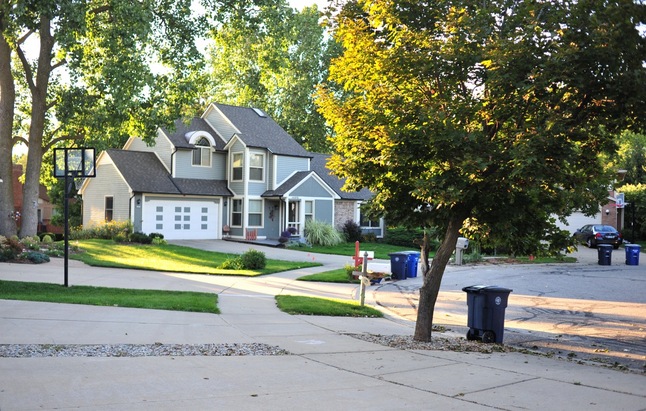 Ryan J. Stanton | AnnArbor.com
Paula Uche
says she's experienced eight years of nonstop
flooding problems
since she moved into the
Village Oaks
condominium subdivision on Ann Arbor's southwest side.
"It's been at least once or twice a year," she said of the floods, estimating it's cost her tens of thousands of dollars in damages and payments to contractors to try to engineer solutions.
"The big events just totally did me in," she said, recalling times when she and her family worked frantically through the night to fight back against the water pouring into their basement.
"My house was the retaining basin for the entire hillside of houses above me and part of the neighboring property. For whatever reason, the way the water flowed was into my basement."
Three burned-out sump pumps and countless headaches later, Uche now keeps many of her belongings in her basement elevated in bins.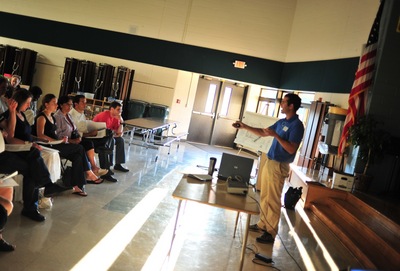 Ryan J. Stanton | AnnArbor.com
She believes she lives in an area that was poorly planned in the 1980s, but she also feels the city has given residents lip service on the issue.
After two years of study, Ann Arbor officials say they may have found at least a partial solution for some of the flooding problems plaguing the area.
But it's going to cost residents thousands of dollars, and many of them — Uche included — aren't happy about that.
At a series of recent meetings with residents in three neighboring condominium communities — Village Oaks, The Meadows and Country Place — city officials laid out plans for constructing a so-called regional detention basin to address deficiencies in the area's stormwater system.
The regional solution to stormwater storage, an idea city officials had last year and are now rolling out to residents, is estimated to cost anywhere from $279,500 to $394,900, with affected homeowners picking up the tab through special assessments on their properties.
Troy Baughman, the city's senior project engineer, said the costs are rough estimates and include acquisition of vacant land just north of Village Oaks where the basin would go.
AnnArbor.com attended the most recent meeting at Lawton Elementary School where city officials presented the plan to Village Oaks residents.
The meeting was attended by more than two dozen people and many complained they shouldn't be on the hook financially for a lack of capacity in the city's stormwater system.
"This is not our fault. Why should we have to pay if it's not our fault?" said Mary Gliedt, a Village Oaks resident.
"As a taxpayer, maybe I'm naive, but my understanding is I pay the city taxes and part of that is to help take care of sewage and drainage and all of these things that the city is responsible for," said Village Oaks resident Audrey Imbur, questioning the proposed assessment.
"To go to every resident on the street and expect us to pay for a water problem that essentially is not our water problem — it's a water problem with the city, and we're taking in all this water from other streets — it just blows my mind," she said. "I don't see how that's reasonable at all."
Imbur received a round of applause from the crowd, which included Lansdowne neighborhood residents who crashed the meeting to voice their own concerns.
The new basin would be upstream from Village Oaks, a 13-unit subdivision just off Ann Arbor Saline Road on Village Oaks Court. Country Place and The Meadows are to the north.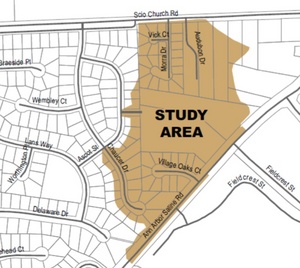 Courtesy of Wade Trim
City records show the cost estimates actually date back to December 2011.
Village Oaks residents could be asked to pay $78,900 to $106,100, costing each of the 13 condo units there $6,069 to $8,161.
Country Place could be asked to pay $45,000 to $64,800, costing each of the 14 condo units there $3,214 to $4,628.
The Meadows could be asked to pay $155,600 to $224,000, costing each of the 22 condo units there $7,072 to $10,181.
If residents choose not to participate in the regional basin project, the city is going to make each area individually take responsibility for addressing their own stormwater deficiencies. Baughman said the three communities are not in compliance with the city's codes.
The city has determined 14,061 cubic feet of stormwater storage is required onsite at Village Oaks, but the subdivision's existing detention basin has capacity for only 10,600 cubic feet.
The deficiencies are even more pronounced in the other areas. The Meadows has 8,900 of its required 27,832 cubic feet and Country Place has 4,900 of its required 10,379 cubic feet.
For Village Oaks, increasing the capacity of the subdivision's existing basin to meet code would require an estimated $74,000 worth of upgrades, costing each unit about $5,692.
For Country Place, an onsite solution could cost about $6,000 — or $429 per unit. For The Meadows, it could cost about $21,000 — or $955 per unit.
AnnArbor.com is awaiting an explanation from city officials as to why it would cost Village Oaks significantly more money than the other two communities.
Baughman told Village Oaks residents one of the benefits of going with the regional basin, which would cost more, is they don't have to disturb their own backyard.
Craig Hupy, the city's interim public services administrator, explained the origins of the regional basin concept. It came out of a study completed by engineering firm Wade Trim, which was hired by the city in 2010 to perform a drainage area study and recommend stormwater improvements to the area to mitigate flooding. The firm released its final report to the city in early July.
"When the study was done, there was a recognition that there is some water coming off of the vacant lot that isn't controlled that needs to be controlled, and that was the beginning of the concept of the regional basin — to deal with the water that was coming at Village Oaks from outside the subdivision from that vacant parcel," Hupy said, referring to the property to the north.
The report from Wade Trim notes heavy rains have caused extensive and frequent backyard flooding in the Village Oaks and Chaucer Court area, leading to basement flooding.
Reports of flooding in the area date back to the 1980s. The city constructed a relief sewer in 1991 to address some of the issues on Chaucer Court, but the problems have persisted.
Wade Trim notes in its report that residents have reported substantive overland flow in the area even during more-frequent, less-intense rain events.
Residents said it's particularly bad because water comes rushing into the Village Oaks subdivision from adjacent areas, as well as Ann Arbor-Saline Road, when it storms.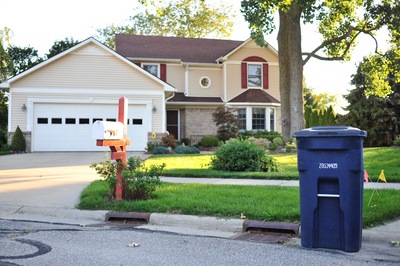 Ryan J. Stanton | AnnArbor.com
"The water flows like a tidal wave when there's a heavy storm," Uche said. "If it isn't addressed, there's going to be tragedy. The water is roaring like a torrent coming out of the mountains. It's incredible."
Village Oaks is in a different situation than Country Place and The Meadows, which are official condominium associations with their own governing boards. City officials said Village Oaks, a platted subdivision, would have to band together and form an association of its own to join in the regional basin solution.
The association then would have to petition the city's Zoning Board of Appeals to ask for a variance from city code to allow some of its stormwater detention needs to be met upstream.
"When we move it up off the site, upstream, it does require a waiver of the existing ordinances," Hupy said. "We think it's a well worthwhile tradeoff to have happen, but technically we have to go through the ZBA. It's not something staff or anybody in the city is allowed to grant."
The city still has a copy of the original development agreement for Village Oaks. Baughman said it's clear the responsibility for the subdivision's stormwater detention falls on Village Oaks.
"It's a private system," he said. "It's not a city-owned facility."
And so, he said, it's up to Village Oaks, not the city, to keep the detention basin on the property maintained and functioning.
Village Oaks residents complain the city is asking them to take responsibility for the detention basin when city officials readily admit they have no record of it ever being built to standard or being properly inspected by the city after it was built. Residents said they shouldn't have to pay to bring it into compliance when there's no record it ever was in compliance.
"If you're trying to pass the cost on to us, you've got a lot more work to do and I'm keeping my checkbook in my pocket," Village Oaks resident Stefan Young told city officials.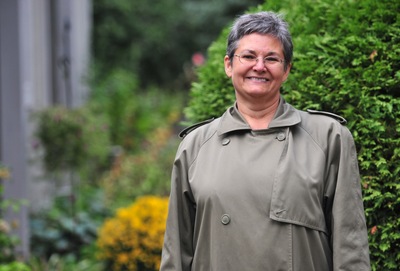 Ryan J. Stanton | AnnArbor.com
Uche said she's one of at least four residents in her subdivision who have been plagued by recurring flooding problems.
Her basement flooded again during a March 15 storm, she said, and she had a contractor come through her house afterward. She said the contractor found someone, possibly the original builder, had "faked it" and ran a drainage pipe "that went to nowhere" into the ground.
She said that has caused "enormous aggravation and trouble to me personally and to my home." She now wonders if other corners were cut elsewhere in her subdivision.
Cresson Slotten, the city's systems planning manager, said he hasn't heard any such reports, but he's not going to say the kind of situation Uche described doesn't happen.
The city still has the original plans for Village Oaks from Feb. 13, 1985. They were completed for Joseph Grammatico of Master Key Northern Inc., the developer of the subdivision.
Grammatico, who developed about 14 subdivisions in Ann Arbor throughout the 1980s, said he's aware of the flooding issues that persist today. He blames the city for allowing more development to occur in the area after Village Oaks, which was built partially in a floodplain.
"They did all the inspections," he said. "We even put drains in and everything. That was part of the deal. That was a floodplain down there and they knew it at the time."
Grammatico said he doesn't recall much about requirements for stormwater detention, and he's not even sure he remembers any kind of sizable basin being built back then.
Ryan J. Stanton | AnnArbor.com
"They were supposed to do that and I don't think they ever did anything," he said. "I lived there for like four years and I never did see any water back there."
Baughman said the city could break ground on the regional basin project next spring, and its size depends on the level of participation from the three communities.
The city would have to petition the county water resources commissioner to undertake the project since it involves property not within the city limits.
Uche said she's skeptical of forming a homeowners association. She thinks that just creates a legal entity that the city can then hold accountable for deficiencies in the stormwater system.
"That's why none of us will ever support that," she said. "This will set a terrible precedent for other neighborhoods if we are expected to pay, because then the city — in tough economic times — will simply shift the burden of paying and solving their problems that taxes should pay for by just billing us as individuals, and that is insane."
Baughman said another option is for the city to go the traditional engineering route and upsize the underground sewer pipes in the area, but he said that's not a sustainable solution. He said it would just push the problem downstream and negatively impact Malletts Creek.
Irvin Mermelstein, a local attorney who lives in Lansdowne, said he doesn't like how the city is dividing up neighborhoods and bringing piecemeal solutions to the flooding problems. He said Lansdowne residents are going to try to be at every meeting going forward.
"The city has to stop Balkanizing the neighborhoods. I don't pay my taxes to the duchy of Lansdowne. I pay my taxes to the city of Ann Arbor," he said. "It's got to be a citywide solution."
Ryan J. Stanton covers government and politics for AnnArbor.com. Reach him at ryanstanton@annarbor.com or 734-623-2529. You also can follow him on Twitter or subscribe to AnnArbor.com's email newsletters.