Posted on
Thu, Apr 14, 2011 : 5:59 a.m.
Where are the children? Census figures show growth in Dexter, losses in Ann Arbor, Ypsilanti and Saline
By Juliana Keeping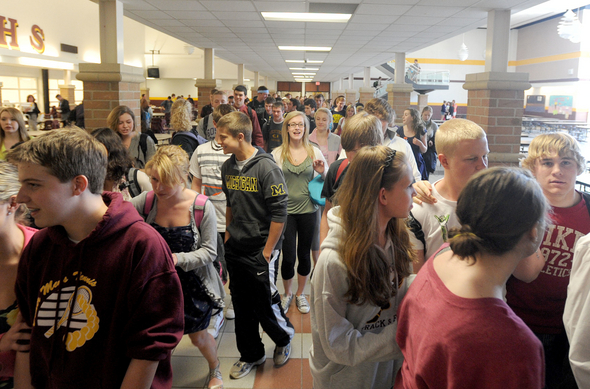 Angela J. Cesere | AnnArbor.com
Unlike the majority of Michigan counties, Washtenaw County has more children than it did in 2000.
But the growth of the child populations among cities, villages and townships here was far from even.
State census figures from 2010 show a 9.5 percent drop in children under 18, meaning there are 250,000 fewer Michigan kids than 10 years ago. Michigan's loss of children was second only to New York, which has 365,000 fewer kids.
Of Michigan's 83 counties, 78 had fewer children in 2010 than in 2000, according to census data.
It's a sign young families are taking their kids and heading out of state, likely for greener economic pastures, experts say. And it means school districts have to reshuffle resources, and the state's colleges will compete for a shrinking pool of students.
Children under 18 - how the U.S. Census Bureau defines the child population - now make up about 21 percent of the population of 344,791, or 72,953 kids.
A 1 percent growth rate that added 665 kids in 10 years put Washtenaw County near the top of all Michigan counties for growth of residents 17 and younger. Three other counties around the state showed larger gains. Macomb was up 2 percent; Clinton, 2.3 percent; and Livingston got a 2.5 percent boost.
Within Washtenaw County, some communities lost children while others gained significant numbers, said Lisa Neidert, a senior research associate with the Population Studies Center at the University of Michigan. Neidert used redistricting data from the 2010 U.S. Census to examine which Washtenaw County communities gained, and which lost members of its child population. More detailed information Michigan's under-18 population will be released this summer, Neidert said.
Ann Arbor, Ypsilanti and Saline, the three largest cities in the county, all lost children in the last decade. The biggest surprise may be Saline, she said, since the population in the family-friendly community grew overall in the last decade by 10 percent, to 8,810 residents, but the city has 6 percent fewer children.
Where are the children?
Dexter had the largest rate of growth, with 104 percent more children living in the village in 2010 than 10 years ago. Census figures show 1,259 children live in the village of Dexter, or nearly one-third of the population of 4,067. Three family-friendly subdivisions built in the late 1990s and early 2000s may account for the boost, said Courtney Nicholls, the assistant village manager for the village.
Saline's population grew, but the 6 percent loss in the child population means there are 2,157 kids in the city. That's almost a quarter of the total population.
The loss of children has been felt in Saline Area Schools, superintendent Scot Graden said. The days of portable classrooms accommodating student overflow and planning to build new buildings have ended.
In June 2010, school buses full of children left Houghton School for the last time; the building closed late that year and the school remains vacant. The next month, the district sold its historic Union School building and consolidated the administrative offices there to Liberty School, where the district also rents space to outside community groups, like a day care.
Planning for big growth that took place in the mid-1990s through about 2005 has been replaced with shedding brick and mortar and making existing spaces more efficient, Graden said. District officials expect a loss of about 60 students next school year, down from 5,333 students.
"We saw this coming about two years ago," Graden said. "It became clear our previous projection numbers were not going to be met."
Ypsilanti lost nearly a quarter of children 17 and younger, according to census figures. And that's been felt in the Ypsilanti Public Schools, spokesperson Emma Jackson said, adding that the decline seems to be leveling off.
After posting a 23 percent decline in the child population, this group accounts for 14 percent of the Ypsilanti population of 19,435, or, about 2,741 children. Overall, the population declined by 13 percent during the same time period.
YPS enrolls 3,786 students this school year, compared to 4,071 students five years ago. Jackson said accepting students from outside the district via schools of choice has kept deeper cuts to the school-age population at bay.
Still, YPS has done some significant reshuffling. Four buildings are used differently than 10 years ago. East Middle School closed last year and is leased to Washtenaw International High School, for example. And programs in more prosperous and populous times considered untouchable, such as athletics, could be scaled back, Jackson said.
In Ann Arbor, the population loss of kids was over 12 times larger than the 0.1 percent total population loss for the city. The child population numbers 16,382, making up about 14 percent of the city's 113,934 residents.
The Ann Arbor Public School District weathered a loss of 14.3 percent of Ann Arbor's child population and maintained enrollment levels.
The K-12 district counted 16,536 students in the fall of 2010, an increase of 96 students from the fall of 2009. District spokesperson Liz Margolis said the district draws from a somewhat transient population on account of the University of Michigan.
"We do see a turnover of a number of students every year, but they seem to be replaced," she said.
In 2010, the district began accepting students from other districts via schools of choice, adding about 79 students. Additionally, teachers and staff from outside the district boundaries can enroll their kids in AAPS.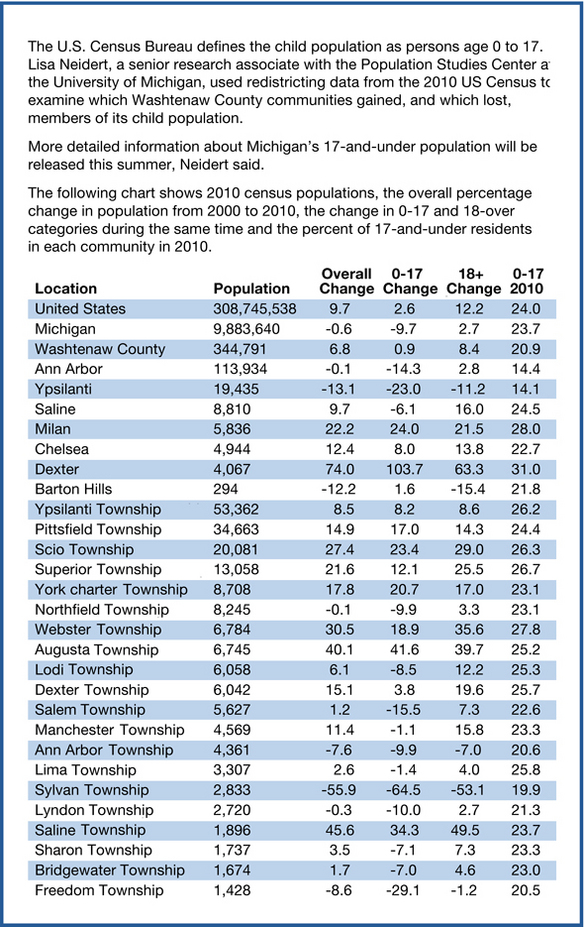 Juliana Keeping covers general assignment and health and the environment for AnnArbor.com. Reach her at julianakeeping@annarbor.com or 734-623-2528. Follow Juliana Keeping on Twitter