Posted on
Tue, Feb 14, 2012 : 9:03 a.m.
Ypsilanti Township to move forward with litigation in River's Edge townhouse case
By Tom Perkins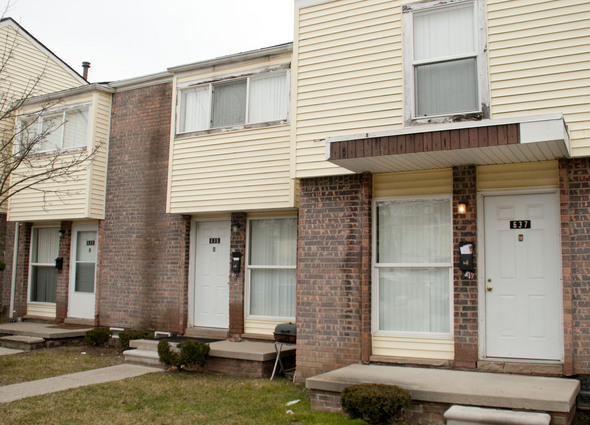 Tom Perkins | For Ann Arbor.com
The Ypsilanti Township Board of Trustees on Monday approved taking legal action against the owner and receiver of a troubled townhome complex.
Officials say both parties are ignoring township requests to address and reverse "deteriorating" conditions at the 162-unit River's Edge Townhome complex, and, at their Feb. 13 meeting, the board unanimously approved giving staff authority to proceed with litigation.
The property is located on Villa Drive near the intersection of LeForge and Clark Roads.
Attorney Doug Winters told the board he had contacted the property's mortgage holder, Citizen's Bank, and the receiver charged with its maintenance and upkeep.
Attorneys representing Citizen's Bank contacted the township when officials were initially attempting to figure out River's Edge's ownership situation, but failed to commit to a meeting to discuss resolving the issues, Winters said.
Without that meeting, he recommended the board approve court action as the next step.
"At least when the board authorizes legal action it gets them talking and maybe they will now come to the meeting," Supervisor Brenda Stumbo said.
The township has issued two notices of violations to the property's past owners and current management dating back to May 1. They allege a long list of problems and concerns. Among them are:
Deteriorating and leaking roofs.
Leaking windows.
Missing siding.
Missing trim.
Deteriorating porches that are separating from the buildings.
Sinking footings.
Overflowing Dumpsters.
"From what we can tell, nothing has been done at all to address the township's NOV's," Winters said. "We have a lot going on over there and it's not going to take care of itself by being ignored."
Citizen's Bank took control of the property after the company's last owner, Next Door Apartments - Villa Drive LLC, defaulted on the mortgage in early 2011. A Washtenaw County Circuit Court judge appointed Farmington Hills-based Finsilver/Friedman Management Corporation as the property's receiver on June 1, and Finsilver/Friedman is now responsible for River's Edge maintenance and financial management.
Winters said the complex appears to have a high occupancy rate and questioned why tenants' rent money isn't going toward repairs. He said the items listed in the NOV are generally maintenance items but "important maintenance items" and he expressed particular concern over the sinking footings and porches detaching from the buildings.
Next Door's mortgage dates back to 2007 in the amount of $5.6 million and records show it owes more than $307,000 in back taxes on the property.
Finsilver/Friedman can either manage the property until the debt to Citizen's Bank is paid off or sell the complex.
"Staff, as well as our office, reached out in an effort to bring all the parties to the table to work out an agreeable timeline and an agreeable manner for proceeding, but if this is going to be difficult, then we are prepared to move forward as we have in the past," Winters said.
It's one of several large cases the township is currently juggling. Staff has taken the first steps in the demolition process of the abandoned Liberty Square complex on Grove Road.
A court recently ordered the owner of the partially abandoned Greenbriar Mobile Home Park to remove 14 mobile homes. Officials also recently learned of two more troubled mobile home parks on E. Michigan Ave. and Harris Road, which Winters described as "landfills" and has moved to the top of staff's priority list.
River's Edge is one of several problematic apartment complexes in the area. Neighboring Eastern Highland's ownership situation between jailed landlord David Kircher and Barnes and Barnes is in legal limbo. That has left several large buildings neighboring River's Edge vacant, though township building Inspector Ron Fulton said they are secure and safe.
Across the street, Huron View Apartments, which is in the city of Ypsilanti, was hit with a rash of burglaries last year and management had refused requests by tenants for extra locks for protection.