Posted on
Thu, Mar 29, 2012 : 5:57 a.m.
Comedy night to benefit EMU's construction management program
By Tom Perkins
Washtenaw County developer Andrew O'Neal of O'Neal Construction will hold an unusual benefit for the area's next crop of developers and builders.
O'Neal, who moonlights as a stand up comedian, has assembled what he called three of the area's top comics for a benefit for the Eastern Michigan University Construction Alumni Management Scholarship Fund.
The benefit, at 7:30 p.m. Thursday at Depot Town's Woodruff's, will feature Megan Jones, Dan Simon and Bill Bushart, who was voted best comic by the Metro Times in 2010.
And, of course, O'Neal will serve as the emcee and hang with the pros.
"It's three really strong comics and one guy stupid enough to get on stage and try to tell a few jokes," O'Neal joked.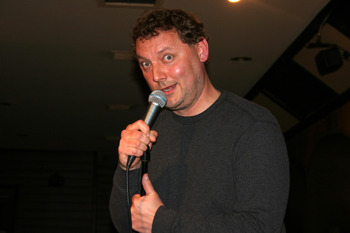 Photo courtesy of Andrew O'Neal
O'Neal serves on the academic advisory board for EMU's construction management program. O'Neal Construction, one of the largest construction companies in Washtenaw County, regularly hires new employees out of the program.
The board advises program leaders on what students should be learning, advises on what is relevant to the construction world, reviews text books, advises on changes in the industry, advises on safety issues and more.
The company is responsible for the renovation of the building at 729-735 W. Cross Street that used to house Ted's Campus Drugs, and larger projects in Ann Arbor such as Zaragon 2.
O'Neal said the university has a strong construction program and underscored that all the proceeds from the benefit will go to it and "not my bar tab."
"We've hired a lot of students from Eastern and they've been good to us, I care about Ypsilanti and Eastern Michigan, and this is a fundraiser that will raise money for EMU Alumni Foundation scholarship to help students there," O'Neal said.
Woodruff's is located at 36 E. Cross St. Tickets for the show are $15 and $10 for students. Doors open at 6:30 p.m. and the show starts at 7:30 p.m.