Posted on
Fri, May 10, 2013 : 2:27 p.m.
EMU starts live stream video counseling to help autistic children in rural areas
By Amy Biolchini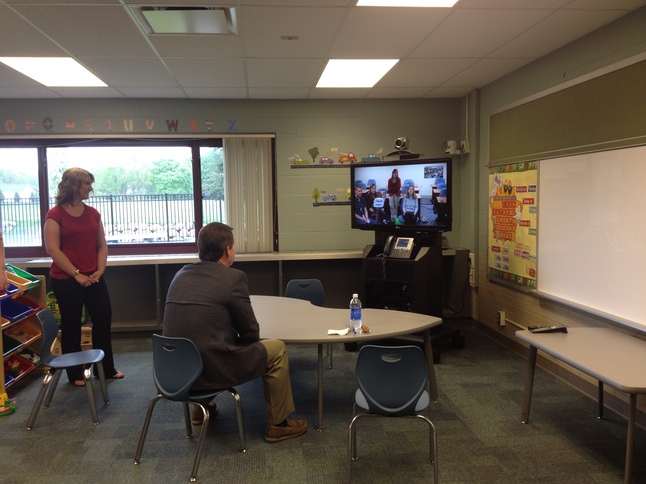 Amy Biolchini | AnnArbor.com
The
Autism Collaborative Center
at
Eastern Michigan University
in Ypsilanti will be implementing a new method to help rural and disadvantaged families across Michigan, officials announced Friday.
Using live streaming video, parents, caregivers and health professionals can contact the center's specialists to get face-to-face advice and help for their autistic children or patients.
The Telehealth system is partially funded by a $500,000 one-time grant the state of Michigan donated in 2011, as well as a $25,000 donation from AT&T that was formally honored Friday in an event at EMU.
The program seeks to confront the challenge facing those in rural communities who may not have the means or transportation to get to consultations, diagnosis or parental support.
The nonprofit Autism Collaborative Center at 1055 Cornell Road in Ypsilanti has a staff of professionals, as well as trained students, that offer a variety of therapies for autism.
Autism is a complex disorder that makes communicating, socializing, learning and behaving in traditional settings difficult. One-on-one attention and treatment is often the best course of action for children with autism.
Michigan Senate Majority Leader Randy Richardville, R-Monroe, was approached by EMU several years ago as the school sought grant funding for the center.
Friday, Richardville toured the facility with EMU President Susan Martin and other officials to see the investments and programs the program has been able to develop since the 2011 grant allocation.
"I feel we're standing on the shoulders of giants," Richardville said to the faculty at the center Friday. "You don't know how much you're affecting the rest of the state from right here."
Pamela Lemerand is the clinical director of the center and one of the founding faculty members, along with Gretchen Reeves, Sally Burton-Hoyle and Roberta Justice.
Lemerand said the live video conferencing program puts the center at the cutting edge for treatment, as it's a practice that's typically found at leading medical centers.
Families who approach their doctors or other health care providers in rural areas about an autistic child or family member will now be able to get the advice and consultation from the specialists at EMU's Autism Collaborative Center, Lemerand said.
There are a select number of health care providers working together with the Autism Collaborative Center now, Lemerand said, naming McLaren Health Center in Petoskey as an example.
The center also is working to develop a relationship with Western Michigan University to collaborate training for students, Lemerand said. In time, Lemerand said she hopes more health care centers will get involved as they learn about the program.
For Kelly and Steve VanSingel of Saline, the Autism Collaborative Center has made a significant difference in their lives.
Both of their daughters -- Magdalyn VanSingel, 11, and Gillian VanSingel, 7 -- are autistic.
Before the center opened, the VanSingels said they had to drive to Oakland County for therapy for their oldest daughter.
The holistic approach between all of the specialists at the center -- from speech therapists to music therapists -- and the community feel contribute to the welcoming atmosphere that the VanSingels said they highly value.
"It's a great model that should be replicated," Kelly VanSingel said, noting that her daughters love to come to the center and have made great progress because of the therapy.
As there is no real existing framework in Michigan to connect autism treatment services together, EMU is pioneering the practice in the field, Richardville said.
Richardville took several minutes Friday to speak with a family in Petoskey with an autistic child via the Telehealth system. The family was calling in to get a consultation on potty training for their child.
"You're creating mental health solutions for people across the state," Richardville said to the center's staff members.
Amy Biolchini covers Washtenaw County, health and environmental issues for AnnArbor.com. Reach her at (734) 623-2552, amybiolchini@annarbor.com or on Twitter.