Posted on
Thu, Aug 8, 2013 : 5:58 a.m.
Man races to open dispensary in Ypsilanti before ordinance banning it goes into effect
By Tom Perkins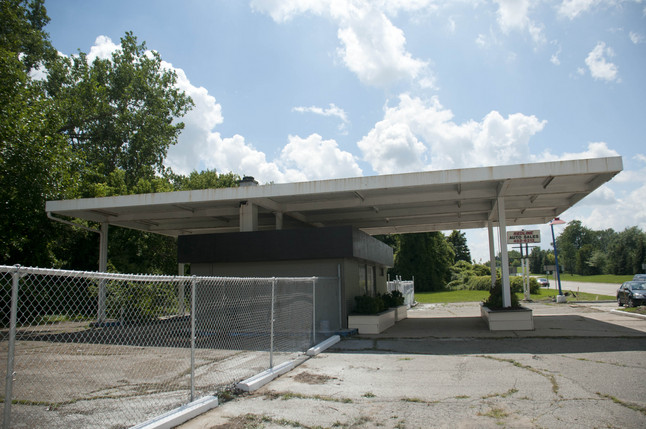 Tom Perkins | For AnnArbor.com
Early in 2013, Jim Nemeth began putting tens of thousands of dollars into remodeling a long-vacant ice cream truck depot into a medical marijuana dispensary.
In his search to find a place to open shop, he said he didn't have to choose Ypsilanti, but "Ypsilanti chose me."
"I contacted the city, they said 'Come on down, we'll welcome you here,'" Nemeth said. "I met with the city planner, looked at all these locations and figured out that one of the only places I could go was this beat up old gas station (more recently used as the ice cream truck depot), so I took it."
The location at 539 S. Huron St. in Ward 1 on Ypsilanti's south side seemed to suit his needs.
But soon after Nemeth submitted paperwork, an emergency ordinance to place an immediate moratorium on the issuing of medical marijuana licenses was proposed at a City Council meeting by Ward 1 Council Member Ricky Jefferson and Mayor Pro Tem Lois Richardson.
At the time, Jefferson noted that Ward 1 had received three of the last four medical marijuana facility applications and residents there feared that the ward was being "targeted," though now he says it's a city-wide concern.
The emergency moratorium failed, but City Council subsequently passed first and second readings of an ordinance limiting to nine the number of grow operations and dispensaries in the city.
Ward 1 now has four medical marijuana facilities open or in the process of opening; Ward 2 has one dispensary; and ward 3 has three facilities and one more preparing to open.
With nine medical marijuana grow operations or dispensary licenses issued or pending, that left Nemeth, who is trying to open the dispensary in Ward 1, facing the possibility that he would lose his investment in a property he doesn't own.
He felt the ordinance was created by Jefferson and Richardson to stop him from opening his business in their ward.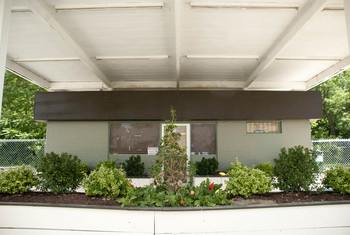 Tom Perkins | For AnnArbor.com
"(The ordinance) is definitely targeting me," he said.
Jefferson said that's not true. It's not targeted at a specific facility, he says.
The ordinance will not go into effect until Sept. 5, so Nemeth is now trying to beat the clock and get all his plans approved by the city, receive a license and open shop before that date.
City Planner Teresa Gillotti confirmed Nemeth has submitted his medical marijuana dispensary application and his site plans, which will be up for review at the Aug. 20 Planning Commission meeting.
Nemeth had previously started working on the building without submitting plans and was ordered to stop by the city.
If those plans are approved by the Planning Commission, then Nemeth can restart work on the building on Aug. 21 and has until Sept. 5 to complete it and receive his certificate of occupancy. If he is blocked, Nemeth says he can approach the issue through the court system.
"If the city wants to battle and they have funds to do it, I have funds to do it, too," he said.
Tension arose at the July 16 City Council meeting when Jefferson questioned why Nemeth hadn't called him or Richardson to discuss opening the dispensary.
During public comment, several residents expressed their opposition to the dispensary opening, and Jefferson admonished Nemeth for not having the courtesy to meet with a community that opposed his business before opening.
"If he really wants to respect the opposition of the residents and get his point of view to the residents, he knows how to reach us," Jefferson said in an email after the meeting.
Jefferson pointed out that two other dispensary applicants planning to open in the ward contacted him and decided not to open after it was made clear that residents did not want them there.
"Respect begins when you are a stranger and you enter a new neighborhood with intentions of making significant changes to it, and out of courtesy you assess and consider how the neighbors feel about the proposed changes before you attempt to make any changes. The neighbors have spoken," Jefferson said.
Nemeth questioned why he had to get in touch with a City Council member to open a business, which he said is an unusual request. He said he has "done everything by the book."
"I don't know Ricky. I didn't know I had to go talk to him. He acted like I offended him, but it wasn't intentional. I followed all the guidelines," Nemeth said. "I'd be more than happy to talk to anyone. I think they would be impressed with what we're trying to do."
Nemeth said his business model differs slightly from other dispensaries in town in that he plans to offer medical marijuana for little cost to low-income residents who otherwise can't afford it. He said he would require patients to show medical records and proof of income, and he would also keep limited hours between noon and 4 p.m.
"I'm already pretty well set (financially)," Nemeth said. "This is for people who can't afford medical marijuana. It's a whole different concept. I'm looking to help people who are in need of it."
Nemeth said his inspiration was seeing how medical marijuana alleviated the pain his wife suffered before she lost a battle with cancer. He said it worked where traditional medicines failed, and he believes it prolonged her life.
Nemeth said he is determined to open his dispensary.
"It will get open, if it has to be in front of a Circuit Court judge, one way or another, I'm not stopping," he said.
Tom Perkins is a freelance reporter for AnnArbor.com. Contact the news desk at news@annarbor.com or 734-623-2572.