Posted on
Sat, Jun 9, 2012 : 5:59 a.m.
Mayor Paul Schreiber thinks countywide transit tax would pass comfortably in Ypsilanti
By Ryan J. Stanton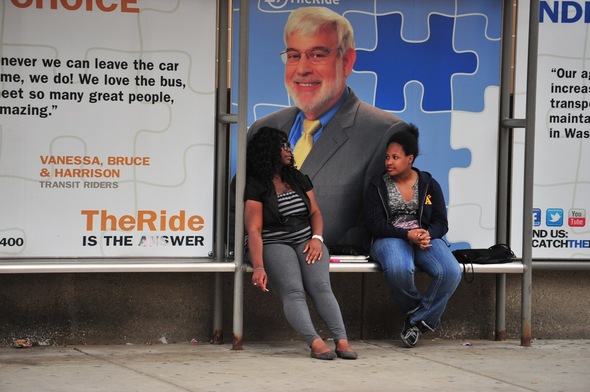 Ryan J. Stanton | AnnArbor.com
Ypsilanti Mayor
Paul Schreiber
said he's still confident voters in his city would support a
half-mill countywide transit tax
if one appeared on the ballot.
And the fact that Ypsilanti voters in May turned down two city tax proposals by a 2-to-1 margin doesn't change anything.
"There were a number of issues with the tax proposals we just had," he said. "I would keep in mind, when it comes to transit, Ypsilanti voters voted 3-to-1 for public transit in November 2010, so I don't think people have changed their opinion on that."
The nearly 1-mill transit tax that Ypsilanti voters approved in 2010 was done as an amendment to the city's charter, similar to Ann Arbor's 2-mill transit tax, meaning it doesn't expire.
The Ann Arbor Transit Authority is counting on revenue from both those taxes, in addition to revenue equivalent to a half-mill countywide transit tax, to feed a new countywide transit authority. Ypsilanti and Ann Arbor officials finalized an agreement to make that happen this week, and it awaits ratification from the AATA and the county board now.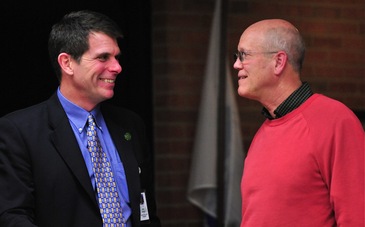 Ryan J. Stanton | AnnArbor.com
As Ann Arbor council members voted 8-3 on the four-party agreement, some expressed
concerns about Ypsilanti's ability to afford expanded transit services.
Schreiber laughed it off.
"Actually one of the amendments that we put into the four-party agreement is that, when it goes to the voters, all of our millage would go toward the new authority," he said.
"So there's no chance of only part of the millage going there and part of the millage going to rail or something else," he said.
Schreiber said he knows some Ann Arbor City Council members think Ypsilanti can pull its millage back, but he said that won't happen.
"What we plan to put on the ballot is something that would put all of the millage, plus the half-mill regional, for the transit authority — the Washtenaw Ride as it's going to be called," he said.
"I think it's going to pass comfortably. We're going to have to mount a county campaign for it, and we're going to have to justify it, but I think the voters are going to seriously consider it."
The AATA already registered the domain www.WashtenawRide.org on May 10, according to public domain registry data.
AATA CEO Michael Ford said Ypsilanti is a critical piece of the countywide transit puzzle that's starting to come together after years of work.
"Ypsilanti is a critical piece," he said. "People are coming into Ann Arbor every day to work from Ypsilanti. You can't think about regional transportation without including Ypsilanti.
"That's why we want to work with them in any way we possibly can to at least maintain the existing services we have right now with an eye on even more services."
Ford plans to appear before the Washtenaw County Board of Commissioners for a special working session on the countywide transit plan next Thursday. The board could take a final vote on the countywide transit agreement as soon as July 12.
At some point after that, the county clerk's office would perform the administrative role of filing the approved articles of incorporation for a new countywide authority. After that, each municipality in the county would get 30 days to opt out should they choose.
In municipalities that choose to participate, such as Ann Arbor and Ypsilanti, a countywide transit millage could appear on the ballot at some point.
Schreiber said the current Ypsilanti transit millage — atop which a new countywide millage could be layered — brings in somewhere around $300,000 a year, but the city projects 3 percent tax revenue declines each of the next two years.
The millage in Ypsilanti is projected to fall $21,000 short of covering the full cost of the city's purchase-of-service agreement with the AATA for the coming year starting July 1. And it's projected to come up $75,000 short the year after that.
The AATA is talking about covering the $21,000 shortfall for the coming year, with the understanding that it won't be an issue once a countywide authority is funded.
"We want to be able to maintain existing service, so we're trying to do what we can to help out," Ford said. "Obviously it's not a solution, but if we're able to bring on a countywide transit system, I think that starts to resolve a lot of the problems and brings opportunities."
Both Ford and Schreiber noted the large number of Ypsilanti residents who rely on public transit to commute to work in Ann Arbor, which is why the AATA has ramped up services along its Washtenaw Avenue bus route. They said that benefits both communities.
"I think the voters of Ypsilanti will vote in a half mill or whatever it is in order to keep transportation going in Ypsilanti," Schreiber said. "From what I understand, over half of the Zingerman's employees are living in Ypsilanti, so a lot of them take the bus.
"You have people outside of Ann Arbor coming into Ann Arbor and spending money and working and getting the economy going," he added, "so it's only natural that you'd want to have transportation for people coming into Ann Arbor and leaving Ann Arbor."
A survey conducted for the AATA last fall showed a majority of residents in Ypsilanti, Ypsilanti Township and Pittsfield Township would support a countywide transit tax, but there's less support in outlying townships.
Ryan J. Stanton covers government and politics for AnnArbor.com. Reach him at ryanstanton@annarbor.com or 734-623-2529. You also can follow him on Twitter or subscribe to AnnArbor.com's email newsletters.