Posted on
Wed, Feb 8, 2012 : 2:53 p.m.
Officials: John Hansen resigned as interim Ypsilanti city manager after inappropriate remark
By Tom Perkins
Former interim Ypsilanti City Manager John Hansen abruptly resigned after an incident in which he made an inappropriate comment to a city employee, acting City Manager Frances McMullan said.
"Mr. Hansen made a remark to a city employee that was inconsistent with City of Ypsilanti policy," McMullan said in a written statement. "The employee notified the City of Ypsilanti Human Resources Department. Consequently, Mr. Hansen voluntarily resigned."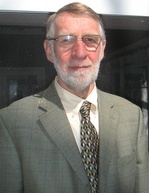 Hansen, who started in the position Jan. 23, made the remark Jan. 27 during a meeting with an employee, sources said. There was a tense discussion in which the employee put her head in her hands to think about an answer to a question.
Hansen then demanded the employee, who is from the Philippines, put her hands down, sources said, and told her that in "our" culture, people look each other in the eye when speaking.
The employee made a verbal hostile workplace complaint to human resources on Jan. 30 because she thought Hansen had treated her like a child, sources said. Hansen subsequently resigned on Feb. 3 and an investigation into the matter was dropped without any paperwork or notice to city council.
Some people perceived the exchange racially insensitive and several community, including Lee Tooson, who is active with the Ypsilanti-Willow Run Branch of the NAACP, expressed their outrage at the situation during Tuesday night's City Council meeting.
Tooson told AnnArbor.com that the NAACP had met with Mayor Paul Schreiber the day before Hansen resigned and demanded he be fired.
Schreiber said he didn't know if the meeting had any bearing on the resignation, but said the decision to leave was entirely Hansen's. Schreiber and Hansen met in private prior to Hansen's Feb. 3 resignation.
Hansen acknowledged there was an incident but declined to offer any details.
"I think it was interpreted differently than it was meant," he said. "There's a difference in how thing are intended and how they are interpreted. That's up to the interpreter.
"It's regretful, but it's best to acknowledge that and do the right thing and step back."
Sources said the employee didn't perceive the incident as racially insensitive but was upset over her treatment and wanted an apology.
Human resources began a formal investigation of the incident on Jan. 30 after the incident was reported to the city's labor attorney, McMullan said
After requesting information from witnesses, human resources dropped the investigation on Feb. 3 because Hansen resigned, she said.
Officials said no formal documents were ever prepared on the incident because Hansen resigned so quickly. Council wasn't notified of what happened until Tuesday, and several council members said they found out that Hansen had resigned by reading an AnnArbor.com article.
Per his contract with the city, both parties are to give at least three days written notice before resigning, but Hansen verbally requested those requirements be waived, McMullan said.
"I think John decided his resignation was in the best interest of the ... city, and I don't disagree with that," Schreiber said.
"I think John Hansen is good man, he has a lot of talent and experience, but he just wasn't the right fit in Ypsilanti."
Hansen is a former state legislator and Dexter school superintendent and has previously served as interim superintendent for several school districts and was once interim city manager in Chelsea. He was served a stint as interim president of the Ann Arbor Chamber of Commerce.
McMullan was appointed acting city manager at the Feb. 6 council meeting while council searches for someone to fill the position on a permanent basis.
Tom Perkins is a freelance reporter for AnnArbor.com. For more Ypsilanti stories, visit our Ypsilanti page.