Posted on
Fri, Jul 26, 2013 : 5:58 a.m.
Sesi Motors demolishing its former Ypsilanti Township dealership
By Tom Perkins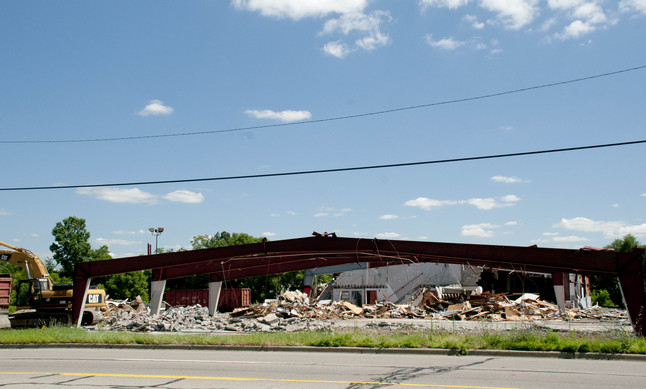 Tom Perkins | For AnnArbor.com
Sesi Motors is tearing down its half-century-old dealership on East Michigan Avenue in Ypsilanti Township.
But the Scio Township-based auto dealer isn't planning to sell the property.
Instead, Joe Sesi, Sesi's president, said he plans to hold onto it and redevelop it at some point in the future.
"I think (the East Michigan Avenue corridor) will turn around eventually, it just takes time. These things don't happen overnight," Sesi said. "But I think it's very viable. My preference is to redevelop it, but not necessarily for an auto dealership."
Sesi said the 30,000-square-foot building that sits on nine acres of land near the intersection of East Michigan Avenue and Ecorse Road was a single-use property and he didn't want to sell it to another dealership.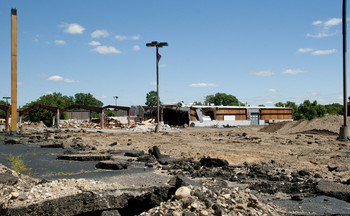 Tom Perkins | For AnnArbor.com
"There are not a whole lot of uses for it. It's just better to bring the building down and at some future date we'll develop it," Sesi said.
The family-owned dealership consolidated its Ypsilanti Township operation into its Scio Township location at 3990 Jackson Road in August of 2011. Sesi said auto companies are trying to rearrange their footprint, the building was 50 years old and it made business sense to move to the Scio Township location.
Ypsilanti Township Supervisor Brenda Stumbo called the dealership "an icon" of the community.
"They had to make a business decision to relocate, but it's sad to see the building come down," she said. "Hopefully with the economy coming back and with our redevelopment plans for the Michigan Avenue corridor we will have the land redeveloped."
Ypsilanti Township recently purchased the property directly across the street from Sesi from tax foreclosure with the aim of being able to choose what type of development goes into the former trailer park.
The township has made redeveloping East Michigan Avenue a priority. Several new businesses have opened up and the township has worked to clear blight and prostitution that once plagued the area.
Tom Perkins is a freelance reporter. Contact the AnnArbor.com news desk at news@annarbor.com.