Ypsilanti Township focuses on reviving, attracting new businesses to East Michigan Avenue corridor
Posted on Mon, Aug 29, 2011 : 5:53 a.m.
Last year, Washtenaw Door and Trim owner Laura Spear redid the exterior of her building at 2052 E. Michigan Ave. and installed a new storefront. She said she's one of several business owners along the corridor to spruce up their businesses recently.
In the 37 years Washtenaw Door and Trim has been in business, Spear said she has seen the area evolve from a quieter stretch of road to a much busier thoroughfare and business district. But she added some buildings have fallen into disrepair over the last decade.
"There are a lot of buildings that are old and have been here for a long time, but a lot of owners have been cleaning up their places and the township is getting rid of the abandoned buildings," Spear said. "If the township continues cleaning up the blight and making some improvements to the sadder looking places, then it will help everybody. It would help get rid of the stigma that Ypsilanti has."
The effort to systematically address blighted properties is part of a larger township-wide nuisance abatement effort, though officials recognize the East Michigan Avenue corridor in particular is perceived to be rundown.
Officials are concentrating on clearing the strip of blight and trying to make it more attractive to businesses through zoning changes, though they face a wide range of challenges. The strip was dotted with nuisance properties and has been plagued by regular prostitution issues that brought complaints from businesses owners.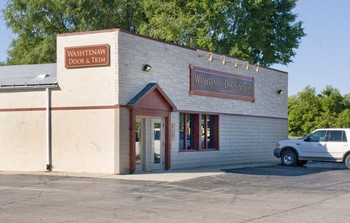 Tom Perkins | For AnnArbor.com
Several problematic properties have been addressed in recent years, most notably the Ypsi Mobile Village trailer park just east of Ecorse Road. The property had become a haven for crime and prostitution before it was recently demolished.
An apartment building that Mike Radzik, the township's director of the office of community standards, called a "notorious flophouse for drug addicts and prostitutes" at East Michigan and Wiard Road was recently demolished after numerous safety hazards were discovered in the building.
The township now owns two residential properties at 2084 and 2094 E. Michigan Ave. as well as the former Velvet Touch bookstore at 2485 E. Michigan Ave., all of which were condemned and went unpurchased in a foreclosure auction. The buildings will all soon be demolished and the properties put up for sale.
At 2260 E. Michigan, Woodard's Automotive burned in a fire and the charred remains sat until the township forced the cleanup by seeking a portion of the owner's insurance money. Now the owner has an illegal fenced-in lot holding abandoned cars behind where the building used to sit.
An illegal blind pig that began operating at A and W Party Store 1115 E. Michigan was shut down last year by township officials, but the owners of that operation subsequently opened a similar blind pig at E. Michigan and Ridge Road. It has also been shuttered.
"The beat goes on," Radzik said. "It's like a continuing saga, but always our first goal with the blighted or abandoned businesses is to get voluntary compliance out of the owners. They have to comply with zoning laws, building codes, fire codes and bring their properties into compliance.
"We try to help them succeed, but if there isn't compliance, then we have to shut them down, and in some cases seek a court order to demolish the buildings."
The area also suffered a major setback when the Sesi Motors recently announced it was closing its East Michigan Avenue location.
In an effort to address prostitution issues, the Washtenaw County Sheriff's Department has taken a new approach.
While sting operations have been common for years, Radzik said, the problem persists, so a fresh approach aimed at addressing the root social issues of prostitution and getting women off the streets permanently was recently implemented. Radzik said police officials are also cracking down harder on the johns and seizing their cars to send a message.
Several business owners have taken notice of the efforts, including Arthur's Bar owner Gary Miller, who invested $12,000 in making improvements to his building last year and expressed his desire to have a clean operation as the township improves the area.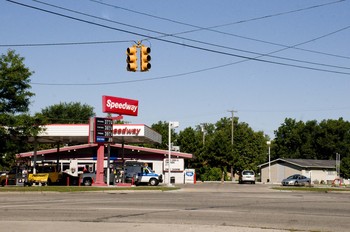 Tom Perkins | For AnnArbor.com
Niemi Corporation owner Dan Niemi is consolidating his specialty contracting business to 2820 E. Michigan. His business's office is in Saline and its construction yard in Detroit, and Niemi cited the township's cleanup efforts as one of the reasons for relocating to the township.
A former furniture store at 1085 E. Michigan was recently demolished after its roof collapsed, and Taco Bell has submitted a site plan for a new store at the location. The Speedway at East Michigan and Harris Road will soon be demolished and reopen with a much bigger and newer center.
Township planner Joe Lawson said one of the advantages the corridor currently has is its cheap real estate and lower taxes than in some surrounding communities.
But from a planning standpoint, there is no easy access to Interstate 94, and the corridor is pinned in to the south by a railroad line, Lawson said. That means the strip likely won't see any of the corporate big-box stores like Costco or Meijer, but will instead rely on establishing a vibrant local business community.
Next year, the township will begin revising its master plan and one of the focus areas will be East Michigan Avenue. Lawson said addressing blight is the "table setting" portion of the effort, which will help prepare properties for redevelopment.
With the area cleaned up, Lawson said, it will be ready for a master plan update following public comment and suggestions.
Some of the properties along the south side of the road are split-zoned between industrial and commercial, which is an arrangement that could change. The township may also allow a wider range of certain land uses while restricting others, and Lawson said one focus is making the area "more user friendly."
One specific change he discussed is the location of the auto-related businesses such as auto part stores, car washes and junkyards that are spread throughout the corridor. Lawson said he would like to see the zoning set up so those businesses are concentrated in one area while the eastern portion of the corridor is reserved for mixed uses.
"Overall we need to get those auto-oriented uses in one area instead of having them spread out where they aren't helping each other or feeding off each other," Lawson said. "We also need to take a hard look at the population densities in the area and uses that would go along and work with those densities."
Lawson said the township is working to clean up "junkyard row", bring the buildings in the area up to code and clean up the messes some industrial businesses have left behind.
Much of the corridor is flanked by residential neighborhoods and the road also sees significant foot traffic. The Michigan Department of Transportation recently installed sidewalks and a crosswalk that stops traffic while pedestrians cross near East Michigan and Wiard.
Township officials are optimistic about the area's direction, as is Spear, of Washtenaw Door.
She said the Sheriff's Department has had a greater presence in the last several years, which has helped alleviate the drug and prostitution issues, and her customers who come from all across southeast Michigan have had fewer concerns visiting her showroom.
"I don't get remarks about the building down the street or the people who are walking down the street or people asking 'Am I safe here?'" Spear said. "I haven't heard that in a few years, so I think the township is on the right track."