Posted on
Wed, Aug 15, 2012 : 12:25 p.m.
Survey: 66 percent of Ypsilanti and Willow Run voters may support district consolidation on November ballot
By Katrease Stafford
A recent survey conducted by research firm EPIC-MRA shows that voters in Willow Run and Ypsilanti may be willing to support the consolidation of the two school districts.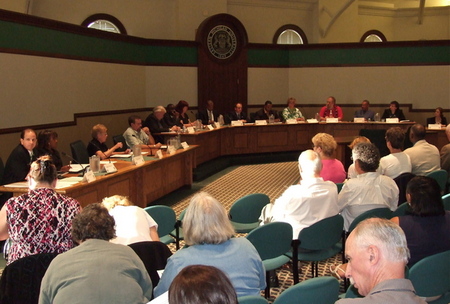 Danielle Arndt | AnnArbor.com
The survey was commissioned by the Washtenaw Intermediate School District between July 28 and Aug. 4 and included 600 randomly selected active registered voters — 300 from Willow Run and 300 from Ypsilanti — likely to participate in the November general election.
The two boards of education met in joint session at Eastern Michigan University Aug. 8 and voted 11-2 to place the question of consolidating the struggling school districts on the Nov. 6 general election ballot.
The survey respondents answered a variety of questions about the schools during a 15-minute telephone interview.
When initially asked how they would vote on a proposal seeking to consolidate the districts, 45 percent of the survey takers said yes and another 11 percent said they were leaning toward voting yes.
As the survey progressed and participants were given more details about the two districts' situations and asked again about the consolidation, support increased for the proposal with 57 percent saying they would vote in favor of the consolidation and 9 percent saying they would lean toward voting yes for a potential yes vote of 66 percent.
The poll has a margin of error of plus or minus 4 percent overall and plus or minus 5.7 percent in each district.
WISD Superintendent Scott Menzel said the districts are "cautiously optimistic about the results."
"The districts will use the survey information along with other community input to inform their consolidation work," Menzel said in a statement. "…All of these methods will help the districts gain a clearer picture of what the communities want for their children's future."
WISD Public Relations Director Emma Jackson said while the results of the survey show potential voters to be in favor of the consolidation, the districts have heard a lot of community members voice skepticism.
"We're trying to address those concerns and move forward," Jackson said.
In the coming weeks and months, Jackson said the districts will be planning events and potentially a forum for residents to participate in and share their thoughts.
At the Ypsilanti Heritage Festival, the districts will have a joint booth to provide community members with more information on the consolidation.
Respondents also were asked about some of the features they would support in a new, unified education system that stresses achievement for all students from birth to career.
The features that ranked highest were:
Students graduating high school with an associate degree.
A school system in which learning is the constant and time is the variable so that students are given the opportunity to advance sooner if they are able or allowed more time if they need it to succeed.
A flexible system that can operate outside the school building and school day offering project-based and place- based learning in the community.
Support from area educational partners to achieve educational excellence as well as financial stability.
The entire survey results will be posted here by Monday, Aug. 20.
Katrease Stafford covers Ypsilanti for AnnArbor.com. Reach her at 734-623-2548 or KatreaseStafford@annarbor.com. You can also follow her on Twitter @KatreaseS.