Posted on
Thu, Jun 17, 2010 : 10:11 a.m.
From Safety Girl to Ypsi Girl: Tanya Brown finds a new niche
By James Dickson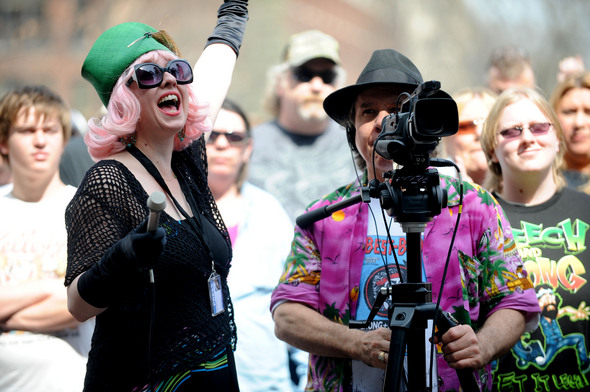 Angela J. Cesere | AnnArbor.com
Tanya Brown couldn't resist the limelight, dim as it is in the small studios at Ann Arbor's Community Television Network.
Nearly a decade after Brown's no-holds-barred public access sex education program "Getting Curious With Safety Girl," left the local airwaves, she has recast herself as "Ypsi Girl", a pink-wig-and-black-tutu-wearing woman about town determined to change the perception of Ypsilanti, one CTN viewer at a time.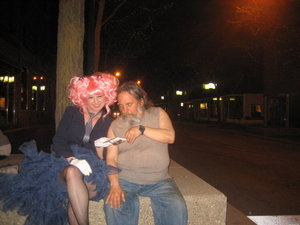 From sex positive to Ypsi positive

When Brown returned as Ypsi Girl last year, she let her followers know that this wouldn't be a repeat of her Safety Girl days, but a progression beyond them.
"For those of you who remember my past alias - she is retired" Brown wrote.
If the point of Safety Girl was to titilate and educate, then the point of Ypsi Girl is to open Ann Arbor's eyes to the personalities and establishments that make Ypsilanti a cool place to live and play.
Brown herself lives in Ann Arbor - only Ann Arbor residents and employees of local non-profits are allowed to use CTN resources - but feels a special affinity for treetown's neighbor to the east. And she doesn't always think it gets a fair shake in the media.
"There's a lot more to Ypsilanti than crime," Brown told AnnArbor.com. "Ann Arbor has gotten too expensive these days. All the cool people, the ones who got priced out of the housing market, left for Ypsilanti," she added, sounding a common meme among the pro-Ypsilanti set.
In some circles, Ypsilanti is the Brooklyn to Ann Arbor's Manhattan - more open, more affordable, not without its rough spots but not short on character, either.
More than a decade ago, Brown was giving lectures on safe sex topics locally and owned a safe sex shop in Ann Arbor. But these are tough times for Brown, financially. Owning a store isn't a possibility at this point, but highlighting the efforts of Ypsi-based entrepreneurs is the next best thing.
Sometimes she's on the beat, interviewing shop owners during the day or bar patrons at night.
Lately she's been in the studio at CTN, producing "Happy Half-Hour with Ypsi Girl," a 30-minute, straight-through, no-editing, no-do-overs affair. The show typically airs Fridays at 7 p.m. on CTN Channel 17.
For Happy Half-Hour, she works alongside announcers "Nearly Normal" Warren, co-founder of A3Radio.com, and Jesse Sinatra, her boyfriend and former cameraman for "Safety Girl."
Sinatra, a fifty-something guy who's always good for a one-liner, is a bridge between Brown's past and present personas. He was flipping through the channels late night about 13 or 14 years ago and came across "Safety Girl." His interest was piqued - he had to know more.
"She was the most intriguing person I had ever seen," Sinatra recalled.
Soon, Sinatra had enrolled in CTN production classes. When the "Safety Girl" crew was shorthanded one day, he stepped up. That was the start of a bond so strong that Sinatra sang at both of Brown's weddings. He also stayed by her side as both of her marriages fell apart and she was in and out of domestic violence shelters.
"Tanya is an amazing talent," Sinatra said. "I'm glad she's back doing what she loves, being on TV. I am just happy to help."
At a recent taping of "Ypsi Girl," Brown hosted Erica Hampton of The Ypsi Project, an Ypsilanti based photo blog that appeared in gallery form on June 5 at the XVG Kids Gallery on Michigan Ave.
"There's a lot of good stuff going on in Ypsi, if you care to look," Brown said.
James David Dickson can be reached at JamesDickson@AnnArbor.com.