Posted on
Tue, Mar 27, 2012 : 5:55 a.m.
Ypsilanti school board votes to continue talks about merging with Willow Run
By Danny Shaw
Note: This story has been updated to reflect the correct Willow Run Board of Education meeting date for Thursday.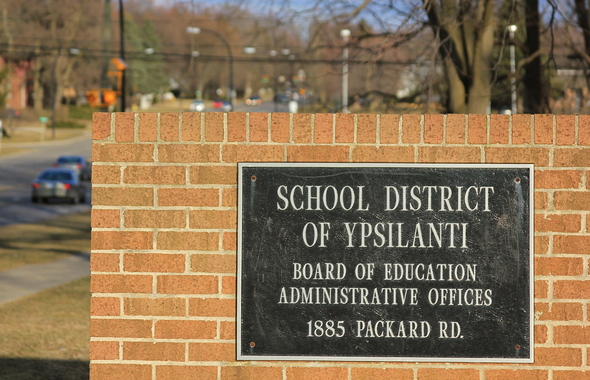 Danny Shaw | AnnArbor.com
Ypsilanti Board of Education
trustees unanimously voted to continue discussions about merging districts with
Willow Run Community Schools
at Monday's Board meeting.
Board members will attend a joint meeting with the Willow Run Board of Education on April 16 in the Ypsilanti Township Civic Center at 7 p.m., provided Willow Run Board members vote to continue the discussion at their meeting on Thursday.
Several Board members emphasized before voting that the April 16 joint meeting would continue discussions about consolidating the districts, not to put any plan in action.
"We're just looking to see if both boards would like to look into it further. We have no plan, or intend to have a plan, for the April 16 meeting," said David Bates, Ypsilanti's board president. "What we're seeking is just having a joint discussion of our two boards."
Bates said attendees of the joint meeting can look forward to hearing discussion about what a new district could look like being rebuilt from the ground up how it could benefit students.
"In some areas, both districts have been doing things on a small-scale that meets the needs, and both are doing it separately. Why not put it together?" Bates said. "That's something we want to look at in detail."
It was announced last Tuesday that the two districts, aided by the Washtenaw County Intermediate School District, would consider consolidating into one district. The Willow Run and Ypsilanti Collaboration and Communication Task Force recommended the decision.
Officials from both districts said last week the merger could prevent an emergency manager situation and improve student achievement.
The task force voted to place the consolidation proposal on an upcoming ballot, predicated on the development of a "solid, detailed unification plan with specific legislative and financial initiatives in place to support it," said Scott Menzel, superintendent of the WISD, at last week's meeting.
Bates said while no decisions have been made, the board only has the power to recommend a consolidation and that the final say will come down to the voters in the community. He said it's too early in the process to tell when it could reach the ballot box.
The process will be transparent and board members from both districts consider the public's opinion crucial in moving forward, said Trustee Linda Snedacar-Horne.
"Their voice is extremely important, I think, to all of us," Snedacar-Horne told board members. "I don't think anyone will make a decision without really, thoughtfully doing some research on this consolidation."
According to Bates, if the community does vote for the consolidation, the WISD would appoint the Board of Education members for the new district, which would then select a superintendent.