Posted on
Wed, Jan 26, 2011 : 6:02 a.m.
Support, opposition voiced over proposed charter schools in Ypsilanti Township
By Kyle Feldscher
Two proposed charter schools were in the public spotlight Tuesday at the Ypsilanti Township Planning Commission meeting when residents got a chance to ask questions about the project.
The organizers of the proposed National Heritage Academies K-8 school and the PrepNet high school presented the proposed site plan and answered questions from about 100 community members and members of the planning commission.
Supporters and opponents of the project were both well-represented and came prepared with questions about curriculum, extracurricular activities and traffic concerns. The meeting was informational only, and no decisions were made.
Dave Angerer, executive principal of PrepNet, said the proposed schools were an "excellent option for the portfolio of educational options in this community."
"It will be a small high school, but we will have high expectations for academic achievement and moral conduct, and we're excited to bring that to this community," he said.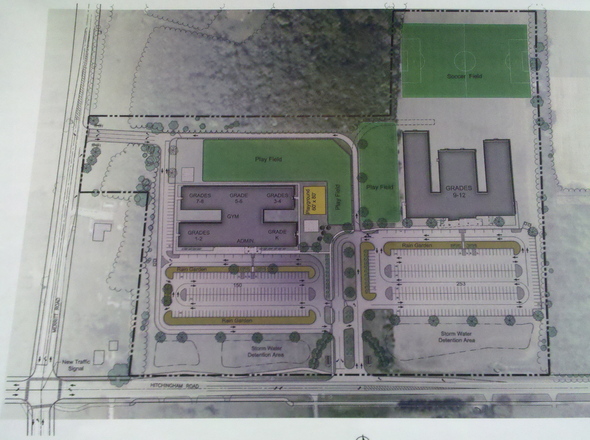 The proposed project would span 25 acres of land at the northwest corner of Merritt and Hitchingham roads. National Heritage Academies, which operates 40 charter schools in the state, is planning to build a K-8 school on the lot, and PrepNet, a Grand Rapids-based company affiliated with NHA, plans to open a charter high school.
The schools have not yet received the necessary approvals from a charter school authorizer, and the companies do not own the land for the proposed project. The timeline officials presented Tuesday shows the schools being approved by an authorizer in the spring, with construction taking place in time for opening in the 2011-12 school year.
Bill Davis, a local consultant who has been working with NHA since 1999, said developing the new schools would not result in any new taxes or millages for local residents.
Many members of the public who spoke said they had concerns about the speed at which traffic comes down Hitchingham Road.
Callie Clyburn, who lives blocks from the proposed site, said the traffic wakes her up every morning because of the noise and the congestion. She worried about bringing school children into the area.
"People fly down Hitchingham," she said.
The speed limit on Hitchingham Road is 55 miles per hour. Officials at the meeting discussed possibly lowering the speed limit — along with other ways to reduce speed in the area, such as new traffic lights — in the future. Roundabouts have not been part of the discussion to this point, officials said.
Some administrators from local school districts were also present at the meeting to give officials their opinion on the project.
Lincoln Consolidated Schools Superintendent Lynn Cleary said she believes the new schools would hurt both Lincoln and Ypsilanti Public Schools, the district in which the complex would be located.
"I wonder at times, when we look at the population of the community, are there enough kids to go around?" she said. "Are we able to provide a quality education with the competition that's going on?"
NHA and PrepNet officials said the three local NHA schools — Fortis Academy, South Arbor Academy and Keystone Academy — have a combined waiting list of about 700 students. Angerer said repeatedly that the location for the new schools was based on demand.
Nathan Ardle, who currently home-schools his four children, said he was excited about the proposed high school.
"We are considering our options, including home-schooling our children all the way through high school," he said. "We're much more likely to put them in the public school system with National Heritage Academies."
A number of educators from local charter schools and parents with children currently attending charter schools also gave their support for the project.
Angela Fort, whose son has attended South Arbor from kindergarten through eighth grade, said she was thrilled to have a choice to continue her son's education at a charter high school. She said she wasn't trying to take funding away from traditional public schools, but wanted to make the right choice for her son.
"Everyone needs competition. I'm not trying to take something from someone else — it's just competition," she said. "Everyone doesn't want the same thing. I could have sent my child to Lincoln (schools), but I didn't make that choice. I made the choice I wanted to make."
Sally Richie, vice chair of the planning commission, asked Angerer if the fact that Ypsilanti High School's test scores are among the lowest 5 percent of high schools in the state would be something officials would take into consideration during the application process. He said he did not believe the state was looking for that type of information.
Richie said it was hard to believe a charter school would open following the recent closures of Ypsilanti's Chapelle Elementary School and East Middle School.
"It's really hard for me to look at the fact they're continuing to close our schools, losing one school after another, and here we are building another facility in YPS," she said. "It's hard for me to get my head around that. We have all these schools closing and another one opening."
Kyle Feldscher covers K-12 education for AnnArbor.com. He can be reached at kylefeldscher@annarbor.com.