Posted on
Sun, Mar 28, 2010 : 6:12 a.m.
A tale of three tea parties: gestures of concern, respect, graciousness
By Frances Kai-Hwa Wang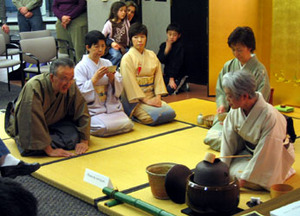 A Japanese Tea Ceremony demonstration at the University of Michigan March 12, 2008.
Photo courtesy of the University of Michigan's Center for Japanese Studies
A girlfriend was recently reminiscing about the
Friday afternoon high teas
at
Smith College
, a tradition held over from a previous era, although by the time she was there, most of the young women came to high tea wearing jeans rather than dresses and white gloves. Still, there was something warm and reassuring about coming home at the end of a long week and finding pots of tea and loads of cookies (especially the cookies) prepared and waiting for you, welcoming you home.

At the Japan Cultural Festival last weekend, I slowed down (for once) long enough to watch a Japanese tea ceremony. A younger kimono-clad woman carefully and meticulously prepared and presented a bowl of tea to an older woman. She brewed the water on an old fashioned brazier, scooped the water out with a long-handled bamboo ladle, stirred the tea with a little bamboo whisk and poured the tea into a wide-mouthed bowl. Her body movements were disciplined and deliberate. The older woman sat silently and waited patiently for her tea. The relationship between the women could be read like a dance; the care and respect with which the younger woman made and served the tea to the older woman was moving. Everything was in the details, details that nobody has time for anymore. (And so nice to see during Women's History Month.) Off to the side of the tatami stage, several kimono-clad women made more of the bitter green tea for the audience members and offered each cup with both hands raised.
I love a good cup of tea, whether in the western tradition (with scones!) or eastern traditions (with me spilling tea all over the table). I love the straightforward no-nonsense way my friend Maneesha makes chai, precisely measuring the milk and casually tossing in the spices. After eating too much at my friend Rabia's house, I answer yes too quickly when asked if anyone would like some shai. It is the roundness of taste filling one's mouth, but it is also the gestures of concern and respect in the warming of the teapot and cups, brewing the tea just right, pouring the tea, refilling each cup before it is empty. These small gestures we notice simply because they are so rare these days.
So it was with great dismay that I learned about the recent spitting and racist and homophobic name-calling of our elected Congressmen — Rep. Emanuel Cleaver (D-Mo.), Rep. Barney Frank (D-Mass.), and civil rights icon Rep. John Lewis (D-Ga.)—by members of the Tea Party Movement (so-called "teabaggers" — wait, did they not get the memo from the Middle School principal that teabagging is not allowed?). If people disagree, fine, go ahead and disagree. Debate. Argue. Hey, here is a new one: Vote. However, this level of hate and hostility is amazing, uncalled for, astonishing. House Majority Whip James Clyburn (D-SC) told reporters: "I have heard things today that I have not heard since March 15, 1960, when I was marching to get off the back of the bus." This level of discourse is so low, and it splatters out carelessly and hits all people of color or difference. Of what are they so afraid?

According to McClatchey Newspapers, Rep. Cleaver was spat upon by a Tea Party demonstrator but chose not to press charges. He said, "In a way, I feel sorry for those people who are doing this nasty stuff — they're being whipped up. I decided I wouldn't be angry with any of them."
In the midst of utter craziness, one small gesture of graciousness and consideration.
Frances Kai-Hwa Wang is a second-generation Chinese American from California who now divides her time between Ann Arbor and the Big Island of Hawaii. She is editor of IMDiversity.com Asian American Village, lead multicultural contributor for AnnArbor.com and a contributor for New America Media's Ethnoblog. She is a popular speaker on Asian Pacific American and multicultural issues. Check out her Web site at franceskaihwawang.com, her blog at franceskaihwawang.blogspot.com and reach her at fkwang888@gmail.com.