Posted on
Sun, Apr 10, 2011 : 5:58 a.m.
BBC show looking for Tiger Mother would have been disappointed in our chai-museum-library routine
By Frances Kai-Hwa Wang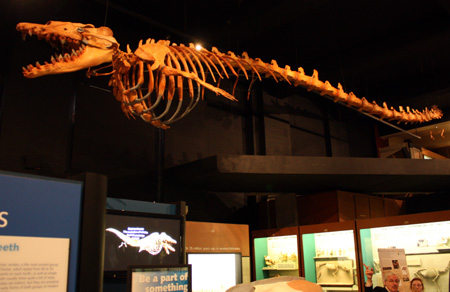 I got a call from the BBC last month looking for an Asian American family to take in two troubled and unruly British teens for a week of "good old-fashioned values, discipline and boundaries" for a reality TV show called, "World's Strictest Parents."
Trying to capitalize on the current hype over Tiger Mothers, the producer had found me through my articles facing off with the dreaded Amy Chua Tiger Mother — never mind that all my articles reveal that I am pretty much the opposite of Amy Chua Tiger Mother.
I told them to call Amy Chua Tiger Mother directly, but they thought I was joking.
If we agreed to take on this assignment, we were supposed to integrate these British teenagers into our family and have them do everything that we do.
The kids and I joked about all our fun family traditions that we could share with these two British teenagers, like going to Borders on Saturday nights with M's chemistry study group ("What do you do there?" "Read."); going to Sweetwaters Cafe on Sunday afternoons ("What do you do there?" "Read."); going to Borders again on Monday afternoons ("Read."); and going to the Traverwood Library on Tuesday evenings ("To read?" "No, silly, to check out books to take home to read").
Of course, we would take them with us to Chinese School on Friday nights and put them in the conversation class and have them try to learn Chinese yoyo. Good visuals.
Then we thought about all the fun things that our town has to offer, including FestiFools, the Memorial Day Parade, Japanfest, Leslie Science Center, the Basilosaurus opening at the Exhibit Museum, hands-on gamelon workshops, poetry readings, art exhibit openings, plus various lectures and receptions and concerts at the university.
We wondered how they would react to the food we eat — Chinese, Thai, Indian, Middle Eastern, Malaysian — and vegetarian too! We would have to teach them to eat with chopsticks.
My daughter, Hao Hao, was getting excited about having her own British people to take to school and show her friends. We imagined the footage of them getting on the school bus together in the early morning mist.
Then we finally sat down to watch the sample episode that the BBC sent.
The children and I were in disbelief as the British teenagers sent to India smoked cigarettes, took drugs, drank alcohol, skipped school and talked back to both their real parents and their television show parents. The boy even escaped from a community service project to get a tattoo, which the television show producer stopped mid-tattoo because it was an unlicensed place.
Oh. Maybe we are not the family for this.
This past weekend, two of Hao Hao's friends — Finland and Not A Walrus — joined us at the Ann Arbor District Library to help 7-year-old Little Brother make a robot costume for FestiFools.
Little Brother collected wonderful treasures from around the room (old CDs and floppy disks), and they helped him glue and tape these onto his robot costume, while talking to him about Pokemon and Rubic's cubes.
Out on Main Street, Not A Walrus hoisted Little Brother up onto his shoulders, Finland carried his robot costume and then they all ran off to chase bubbles down the street.
Afterward, we poured into Eastern Accents for steamed buns and chai. I was surprised to learn that neither teen really knew downtown or campus. They were surprised to learn how much our family went out together, and where. Plus the usuals: food, geometry, hip-hop, deviantart, Nigahiga, gaming, babysitting.
So much fun! And we did not even need to import two troubled and unruly British teens.
Frances Kai-Hwa Wang is a second-generation Chinese American from California who now divides her time between Ann Arbor and the Big Island of Hawaii. She is an editor of IMDiversity.com Asian American Village, lead multicultural contributor for AnnArbor.com and a contributor for New America Media's Ethnoblog. She is on the Advisory Board of American Citizens for Justice. She team-teaches "Asian Pacific American History and the Law" at University of Michigan and University of Michigan Dearborn. She is a popular speaker on Asian Pacific American and multicultural issues. Check out her website at franceskaihwawang.com, her blog at franceskaihwawang.blogspot.com, and she can be reached at fkwang888@gmail.com.