Posted on
Sun, Sep 4, 2011 : 6:12 a.m.
Ode to bento boxes and lunchboxes for back to school perfection
By Frances Kai-Hwa Wang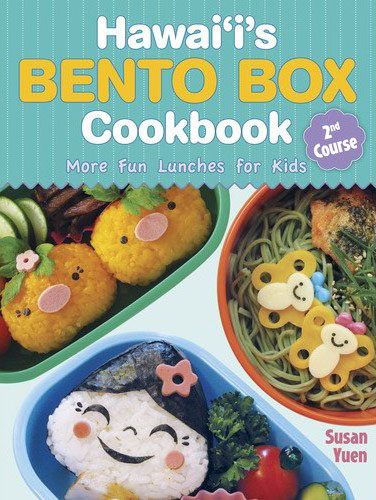 Hawaii's Bento Box Cookbook by Susan Yuen is full of delicious delights and too-cute lunches
In the hubbub of back to school preparations—registration, green emergency cards, forms, fees, textbooks, pictures, school supplies, backpacks, lunchboxes, scheduling extracurriculars, new lunch and snack ideas, catching up with old friends, etc., I keep ending up in the bento box or lunchbox section of every store I enter, be it the Chinese grocery store, the Japanese bookstore, Target, Walmart, CVS, or Busch's grocery store.
Long after we have bought all the things we came for, when the children suddenly notice that I am no longer walking with them, they know where to find me. Mesmerized. Stammering. Strategizing lunches. Squealing over lunchboxes.
I confess.
I have a fetish for bento boxes. A fondness for tiffins. A weakness for Tupperwares. Don't get me started on lunchboxes.
I am always looking for the perfect nonbreakable container — plastic or lacquered wood or metal or insulated thermos — in which to pack the perfect lunch that I send to school with my children. At this time of year, the fever reaches optimistic heights.
Making cute box lunches is an art form in Japan, and I am inspired by the various bento box cookbooks in which beautiful scenes and stories are created with food, even though I know I do not have the patience to cut so many smiling faces and cute animals onto my children's lunches.
We have delightful plastic boxes emblazoned with Keroppi and Hello Kitty, old-fashioned Japanese-style lacquered bento boxes with multiple partitions, tiered metal Indian-style tiffins, modern plasticware with built-in ice packs, insulated containers for hot soup, microwavable insulated containers for leftovers, thermoses of all sizes, small lunchbox-sized chopsticks with matching chopstick holders, drink containers, Blue Ice, etc.
We also have fish, bear and elephant-shaped musubi makers. We have dinosaur-shaped sandwich cutters. We have Hello Kitty-shaped ice cube makers. We even have hard-boiled egg molders to shape hard-boiled eggs into adorable bear and cat shapes.
I carefully label all the containers and lids and partitions and chopsticks and icepacks.
The first day of school is the first and last day I successfully match all the right lids to the right boxes to the right kids. Real life is not so tidy as the pictures in the cookbook. Things get messier as the year progresses. By June, no one wants to eat my lunches.
The best bento box we ever had was a plastic yellow banana case. I received it at the Banana 2 Asian American Bloggers' Conference as swag promoting a new Asian American website. Everyone was excited about the cool new website, but I was excited because these specialized banana cases were not sold in America; they were previously available only in Japan.
I had been looking for one for years, ever since I first saw one in preschooler Theo's lunchbox. They are quirky, to be sure — curved, yellow, hinged, banana-shaped plastic boxes with airholes — but they do the impossible and keep bananas crisp and yellow and bruise-free without that horrible brown warm-banana-in-a-lunchbox smell. (I have tried cramming curved bananas into long rectangular boxes and leaving the lid cracked open to simulate the airflow and it does not work).
Unfortunately, someone who should not have been peeking peeked into our house and saw — not the most ingenious lunchbox accessory every invented, but — "a yellow dildo" sitting on my kitchen table, causing quite the ruckus in community gossip, "A yellow dildo on her kitchen table!" (It says "banana case" right on it).
Soon thereafter, the scandalous tupperware mysteriously disappeared from 7-year-old Little Brother's Hawaiian-print lunchbox.
Sadness! Stolen! I searched everywhere.
Now all that is left is this ode to a bento box.
Note: University of Michigan Musicology Professor and Director of the University of Michigan Confucius Institute Joseph Lam will be giving a lecture on "The University of Michigan Symphony Band Musiks in China: A Case Study of Music as Cultural Discourse" on Friday, Sept. 9 at 5 p.m., Pendleton Room, Michigan Union, 530 S. State, Ann Arbor. Free and open to the public. Light refreshments will be served. Co-sponsored by the Department of Musicology, U-M School of Music, Theatre & Dance.
Frances Kai-Hwa Wang is a second-generation Chinese American from California who now divides her time between Michigan and the Big Island of Hawaii. She is an editor of IMDiversity.com Asian American Village, lead multicultural contributor for AnnArbor.com, a contributor for New America Media's Ethnoblog, and a contributor for Chicago is the World. She is on the Advisory Board of American Citizens for Justice. She team-teaches "Asian Pacific American History and the Law" at University of Michigan and University of Michigan Dearborn. She is a popular speaker on Asian Pacific American and multicultural issues. Check out her website at franceskaihwawang.com, her blog at franceskaihwawang.blogspot.com, and she can be reached at fkwang888@gmail.com.