Posted on
Tue, Jan 17, 2012 : 10:45 a.m.
Rocks and other delights: Dogs eat the darndest things
By Lorrie Shaw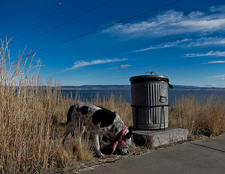 flickr photo by ex_magician
In chatting with a couple of colleagues the other day, the topic of 'dogs eating and chewing unsavory or unusual things' came up.
So, this got me thinking about the kinds of situations that we've experienced over the years in our household and accounts I've heard from others.
I was even more curious about stories that I hadn't discovered yet.
Puppyhood, it seems is the most common stage of life for the behavior, but it's not beneath some adult dogs.
Puppies' reasons for chewing be a little different: they go through teething stages and also love to explore their surroundings with their senses — most importantly their noses and mouths — and that can get them into trouble. Stories of chewing dress shoes (what is it about a pair of pumps that entices a canine?), television remotes and eyeglasses abound, and we only have ourselves to blame when chewing happens at that age.
Keeping our stuff out of reach of little mouths is essential until they are mentally sophisticated enough to be able to control themselves to not chew our belongings. We have to expect to lose a few things along the way when we're navigating puppyhood, and I've written about chewing problems previously. Click here to read about that.
There are some adult dogs who are notorious for counter surfing — or even trash surfing — and it can be a very tough behavior to curb. The former has been addressed previously on the pets section, and trash surfing for households with dogs who make it a regular thing find that one of two things takes care of the issue: using a trash container with a lid, or keeping the container locked in a cabinet, a pantry area or other small area.
Bones, aluminum cans and lids, wrappers — even food — can be cause for an emergency situation.
The outdoors can be a smorgasbord for some pooches, too. Some eat sticks and other undigestable organic matter with gusto, traipse off and get into compost piles (something that can bring about a serious medical complications, like tremorgenic mycotoxin intoxication, especially), while others eat things like rocks and other difficult-to-digest items.
Oh, but wait. There are even more disturbing gastronomical faux pas in the canine world.
Reports of Scooby, who is owned by Brian Handwerk and began vomiting porcupine quills after eating the dead animal on an outdoor adventure.
Or Harley the Pug, owned by Lori Laverdiere of Manville, R.I — he likes rocks. Some dogs like to chew on them, but Harley ate them. Never having had a penchant for chowing down on unusual things before, the dog alarmed his doting human after he began, ahem, passing them. After feeling his tummy, Laverdiere could detect several rocks and decided to take the dog to an emergency animal hospital. There, X-rays showed that Harley had consumed more than 100 rocks.
Unbelievably, the pooch was able to pass all of the stones with the aid of some medication and was back to his old self after a couple of days.
Has your pet had an "interesting" gastronomical adventure? Share your stories below.
Lorrie Shaw is lead pets blogger on AnnArbor.com and owner of Professional Pet Sitting. Follow her pet adventures on Twitter.