Posted on
Fri, Feb 1, 2013 : 6 a.m.
MRI tests tapped to aid in recruiting military service dog candidates
By Lorrie Shaw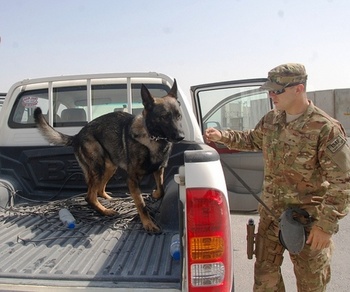 It's no secret that
canines
are highly intelligent animals, and judging from how humans have been able
to capitalize on a dog's abilities
thus far, in a lot of ways, they are more capable than they sometimes get credit for.
Some dogs are more apt at specific tasks than others. Whether it be drug detection, bomb sniffing, search-and-rescue, service, social support therapy work, each dog is carefully evaluated and then trained.
Training is always expensive, and the process of selecting the right dogs isn't perfect.
The Defense Advanced Research Projects Agency, or DARPA, is aiming to improve the selection process when it comes to recruiting military service dogs.
Last May, I wrote about a new way that researchers are hoping to tap into canine cognition: By using a functional magnetic resonance imaging (fMRI) scanner. Over the course of a few months, the team trained the dogs to stay still inside the machine, fully awake, while wearing noise-reducing earmuffs.
DARPA is hoping to implement this idea to find the most apt canine candidates to be service dogs, with a program called Functional Imaging to Develop Outstanding Service Dogs, or FIDOS.
The goal: more expeditious training, and a price tag lower than the current average of $20,000 per animal.
Click here to read more from a recent article on Wired.
Lorrie Shaw leads the pets section for AnnArbor.com. Catch her daily dog walking and pet sitting adventures or email her directly.